When we regular mortals think of travel and going to the airport we think of comfortable clothes. Anti-fits and soft, cosy clothes are the things we opt for. Well, Bollywood does the same but they only do it 10 times better than us. Ever since Covid hit, loungewear and comfort clothes became trendy and fashionable. Since then we've seen many renditions from these celebrities on this trend. And B-town sure does love to put on a show for their make-believe runway at the airport. Scroll on to see some smashing looks from Bollywood this week.
Here's a closer look at Bollywood's casual but glamourous loungewear:
1) Janhvi Kapoor
Janhvi Kapoor wears a matching indigo suit set. The set features a jacket with matching wide-leg pants and visible stitching. The exposed stitching adds an edgy touch to the overall look. She accessorises her look with silver sneakers and retro style sunglasses. I think those sunglasses really push the envelope and make it a cohesive, cool and casual look.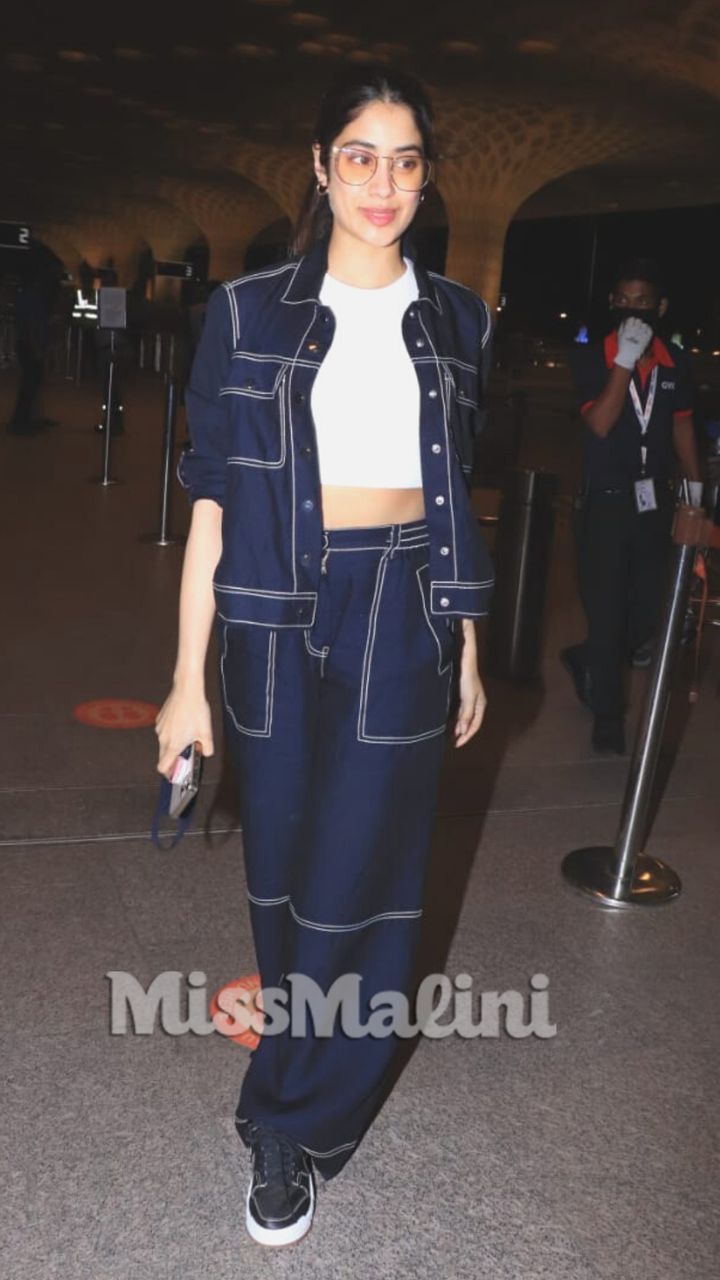 2) Diana Penty
Diana Penty is killing it in a retro black sweatshirt. It looks lived in and has Black Sabbath art work on the front. She wears her look with high-waisted blue mom jeans that add to the retroness of the look. An orange sling bag and white sneakers complete her effortless airport look.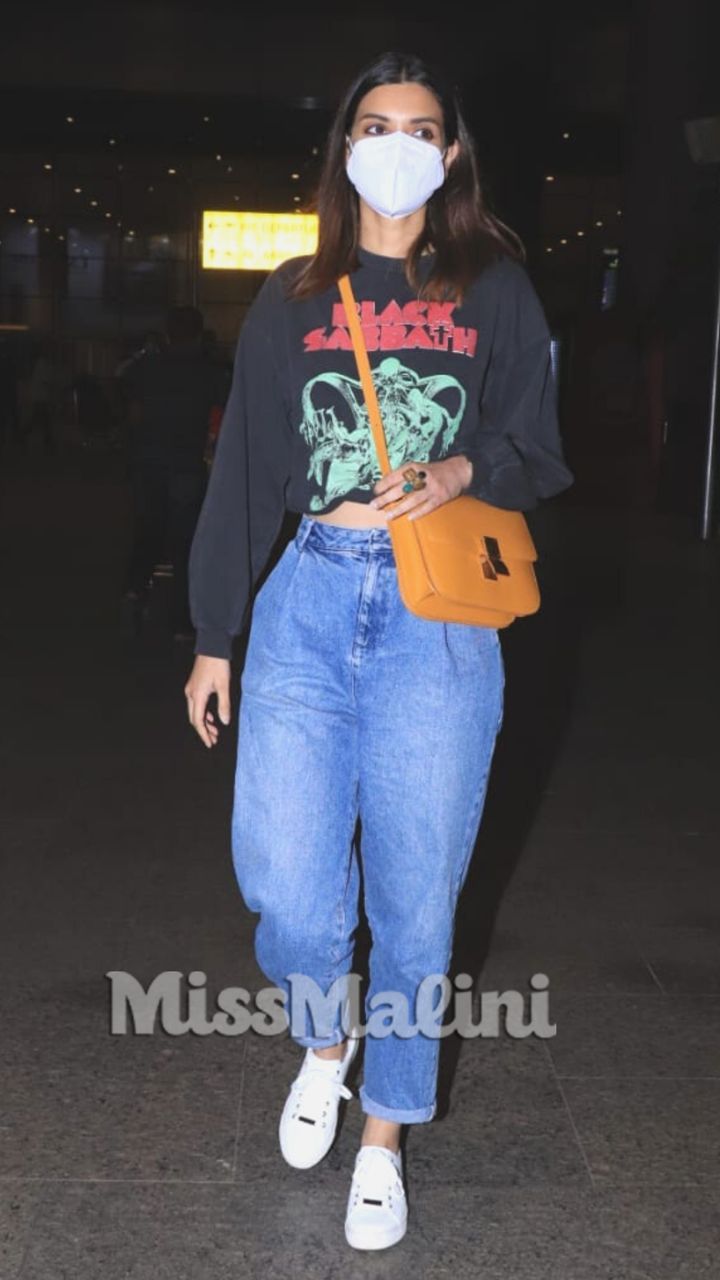 3) Kiara Advani
Kiara Advani is bringing back velour with this OOTD. A really long black sweatshirt paired with skinny matching joggers. She styles her look with silver sneakers and her trusty Off-White warning tape shoulder bag. Totally digging her look but with this heatwave I'm dying a little looking at her. I can bet you that the inside is light and comfy for sure.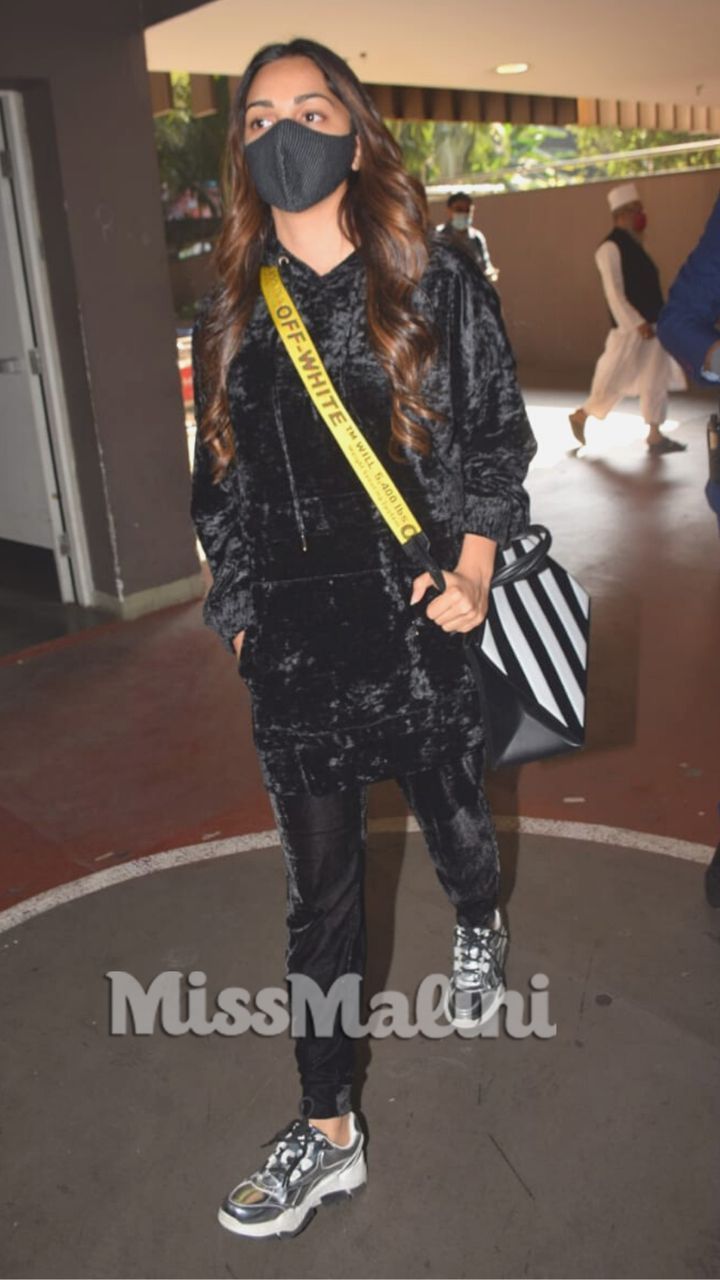 4) Rakul Preet
Rakul Preet looks adorable in a basic white, long sleeve, ribbed top that she pairs with blue and white patchwork denims. The high-waisted pants are cropped at the ankles and hence add length to her look. She accessorises her look with silver reflector sunglasses, white Nike sneakers and a red Chanel Canvas Deauville tote.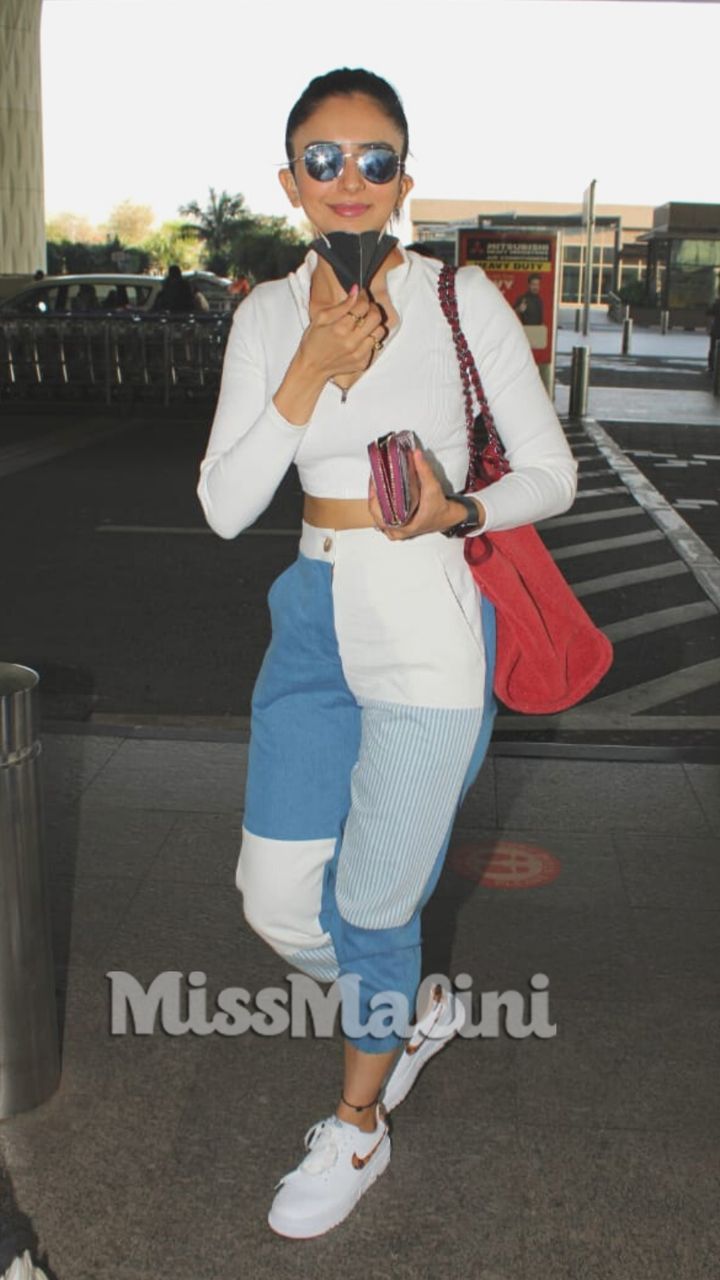 5) Malaika Arora
Malaika Arora is a seasoned pro when it comes to styling. She wears a light pink Reebok sports bra that she pairs with a '90s jacket. The actor styles her look with pink joggers with drawstring detailing and white sneakers. She completes her look with a custom monogram Neverfull Louis Vuitton tote bag.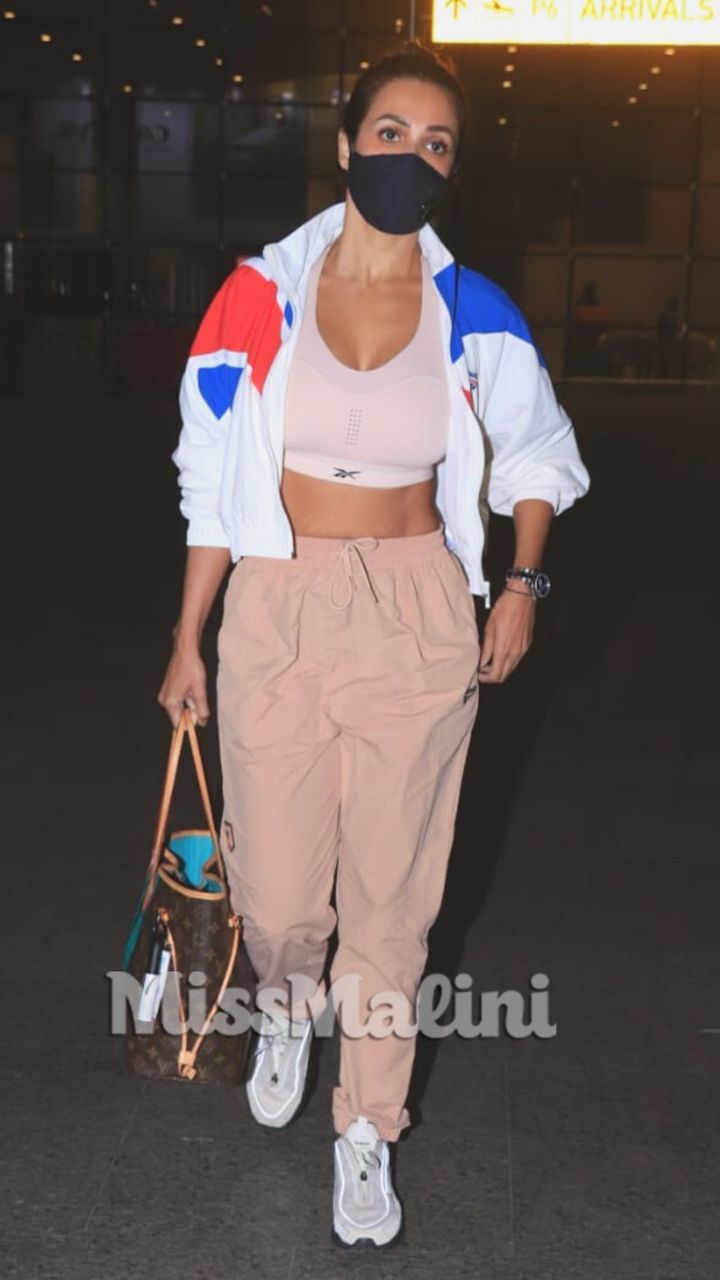 6) Vaani Kapoor
Vaani Kapoor keeps it classic in a black and white tie-dy tank top that looks like a Rorschach's test. I see a map, what about you? The star pairs her ribbed tank with high-waist, black mom jeans. I love the relaxed fit on the jeans, it makes it perfect for long travelling hours.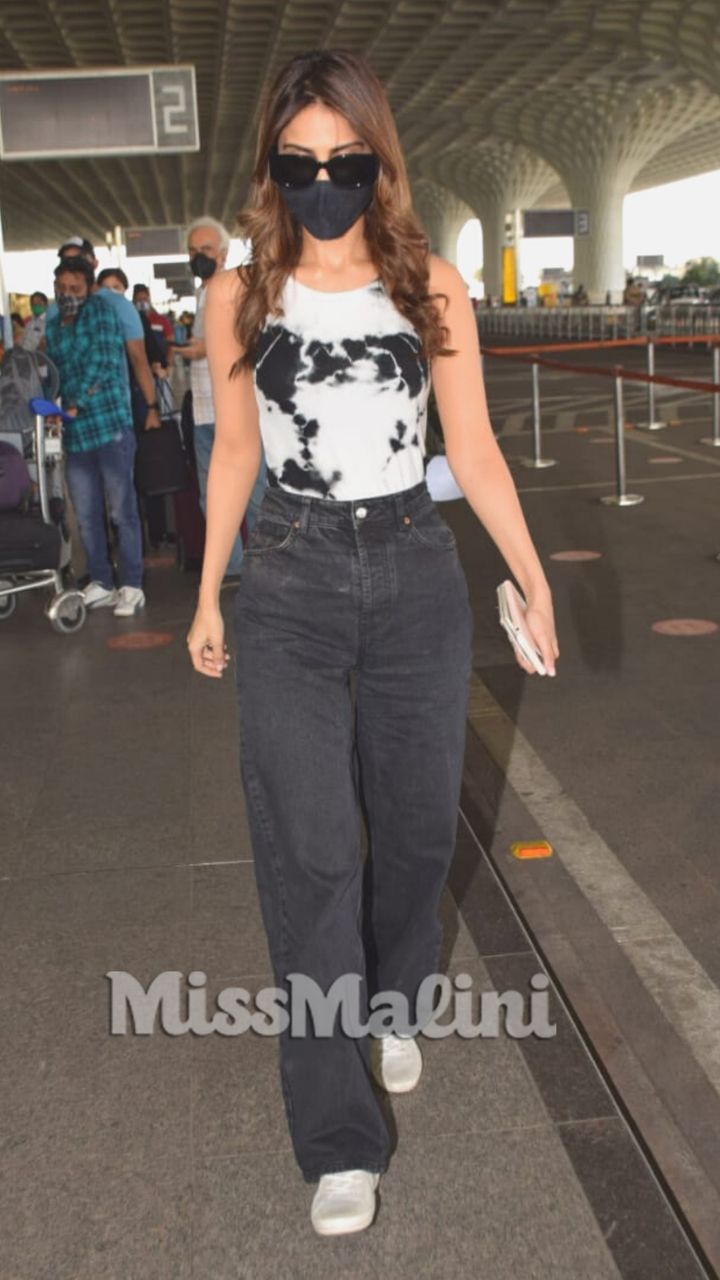 7) Ananya Panday
Ananya Panday opts for an oversized turquoise blue sweater. The colour is so eye-catching and looks fantastic on the star. She accessorises her very simple look with a pair of white sneakers and a Christian Dior tie-dy book tote because why not. It's the perfect bag for the airport and is totally on-trend as well.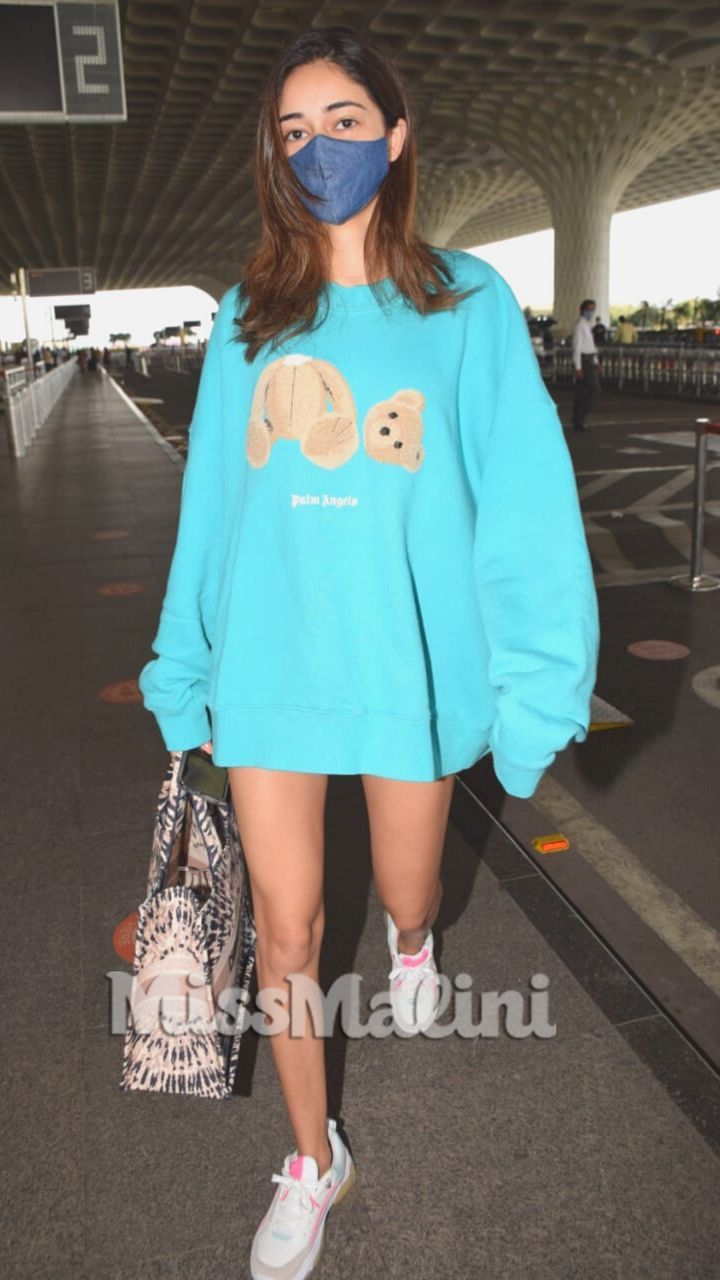 8) Disha Patani
Tie-dye is having it's moment in the sun right now and Disha Patani has hopped on that train. She wear's a pink tie-dy tee that she tucks into the undersection of her bra. The star styles it with yellow, tie-dye shorts, the look is totally androgynous. I love how she pairs it with a bum bag and white sneakers. This star really loves her tomboyish clothes.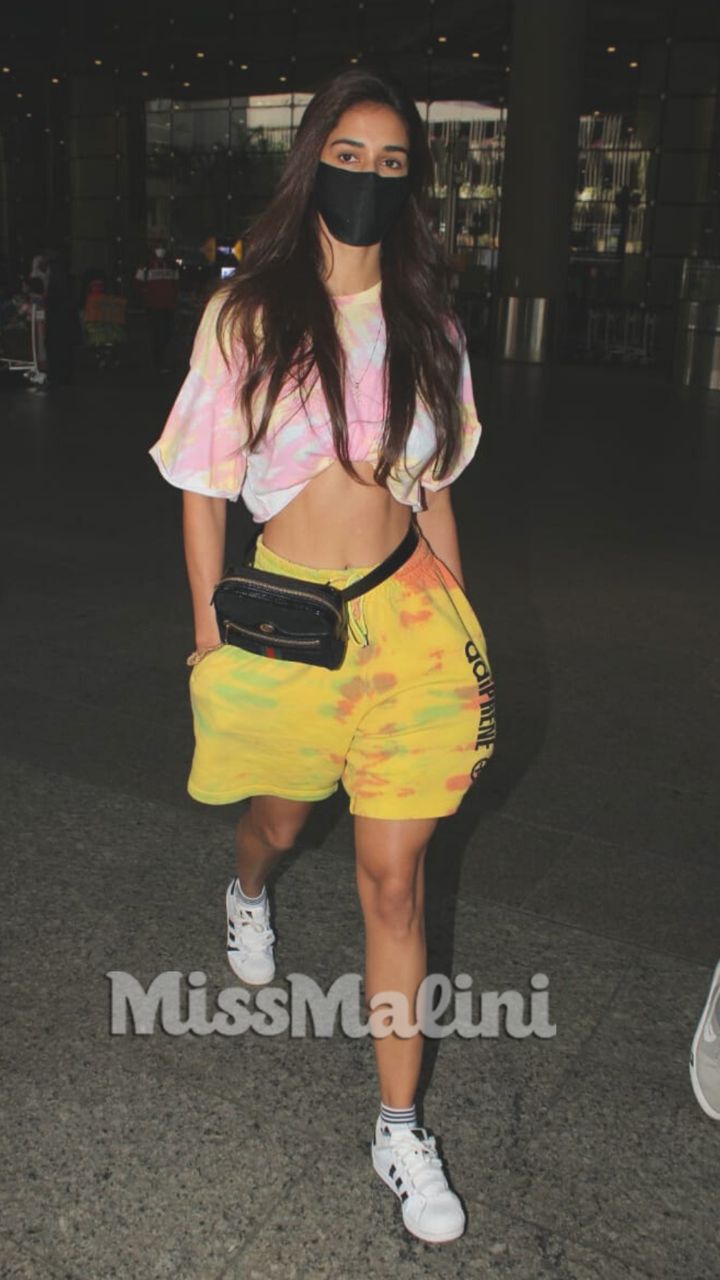 Which Bollywood star outfit did you like most? Let me know in the comments below.