This is a great day for all social media fanatics as Instagram has launched a super cool feature! Only a few days back this social media giant launched a feature called 'Live Rooms' that allows up to 4 people to go live together. Up until this point, Instagram only allowed live streaming with one person but now that has changed. A few people believe this is Instagram's direct answer to the social media underdog, ClubHouse. Here's everything you need to know about this uber-cool new feature that's surely gonna increase your screen time! 😛
Everything you need to know about Instagram's Live Rooms
This is indeed a historic time as now you can go live with 3 people at one time! You wanna do a Q&A? Host a jam session or just hang out with your friends, all of it is now seamless with the help of Live Rooms. Not just that, it has also built a monetization option for a business to earn money while using the feature. Instagram also announced that it would allow the audience to purchase badges for their favourite content creators and that feature is also being included with Live Rooms. So far the features seem awesome, don't they?
So, how to start a Live Room?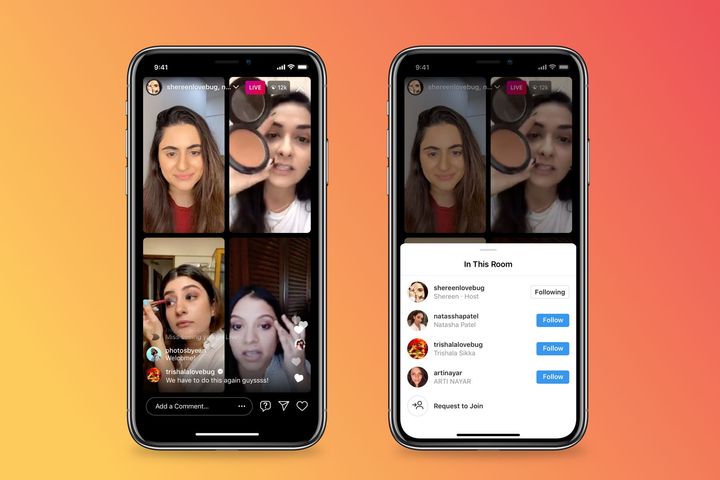 Starting a live room is fairly simple, all you need to do is swipe left and select the Live feature from the options below. As soon as you begin streaming, add a title and tap on the 'Rooms' icon to add up to 3 guests. You will be able to see the people who have requested to go live with you and will also be able to search for guests. Not just that, Live Rooms also allows you to add guests one by one or all at once.
Viola, you are all set to go live with your gang and have a gala time! Instagram essentially launched this feature to tackle budding competition in the market. We can't wait to see the response it receives from its user base. What do you think of this new feature? Tell us your thoughts in the comments below!
Follow @missmalinitrending to know more about your favourite influencers and content creators!