We all face adversity in our lives. Problems, setbacks, broken-hearts and uncontrollable events. These difficulties either keep us from being the best version of ourselves or pave the way for it. While some of us succumb to the latter, some shine on with the former. Being a woman is hard enough as it is, and when faced with a tough situation, it is even more difficult to turn it around. However, these women not only embraced their adversity but turned them into success. They used their adversities to create incredible businesses. They used adversity as a springboard to successfully shape their life rather than ruin it, and we wanted to celebrate their triumph. We wanted to use their stories to inspire ourselves and prove that nothing can bring us down unless we let it.
5 Inspiring Women Who Turned Their Adversity Into Success:
1. Shradha Sharma – Founder & CEO, YourStory
YourStory has become a household name today as most of us instantly recognise this online platform as a place for genuine, real and unique stories. Shradha, the founder of this website, built it when all the odds were against her. She grew up in Bihar at a time where female education, status and respect were at an all-time low. She fought the stigma around her need to be educated and independent and landed a prestigious job at CNBC. During her time there she realised how many stories went untold and were ignored by the media, so she bravely quit and decided to start YourStory. She wanted to bring forth the stories of entrepreneurs. However, after leaving her high-paying job, many people treated her differently and failed to respect and acknowledge what she was trying to do. Amidst this, securing funding and fighting patriarchal judgement, she lost her mother, the one person she was striving to make proud. This hit her hard, but she worked through her grief, growing her platform to the giant it is today. Shardha has since received numerous accolades and honours, including making the Fortune 40 under 40 list. She says,
The fire to succeed will come from things you did not get, you did not learn, you did not have.
2. Dana Donofree – Founder & CEO, ANA ONO Intimates
I just never expected that cancer would be the turning point of owning and running my own fashion company.
, said Dana in an interview on Medium. Dana is a breast cancer survivor who underwent a bilateral mastectomy with implant reconstruction and came to the realisation that there were no bras that fit her well and made her feel good and confident. Many women feel underconfident about their looks, and even more so when they have breast cancer. Dana knew exactly what that felt like and wanted to change it. Using her fashion design degree and years of experience, she launched ANA ONO, a lingerie company that made bras specially for breast cancer patients. Their bras were made for women who underwent breast surgeries like mastectomies and even made provisions for drains and grafts that were the result of chemotherapy and surgery. Her bras gave breast cancer survivors the confidence and support (physically and emotionally) that they needed. Plus, they look sexy! Today, ANA ONO is extremely successful and changing the lives of breast cancer patients for the better. She's really the perfect example for women who turned their adversity into success.
3. Sakshi Sindwani – Curve Model & Content Creator
Unless you've never used social media, chances are you've heard of Sakshi and her page,  @stylemeupwithsakshi. Her 400k + following proves what a success she is. She has shattered beauty norms by being one of the pioneers in the influencer-dominated world for promoting body positivity, celebrating non-photoshopped bodies and sizes that aren't a size zero. However, she never had it easy when it came to loving and accepting her body. Hailing from a Punjabi family, her weight was always in the spotlight. She developed an unhealthy relationship with her body early on, and even suffered from an eating disorder at her "thinnest". However, she overcame the judgement and the body-shaming to become the confident creator she is today. She embraced her body for what it was and stepped away from the fake, picture-perfect image social media is filled with. Sakshi has walked the ramp for Lakme Fashion Week and been on the covers of Vogue, Cosmopolitan, Harper's Bazaar and more. In an interview with Women Fitness, she said,
I truly feel like I became body positive because of my audience, because they told me how I was inspiring them and that inspired me. So that's how it all really began.
4. Nikki Barua – Co-Founder & CEO, Beyond Barriers
Nikki's story is the pinnacle of using adversity to pioneer your way through success. She emigrated to the United States to attend business school and faced a lot of difficulties as a minority immigrant and a gay woman. However, she didn't let it bring her down. What changed her life was the tragic suicide of her partner, which shattered her world. In an interview with Forbes, she said that her partner's death led her to lose everything she valued, including her assets, house and pet and she felt very alone. It was in this period of grief that she plunged into work and launched BeyondCurious, with no clients or capital. She grew it into an award-winning digital innovation agency. She then founded Beyond Barriers, a global leadership platform, that helps women gain momentum with digital-age skills and access to strategic resources. Her success has led her to become a serial investor, podcast host, author and key-note speaker as well! Talk about women who turn adversity into success, right? She embraced her adversity throughout the journey, turning it into success every step of the way.
5. Rupa – Founder & Designer, Rupa Creations
Rupa's story is probably one of the most inspiring ones to exist. At 15, her step-mother poured acid on her face, leaving her scarred in every way possible. She confined herself to a small room in her uncle's house and sunk further into depression. She then came across a campaign against acid attacks and met a community of acid-attack survivors like herself. She was instantly inspired and it struck her that her past should not hinder her future. She realised that she too can lead a normal life, away from fear and judgement. She began working at the infamous Sheroes Cafe, during which she discovered her love for fashion designing. She learned needle-work and sewing and created a line of incredible clothes which she sold at the cafe. These flew off the shelves and soon paved the way for her very own boutique, Rupa Creations, which has now become a very well-known and successful brand in Agra. She inspires women to not let their tragedy define them and that no sorrow is too hard to overcome. In an interview with YourStory, she said,
Eventually, I want to start a skill development school for women and train many more girls to become financially self-dependent. This will not only help them earn greater respect in society, it will also help them gain self-confidence.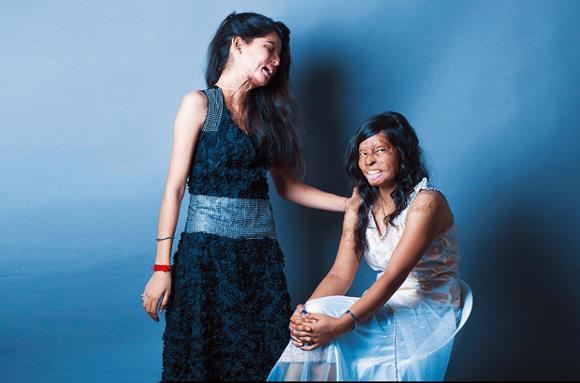 Do you know of any women who have turned their adversity into success? Share it with us in the comments below!
Join Girl Tribe by MissMalini on Facebook and Instagram to be a part of more fun conversations!