March was quite a monumental month, especially when it came to content creators and social media. From milestones to new beginnings to life-changing decisions, we came across a variety of good news. All thanks to these amazing content creators for keeping us hooked to their quality content and social media in general. Here's a look back to some top news that left us completely astonished in the month of March. So, are you ready to get updated with all the epic things that happened on social media in one go?
A flashback of March:
1. Instagram launches new 'Live Rooms' feature
All the 'gram lovers this one is for you. 'Live Rooms' is a super cool new feature that allows up to 4 people to go live together. Up until this time, Instagram only allowed live streaming with one person but now that has changed. Not just that, but Live Rooms also gives you the freedom to add your guests either one by one or all at once. So, what are y'all waiting for? Go live with your squad using this cool feature now!
2. Ashish Chanchlani becomes the 3rd YouTuber to cross 10 million followers in India
Ashish Chanchlani is one of the most sought-after YouTubers in the country. He has always entertained us with creative and quality content. We cannot deny that he is a youth icon whose efforts have made him achieve such great milestones. Today, Ashish is India's 3rd YouTuber to cross 10 million followers on Instagram. This is surely a moment of pride for all the #ACVians!
3. Snapchat rolls out new user-generated feature 'Spotlight' in India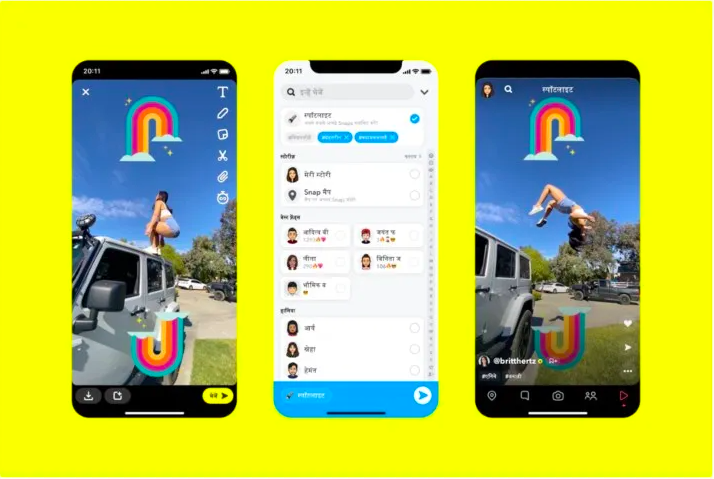 If you're an active Snapchat user who loves to maintain streaks then you just hit the entertainment jackpot! 'Snapchat Spotlight' is an awesome update that provides a brand new entertainment platform for user-generated content in India. This platform will help Indian Snapchatters to get extra creative with their content and also showcase their talents to a wider community. This feature will defo help creators increase their reach.
4. Juhi Godambe and Siddharth Jain are building a home together
Juhi and Siddharth's relationship has always been goals and now watching them build their house together has me gushing. They have been with each other for 12 years and finally, they took this lovely step. Tbh, I can't wait for Juhi to give us and all her fans a beautiful virtual home tour super soon.
5. Anirudh Sharma started a new YouTube channel
It's time to celebrate Anirudh's new journey on YouTube! We are super thrilled to watch him venture out on new platforms and entertain his fans. With over 494k subscribers he is stealing the hearts of everyone on his channel with his fun content. Also, we have to mention that we are loving the musical Ani way too much and can't wait to watch everything he has lined up for us!
6. Anmol Sachar and Kriti Gupta get engaged
We could feel love in the air in the month of March, could you? #DoDilAKJaan is a perfect example of how best friends can fall in love! Anmol proposed to his best friend Kriti in the most romantic and dreamy way ever and she said YES. They truly make an amazing pair, don't they? We just cannot wait to watch this couple's filmy wedding shenanigans. 😛
7. Ranveer Allahbadia collaborates with the one and only Sudha Murthy
All BeerBiceps fans here are aware of 'The Ranveer Show', amirite? This show is heard and loved by millions of people. For its 96th episode, Ranveer collaborated with the legendary Sudha Murthy. A best-selling author and co-founder of Infosys who discussed about life goals, mental health issues and so much more on his show. This particular episode was quite insightful as it helped us perceive things in a different way. If you haven't watched the episode yet, then click here to check it out now!
8. CarryMinati's music debut in 'Big Bull'
Well, Ajey Nagar a.k.a CarryMinati is one such creator whose talent got noticed by the Bollywood industry. He conquered B-Town, this time with his music debut in Ajay Devgn's next movie, Big Bull, that will feature his superhit song, 'Yalgaar'. This song garnered lots of love from everyone on social media and its catchy beats had us all groovin'!
9. Be YouNick to collaborate with Viraj Ghelani
If you don't like to watch different creator collabs then you and I cannot be friends! When talented creators collaborate with other talented creators, the end result is nothing less than a 'double dhamaka'. We cannot express how happy we were to know that Viraj Ghalenai and Be YouNick are creating content together. Just imagine how epic it will be to see these 2 dynamites come together?
10. Facebook released new Holi themed Avatar stickers
This year keeping social distancing in mind, Facebook announced its new stickers for users to play virtual Holi. These Avatar stickers kept the spirit of the festival high and we all enjoyed exchanging them with our friends.
A lot happened in the month of March! Many creators unlocked various milestones and explored new ventures and we couldn't be happier for them. We hope that the coming months bring a lot more good news our way, making this year a memorable one. Out of all the grand news above, which one surprised you the most? Tell, us in the comments below!
Also, don't forget to follow @missmalinitrending on Instagram to know more about your favourite influencers!