Influencers and content creators work so hard to achieve their dreams. Each and every milestone of theirs make us super happy and we love celebrating their special moments. Recently, we noticed that a lot of talented creators brought home a vehicle for either themselves or their loved ones. They shared their happy moments on social media and we literally couldn't get enough of it. Not just that, it also filled us with motivation and determination. So, if you are looking for your daily dose of inspo, then take a look at these adorable pictures right here! These creators and their happy faces will surely make your day.
Check it out!
1. Larissa D'sa
We all know and love Larissa for her awesome travel content. Whenever she posts any videos or vlogs, she literally manages to take us all on a virtual trip. She recently got herself a pretty new and blue Vespa and tbh, we love it! It completely matches her lovely aesthetic, doesn't it?
2. Kritika and Deeksha Khurana
We bet this is the most wholesome and heartwarming video y'all will see today. Kritika and Deeksha Khurana are two power-packed sisters who are acing their content game every day. Recently, these two girls took an opportunity to gift their dad his favourite bike. NGL, when I saw their dad's reaction, I got super emotional.
3. The #FlyingBeast family
The #FlyingBeast family recently shared a very happy picture of them in their new car. Gaurav Taneja and Ritu Rathee are literally our #CoupleGoals and watching them share this happy news with their fans really made our hearts melt. Who else wants them to create more vlogs while travelling in their new car? We sure do!
4. Radhika Seth
The sheer happiness on Radhika's face says it all, doesn't it? Posts like these show us how important it is to celebrate our highs and appreciate ourselves for the wins we achieve and we are truly happy for Radhika! The new car looks super suave and the way she shared a piece of herself in her caption really made us emotional.
5. Somya Gupta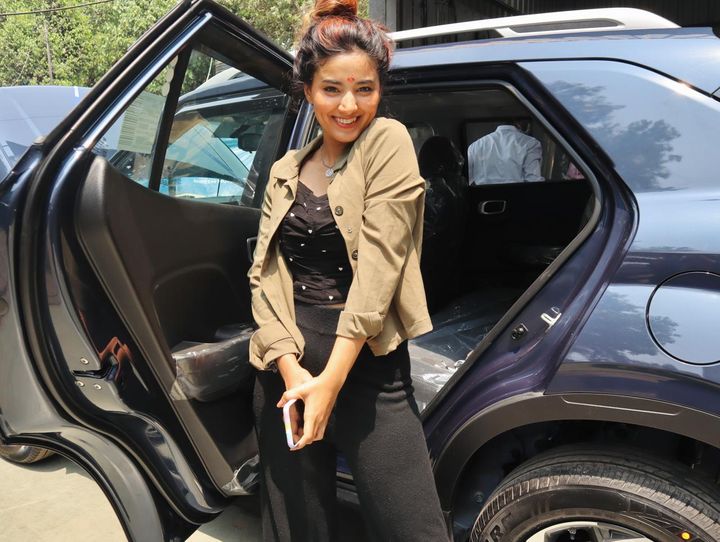 This 23-year-old is surely taking the world of social media by storm with her content. Somya Gupta a.k.a TheSassThing recently got herself a new set of wheels and shared this news with her fans on her YouTube channel. Her story is indeed inspiring and we are so proud to watch her buy a new car entirely by herself at such a young age.
6. Aashika Bhatia
Aashika Bhatia is a very talented influencer who recently crossed 5 million followers on her Instagram. Very recently, she made everyone proud by getting herself a new car. On this happy occasion, she took to Instagram and thanked all her fans for supporting her throughout her journey.
7. Amit Sobti
Influencer Amit Sobti really made us go 'aww' when he gifted a new car to his father and his whole family. That's super cool, isn't it? We are super happy and proud of how far Amit has come and are sure that he has a long way to go.
Well, there you go! We hope these happy moments of our favourite influencers motivated you and brought a smile to your face. Which is your dream car? Tell us about it in the comments below.
Also, don't forget to follow @missmalinitrending on Instagram to know more about your favourite influencers!