Dewy vs Matte Foundation: How To Choose Your Finish
Kanak Devnani , 10 May 2021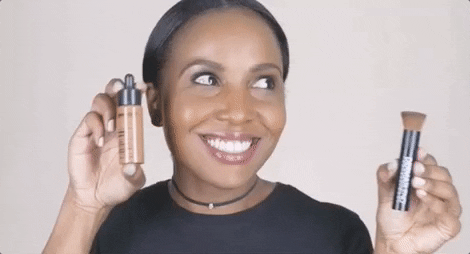 Finding the perfect foundation can sometimes be a long and tumultuous journey. Not only do you have to match your skin tone, undertone and coverage but there's also the matter of the finish. As a foundation wearer, you've probably already gone down this road before at some point when searching for the right formula. The two main questions remain should you opt for a luminous dewy finish or a more sleek matte finish. More often than not unless you're a pro you'll end up spending your hard-earned money on foundation or formulas that don't quite work on your skin.
A matte foundation might end up going all cakey by the afternoon or the dewy foundation might say goodbye after an hour. As the finish is one of the most important variables along with the texture, it's important to know whether you prefer matte or dewy and in what formula. You know like powder, creams or liquids! The choice in texture can make a massive difference to the application too. While the beauty trends keep shifting, at the end of the day you got to work with what suits you best. When it comes to choosing what's right for you, there are no right or wrong answers—but both foundations finish definitely have their own unique pros and cons. Ahead we've broken down all you need to know about the differences between matte and dewy foundations and how to pick the right formula for yourself.
Keep reading to discover the best foundation finish for your skin:
What is a dewy foundation?
When you pick a dewy foundation it's all about the fresh glow. These foundations usually contain oils and humectants that work together to help the skin stay hydrated and give it a natural radiance. It's great for creating the appearance of a youthful healthy-looking complexion which is why those with dull or dry complexions love this formula. Usually available in liquid or cream formulas you'll find a range of coverages from lightly tinted to medium and buildable foundations.
The Pros
Ranges from sheer to full coverage.
Easy to build and blend.
Lightweight texture
Radiance boosting, as it finds and reflects light for a youthful glow.
Hydrating formulas that are perfect for dull, dry or lacklustre skin.
Creates a smooth look on the face and body.
The Cons
Not best suited for oily/acne-prone skin as it enhances shine and can look greasy with too much moisture.
Can draw attention to breakouts or blemishes.
Not the best for covering hyperpigmentation.
Might need to touch up more throughout the day as it can slip around if not set well and the skin if de-hydrated can eat up the foundation.
What is a matte foundation?
When you think of a matte foundation the best way to describe it is polished and precise. The matte finish usually makes your skin look velvety soft and sits without any signs of shine or oil for an airbrushed, full coverage finish. These foundations also usually have long-lasting results if paired with the right products. It usually comes in a few more formulas compared to dewy foundations, such as powders, creams, and liquids. Many matte formulas are so smooth and high coverage they are known for covering tattoos to eliminating hyperpigmentation.
The Pros
High coverage formula
Controls oil and shine
No excess oil in formulas
Suited to most skin types with the right prep
Long-lasting
Diffused smooth finish for those with bumpy or textured skin.
The Cons
Can look very flat or one-dimensional
Can look heavy or cakey
Not suited for people with dry or mature skin as it can cling on to dry patches
Not easy to blend
Can enhance any flaws, facial hair and/or settle into fine line and wrinkles.
At the end of the day, there's no right or wrong way to wear a foundation. It's all about finding what works for you personally and what you feel great about. As always there are a few things to consider when picking a formula. First always known your skin type and what your skin could be needing that specific day. Secondly, the weather matters. You might enjoy different finishes depending on the season too, for example, dewy foundations or summer and matte for winter or vice versa.
Finally prepping your skin is very important. Depending on what look you're going for both of these finishes can also be achieved with a great skincare routine. And while the primer is important so is your base skincare. Your face is a canvas and well taken care of skin helps the foundation glide on smoothly. Moreover, while you use either foundations or a mix for best results other supporting products can also assist in the overall look. For a dewy look, opt for facial mists and products with hyaluronic acid. If a matte finish is more your thing, try looking for products with salicylic acid.
Join Malini's Girl Tribe to be a part of the conversation.