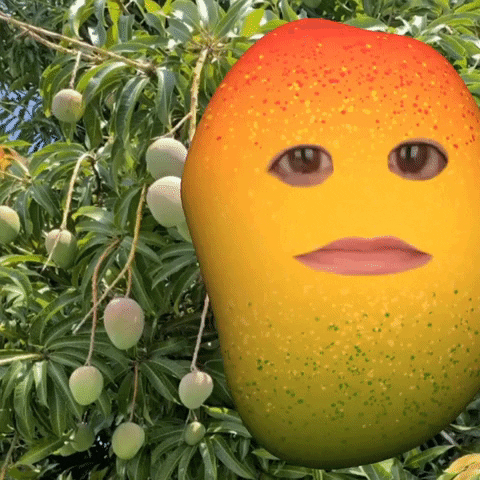 You see, the thing about mangoes is that they don't just fill your tummy but also your heart. I've never come across one person that's not felt highly content after eating this god-made fruit. This is probably why mangoes are so cherished and the fact that they're around for just a couple of months really teaches a valuable lesson about life—cherish every moment and don't take anything for granted, you never know when a good thing might come to an end. Coming back to my point, there obviously isn't just one way to enjoy this delicious fruit. There are so many things you can make out of it. So, like me, if you too are a diehard mango lover, you must try these recipes out. Go!
Mango recipes that will put you in a happy state of mind:
1. Mango Ice Cream
You will need: 2 mangoes, some condensed milk and some whip cream.
1. Start off by chopping the mangoes into pieces. Add them to a blender with some condensed milk and blend the mixture well.
2. You can then take some chilled whip cream and whisk it for a few minutes till the cream is smooth.
3. Add the mango pulp to the whipped cream and whisk it well till it forms a smooth paste.
4. Once done, set it in a bowl and refrigerate for a few hours.
You can get this recipe in detail here.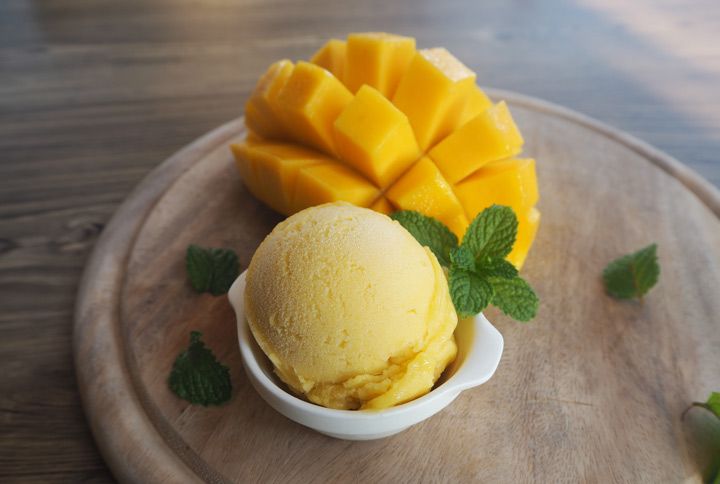 2. Mango Cheesecake
You will need: A packet of digestive biscuits, 2 tbsp melted butter, 120-125 grams of cream cheese, 40 grams of powdered sugar, mango pulp according to your taste, a large bowl of whipped cream and 1 mango.
1. First grind about 6-7 biscuits until it forms a powdery mixture.
2. Add melted butter to the mix and blend it well and set it on a base.
3. Take the cream cheese in a bowl, add the sugar and the fresh mango pulp to it and whisk it till it's soft.
4. Then add some whipped cream to the mix and blend it all together real nice.
5. Once done, spread it nicely onto the biscuit base and refrigerate it for a few hours.
6. Top it off with mango slices for additional mango sweetness.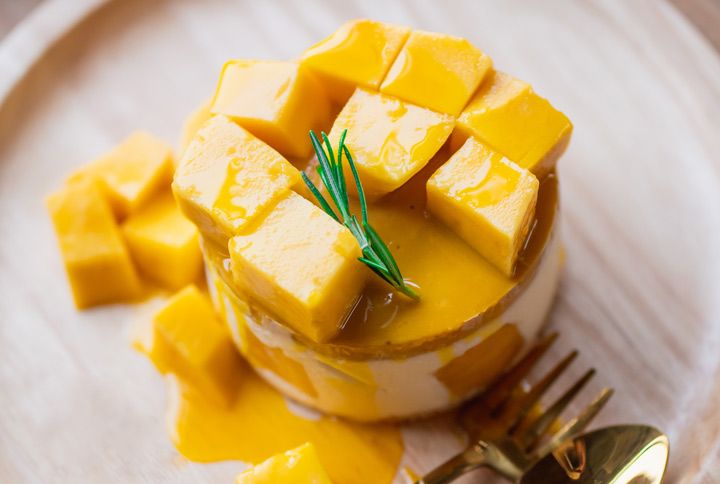 3. Aamrakhand
You will need: Hung curd (quantity as per your liking), fresh mango pulp, sugar as much as hung curd and dry fruits as per your liking.
1. The first step is to drain the curd of any water (whey) to form hung curd. Take a large bowl of curd, put it onto a thin muslin cloth, tie it tight and leave it overnight in the fridge.
2. Next day, grind the sugar to turn it into powder. The amount of sugar must be the same amount as the hung curd. Mix the curd, sugar and mango pulp and blend it till it's soft.
3. Refrigerate it for a couple of hours and top it off with dry fruits as per your liking.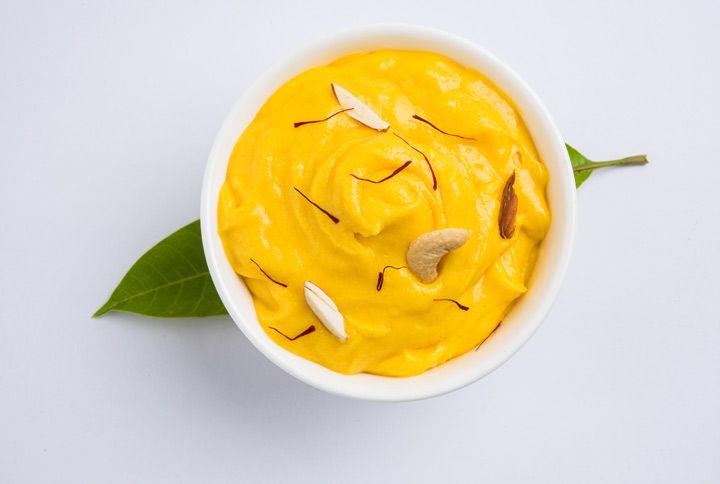 4. Mango Chia Pudding
You will need: 2 mangoes, chia seeds, thick coconut milk and some sugar/honey.
1. Chop one mango, blend it till you get a mango purée.
2. Mix it with some coconut milk and chia seeds. Don't go overboard with the milk as you need to whisk the mixture again for it to form a soft paste. In case you want it extra sweet, add some powdered sugar or drizzle some honey.
3. Once whisked well, refrigerate it for some time till it's chilled. Top it off with mango slices and enjoy!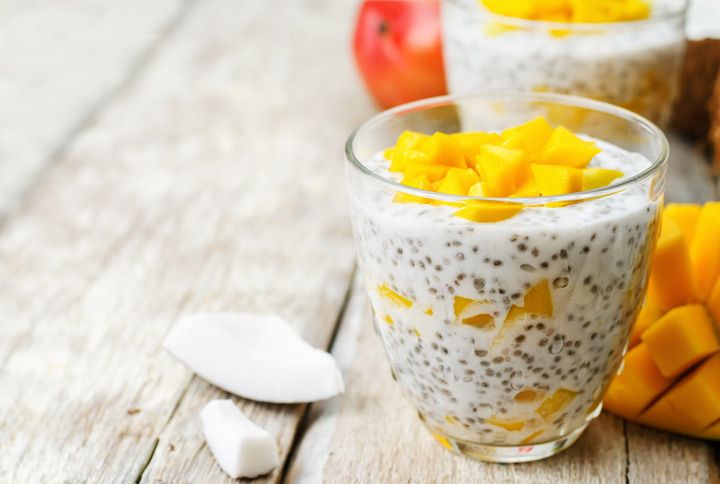 5. Mango Lassi
You will need: 1 bowl of curd, mango purée (half the amount of curd), 3-4 tbsp sugar and a pinch of salt.
1. Mix all the ingredients together in a blender and blend for about 30-45 seconds. Pour the thick mixture into a glass, refrigerate it for an hour or so and enjoy chilled!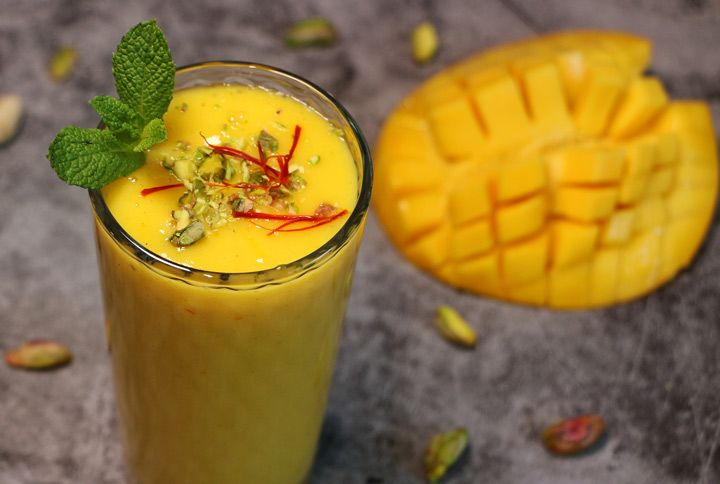 6. Aamras
You will need: 6 Ratnagiri Payri mangoes, approximately 250 grams sugar, a pinch of salt, half tbsp cardamom powder and a half cup of milk.
1. Start by peeling off the mangoes and crush them to get the pulp.
2. Add sugar to the pulp and mix well till the sugar melts and sprinkle a pinch of salt.
3. Add half a cup of milk and cardamom powder and whisk it well for it to have a pulpy texture. In case you want it smooth, I'd suggest you blend it in a blender.
4. Refrigerate it and serve.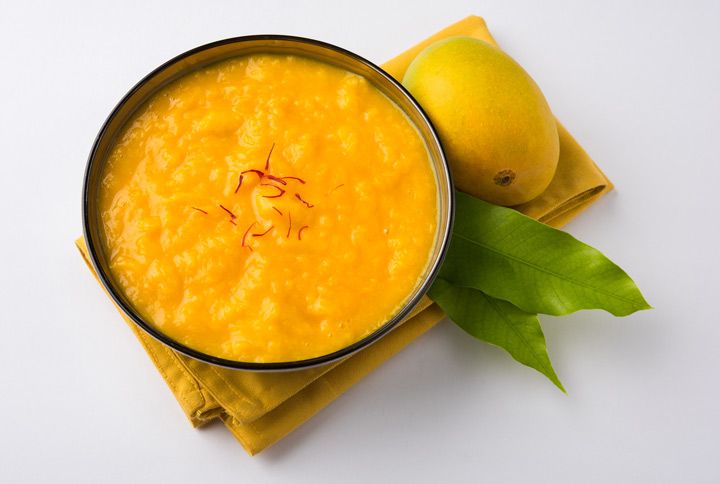 7. Aam Panna
You will need: 3-4 raw mangoes, 4 cups of jaggery, salt as per taste and half to 1 tsp cardamom powder.
1. Peel the mangoes and boil them in a pressure cooker for up to 3 whistles.
2. Mash the mangoes once boiled and add jaggery, cardamom powder and a pinch of salt to the mix. Cook it well till the jaggery melts and until you get a pulpy juice.
3. While serving in a glass, fill a quarter of the cup with aam panna and the rest with water. Stir it well and serve!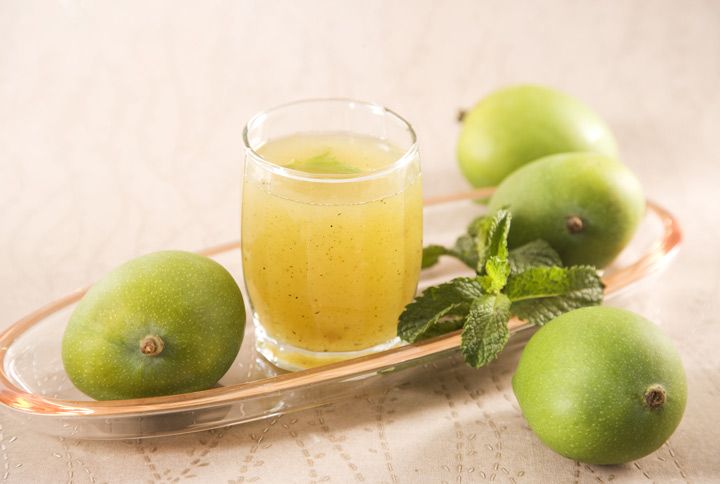 Know of more recipes one can make with mangoes? Drop them in the comments below.
And to be a part of more such fun and interesting conversations, make sure you join Girl Tribe by MissMalini!