5 Essential Products You Need For Your Hair Emergency Kit
Kanak Devnani , 03 Jul 2021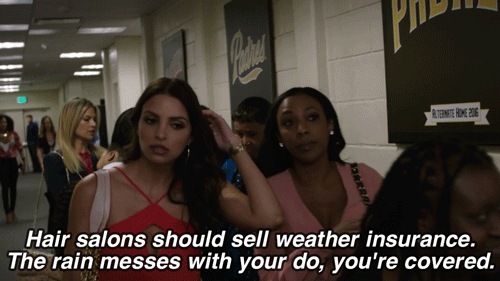 Hair emergencies we've all had them. Sometimes your style just collapses on you during the day or you become a victim of bad weather. I can't count the number of times I've been caught in a sudden downpour during the monsoons or had the humidity wreak havoc on my hair. Sometimes is just as simple as waking up late and having a crappy hair day. Whatever happens, I've learned to be prepared. Of course, having a handful of hair ties and bobby pins is essential but that's just the bare minimum. What if your hair is getting out of control and in need of a proper fix. That's where having a handy SOS hair kit is essential if you've got important places to go during the day. Trust me, you really don't want to be caught unawares. So whether you already have a kit or considering putting one together definitely check out these amazingly useful additions that I always reach for in a hairy situation
Scroll below to see what you should add to your emergency
hair
kit:
1. Hairspray
A pretty obvious pick but it's essential to lock in any kind of hairstyle you go for. Sleek blowouts, voluminous curls or baby hairs you need this in your kit to keep your hair from going wild. Opt for a mini size you can easily place in your purse and travel with. 
2. Dry Shampoo
I really don't know how we lived in a time without dry shampoo. You don't need to drag this with you every single day but comes in handy when you're in a pinch. All the humidity, sweat and pollution can quickly do a number on your freshly washed hair. A great dry shampoo can instantly refresh your locks before you can think twice. It'll give you a confidence boost ready to conquer the rest of your activities throughout the day. Try and keep one in your desk drawer at the office and a mini one in your weekend bag so you're never caught unaware.
3. Travel-Sized Flat Iron
This is just what you need especially when you're travelling and you like your hair to look perfect at all times. Plus its size makes it perfect for straightening bangs, hair ends or your whole head. The ultimate on-the-go heat styling tool and saviour when all the kinks on your hair will just not co-operate.
4. Hair Serum
Using a hair oil or serum is the perfect quick fix you need to have in your kit when you prefer casual easygoing hairstyles. Even just a drop of oil can do wonders to smooth out the hair, split ends and de-frizz your locks. Not only will it quench your thirsty hair but if it has a good fragrance you'll be smelling pleasant all day long.
5. Clear Mascara
Don't you just hate it when even after hairspray some wild wisps threaten your sleek looking hairdo? Here's where a clear mascara or clear eyebrow gel comes in handy. Trust me, it's not as crazy as it sounds. Just use the wand to brush down any rebellious strays or lay down your baby hairs in seconds. Moreover, it comes in a small convenient packaging that's no trouble to carry around in your purse. Just remember to mark or label it so you don't reuse it for on your eyes.
What do you use for your hair emergencies? Let us know in the comments below.
Join Malini's Girl Tribe to be a part of the conversation.