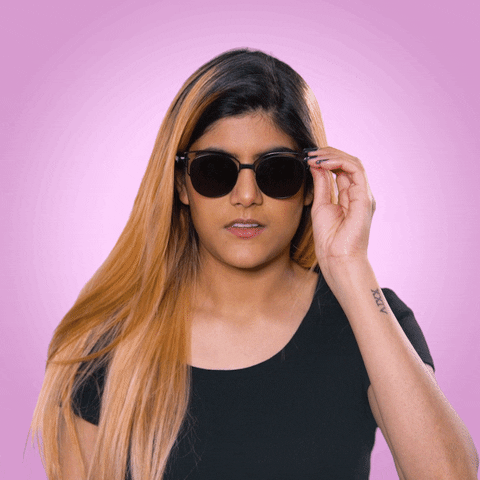 An entrepreneur, singer, songwriter and mental health advocate, Ananya Birla is a force to be reckoned with. With a long list of achievements to her name, she's proved herself to be much more than just her family's name. Always working hard for her dreams and goals, she lets nothing hold her down! Her passionate nature and hard work always come through, showing up in everything she touches, be it her music career, business or philanthropy efforts. Even her latest collaboration with legend A.R. Rahman for the Olympics is an upbeat anthem that will get you all fired up and feeling patriotic. With a striking message of unity and optimism we just can't stop listening to it! That just proves that even an ongoing pandemic isn't going stop the force of nature that is Ananya from doing her best. Even while things looked bleak for a while, Ananya found new ways to stay positive and influenced us all to do the same. As she completes another year around the sun, we are highlighting all the times, this past year she has lifted our spirits and inspired us to keep going.
Scroll below to check out how Ananya Birla inspired us during lockdown:
1. Have fun dancing
You don't need permission to dance so dance like you just don't care! We love how Ananya inspired us to do just that. For real, check out those moves! While she grooves to some cool jams, she makes a case for having fun and dancing like nobody is watching. Dancing is proven to be a great stress reliever and instant mood booster. So bust out your favourite song and get moving with a dance party of your own. Or better yet, learn that new hook step or dance move that's trending. Mess up a step? No problem! As she mentions, it's all in good fun so don't take yourself too seriously.
2. Fostering dogs
An animal lover at heart with many pets of her own Ananya shared with us the importance of fostering animals. During the peak of the pandemic with overcrowded shelters and neglected strays, many animals need a warm stable place to live. Showing us by example how we all need to be a little kinder and open our homes and hearts to those in need, Ananya took foster a rescue of her own. Look at that adorable puppy's face that just makes our heart melt! We love how she continues to set a good example for her many young followers who see her as their role model. While little Bean eventually found a permanent home—yay!— remember the next time you are considering adding little paws to your family, adopt don't shop!
3. Playing happy birthday on the Santoor
There she goes again! Ananya has an insane talent for making the most difficult instrument look easy. Drawing inspiration from her mother, who she would watch play for hours, Ananya composes on the Santoor like it's a piece of cake! What an absolute treat for the ears. Of course, not taking herself too seriously, she has some light-hearted fun by playing the universally recognised Happy Birthday song that'll put that smile back on your face.
4. Napping with your dog
If you're a pet owner, you just know sneaking in a nap alongside your dog is the best way to catch some zzz's. Especially when you've had an overwhelming day, a man's best friend is always there by your side to comfort you. Ananya looks super comfortable, getting the best siesta while cuddling her fluffball. With her hectic schedule, I am sure this is a much-needed stress-reliever! After all, there is nothing a few cuddles from your pet cannot fix. BRB, while I go, find my dog to squish.
5. Making music
We already know how multi-talented Ananya is with her singing and song-writing capabilities. If you don't, pause and take a minute to listen to her latest track. Go one, we'll still be here when you get back. Her musical journey has been on an all-time high with three back-to-back platinum tracks and collaborations with known artists such as Wiz Khalifa and Sean Kingston just to name a few. While the pandemic and ongoing lockdown did put a damper on things, this didn't stop Ananya from doing what she does best. Not letting the boredom of quarantine get to her, check out the unfiltered video she shared of vibin' in her musical zone. We love how real and raw the video is, there's no denying her love and passion for music!
6. Appreciating your caretakers
Ananya hit our emotions real hard with this appreciation post of her long-time caretaker Lata Di. Many of us are privileged to have some form of help at home, be it for cooking, cleaning or looking after our basic needs. Ananya reminded us how important it is to acknowledge and appreciate the dedication of those that are there to look after us. Something we can take for granted at times. From making Tik-Toks to dancing and even travelling, they have done it all together! Her love and sentiments towards Lata Di's motherly affection truly warmed our hearts, hitting us right in the feels.
7. Setting up a pandemic helpline
We all are aware of how COVID-19 hit everyone very hard and upheaved so many lives. Moreover, the major impact it had on everyone's mental health is no mystery. While the conversation on mental health is still not openly accepted by many, it cannot be ignored any longer. Under the Ananya Birla Foundation and with the help of the Maharashtra Government, Ananya helped launch a free help-line number to support those going through a difficult time. The number connects people to a mental health professional who can assist you through any anxiety or uncertainty you are feeling towards COVID-19. Completely anonymous, it allows people to express themselves freely without feeling ashamed to do so. Hats off to her for making this happen setting up this amazing much-needed initiative that's helped so many people.
8. Axed the negativity
One axe throwing session, for two, please! How fun and satisfying does this activity look?  You can just hear her sound of exhilaration while hefting that heavy axe towards the board. at it, sounds like the perfect way to let off some steam and any pent up stress or negative energy. You best believe we're signing up for the next available appointment on our day off to vent off any frustrations.
9. Learn a new instrument
Like most of us who chose to learn a new skill while stuck at home, Ananya only added to her list of musical aptitudes. This time learning how to play another instrument during the lockdown. It was all about rocking the drums and she's already acing it in our humble opinion. Check out this video of Ananya Birla drumming up some sick beats and looking effortlessly cool while doing so.
10. MPower Minds
One of Ananya Birla's goals has always been to provide support and guidance to people who are going through difficult times. She has always been an avid supporter of this cause for years, emphasizing the importance of mental health and wellbeing. However, it's become more relevant than ever this past year with COVID-19 at its peak. Recognising the urgent need, she has been at the forefront, pushing to make this topic less taboo and more accessible to everyone via the Mpower organization. Debunking myths, educating and empowering others and helping combat suicide are just a few of the important tasks the organization aims to do. It's always inspiring to see Ananya talk about these issues and constructively utilize her platform and making the most of the responsibility that comes along with it.
Share with us what inspires you most about the birthday girl, Ananya Birla? Let us know in the comments below!
Join Malini's Girl Tribe to be a part of more conversations.