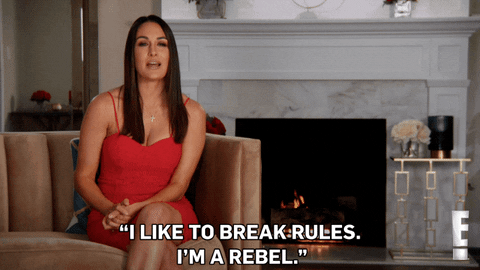 Some rules indeed exist for a reason. For example, look both ways before you cross the road or always check the expiry date on products. But other rules are meant to be broken. As a makeup or beauty junkie in general there's always a ton of prescriptive beauty rules we're meant to follow. From what lip colours are acceptable day or night to using products only as indented. We, as women, are expected to follow all kinds of rules. Don't get me wrong rules are immensely useful especially when you're delving out in the beauty sphere and have absolutely no idea what you're doing.
But when it comes to fashion and beauty there are times you've got to reinvent the wheel or straight up have fun and get creative. Beauty is in the eye of the beholder and makeup truly is all about expressing yourself. Over the last year, the world changed and so did many hair, makeup and skincare mantras that now feel outdated. So take this chance to break out of the customs that have been drilled into us over time. Instead, push the boundaries or just ignore them altogether to reap truly gorgeous rewards.
Keep scrolling to check out which beauty rules you need to leave behind in the past.
1. Perfume is only for leaving the house
While we haven't left the house that much this year we're used to spritzing on some perfume only when stepping out. We're here to tell you that it's time to break that tradition. The power of scents is amazing. It can bring back memories and tell stories or just feel good about the day ahead. So bust out some of your favourite fragrances and spritz away.









View this post on Instagram












2. Glitter makeup isn't for everyday
More often than not you'll see the glitter on the holidays or for bold party looks. Whether it's glittery nails or eye looks, texture can bring personality to a look and disguise any imperfections or splotchy base applications. Glitter makes it so easy to amp up any look so why only reserve it for special events? While full blown-out looks might not work every day, have fun with some sparkle in more subtle ways like a glitter eyeliner or a highlighted inner eye corner.









View this post on Instagram












3. Using makeup products only as intended
We all tend to unconsciously stay within our comfort zones when it comes to makeup and buy products accordingly. But it's time to break out of that rut. Being creative with your makeup is half the fun and will have you discovering multiple uses for particular products. In fact, many professional makeup artists get the most mileage out of their products by using them for various purposes. Like using your bronzer or blush on your eyes, cheeks, and lips for a subtle glow without being too sparkly or over the top. Or better yet crack open that large eyeshadow palette and you've got yourself a highlight and blush shade. Not to mention using the earthy tones to fill in your eyebrows or do your eyeliner. The possibilities are endless.









View this post on Instagram












4. You need to follow a 10-step skincare regime
There's a ton of skincare products out there that make it understandably difficult to pick the right skin care formula for your skin type. Thanks to beauty bloggers and influencers reviews and honest recommendations have made things easier. However, the downfall had been them and brands making us believe we need to have an array of skin care products to achieve healthy, glowing skin. But it couldn't be further from the truth. Often sticking to a simple or basic routine by only selecting products you really need to be suited for your skin type is more than enough.









View this post on Instagram












5. Bangs don't look good on curly hair
TBH this rule is so old school. We all grew up believing that if you had curly hair you could never wear bangs. In fact, there are so many new and rad ways to wear bands with curly hair. Bangs are for everyone irrespective of their hair type. All it takes is a good hairstylist who truly understands your hair. Looking for inspo? Just take a look at Zendya, Selena Gomez, or even Taylor Swift who've rocked bangs with their natural hair texture.









View this post on Instagram












6. Don't mix fragrances
While this beauty rule has some merit to it, it's not totally unbreakable. When mixing or layer fragrances you need to be mindful of which scents you're pairing together. You don't want to smell too intense or like a perfume shop do you? For example, sweet with woody scents are a contrast that works well together, whereas pairing sweet and vanilla together can be overwhelming.









View this post on Instagram












7. A bold lip is for a night out
Playing it safe with makeup is boring. Too often bold lips are designated to be for the night or formal events but there's no stopping you from rocking it on a daily. And yes even if you're just sitting on the couch or out getting groceries!









View this post on Instagram












What beauty rules do you enjoy breaking? Let us know in the comments below.
Join Malini's Girl Tribe to be a part of the conversation.