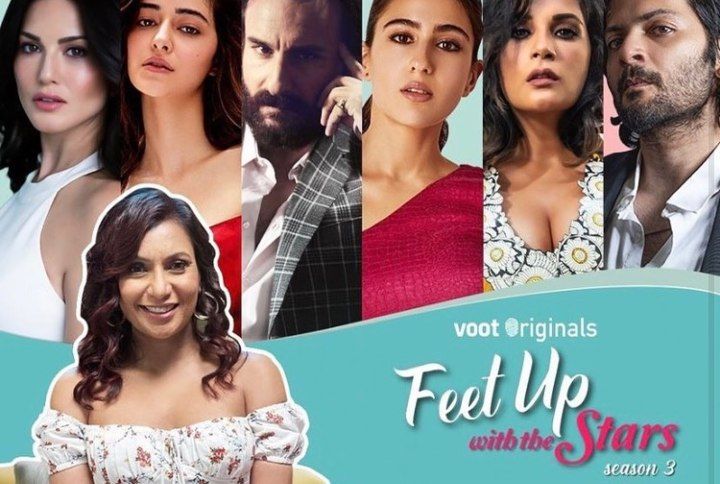 The fourth episode of Voot's Feet Up With The Stars S3 featuring the queen of knock-knock jokes, Sara Ali Khan is out now! I must tell you, I thoroughly enjoyed watching the entire episode, and ended up keeping my feet up with Malini and Sara as they indulged in a very fun and interesting conversation. Sara spoke about her parents, their divorce, her views on relationships, revealed some cool facts about herself, shared stories and a lot more!
To begin with, Sara's energy, Hindi and her way of expressing herself in the most candid way brought life to this episode. Malini made sure to ask her a string of questions ranging from her dating life to her fake Instagram account, and Sara's answers won the game! Sara opened up about her dating life and said she is currently not dating anyone. She further revealed that there are only 2 fool-proof methods to make a way into her heart, the first one being food ( Delhi wale Chhole to be precise haha), and the second….well, I think it's better you watch the episode and listen to it from Sara herself because that factor is a very important prerequisite to winning anybody's heart and she expressed it in the best way. Sara also mentioned that, boys kind of find her intimidating and do not even dare to ask her out.
When Malini asked Sara about her dating life, she said–
Currently I am not dating anyone. I feel I come across as an intimidating person and someone who is not about the the whole concept of the Knight in shining armour, so log mujhe poochte nhi hai, mujhe date karna chahte nhi hai. Shayad wahi problem hogi.
Overall, Sara gave some answers with a dash of humour and some witty ones with a choice of the right kind of words. This episode piqued excitement from the beginning till the end, and I absolutely loved it! So guys, get done with all your work for the day, or maybe take a break in between and watch this super fun episode exclusively on Voot!