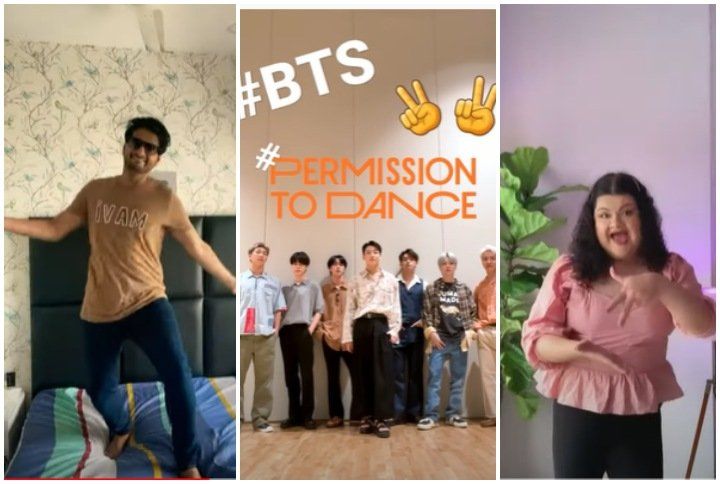 A new dance challenge has been making rounds and it sure is one you do not need 'permission' to try out. Post the release of the hit track 'Permission To Dance' by BTS, the K pop band joined hands with YouTube to start a dance challenge. And there came ARMY all geared up to post some amazing videos on YouTube as a YT Short. These fans put their best foot forward and grooved to the beats in the most creative and quirky ways. For all those who still wanna join in here are a few of the best YT Shorts that will give you the inspo you need. Check 'em out!
"Well, let me show ya…"
1. Anmol Sachar
Anmol Sachar joined in this dance challenge bandwagon with a few hilarious and desi moves inspired by some hook steps of Bollywood songs. The quirk factor and energy is quite high in this YouTube short, don't you agree?
2. Shivani Kapila a.k.a. Little Glove
Shivani is slaying this dance challenge with this YouTube short. We totally love her enthusiasm and energy in this video. This content creator who recently gave birth, hopped on to this dance challenge as her first dance video after her pregnancy and grooved like there's no tomorrow. *woot woot*
3. Supriya Joshi a.k.a. Supaarwoman
Gotta trust Supriya when it comes to creating some unique content. While keeping the groove to the beats present, this content creator added a smooth transitional touch. Also, can we mention that a generous dollop of cuteness to this 'Permission To Dance' YouTube Short sure did amp up the vibe of this video, amirite?
4. Tanvi Karekar
Tanvi Karekar sure did add a vibrant twist to this 'Permission To Dance' challenge with some stunning transitions and varied dance forms steps. We really like how Tanvi made sure she kept that energy high and that beautiful smile right from the start to the end of this YouTube Short.
5. Chattambees
This YouTube Short on the 'Permission To Dance' challenge just screams fun. We love how Annie and Ashna have owned this challenge by adding a whole lot of quirkiness and enjoyment here. We're defo saving this one to try out with our besties.
6. Pradeep
Woah! Pradeep has got some amazing skills up his sleeve and we love how he has used it in this challenge. To make a trend your own by adding what do you do best, is exactly what Pradeep has done here, and we would like to give him a virtual applause for doing this with much finesse. Kudos!
So here were a few creators and members of the BTS fandom that created some stunning YouTube Shorts on the 'Permission To Dance' challenge. With the unique and interesting twists that each one of them added, we can definitely say is that the entertainment and creativity factor was absolutely on-point. While probably going to be trying them all out, do you have a favourite from this list? Do tell us about it in the comments. Also on a side note, we hope everyone reading this is staying safe and please do get yourselves vaccinated.