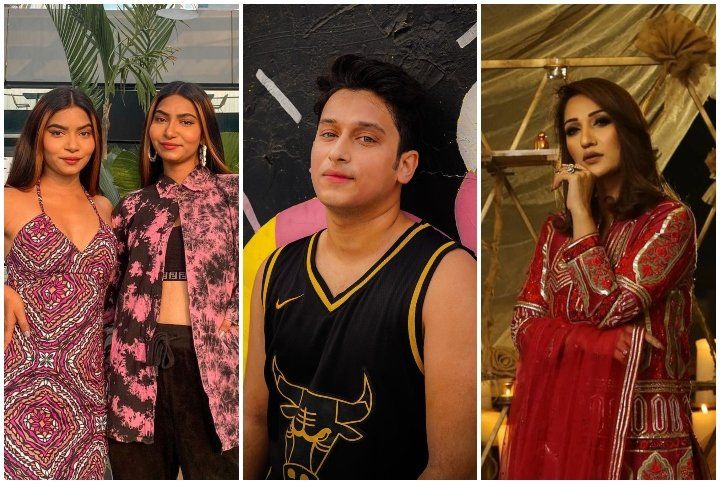 Instagram has been the only source of entertainment in the past few years, amirite? It has also helped a lot of newbies to get recognized and appreciated by others. We at Trending come across so many potential creators every day and that's why we have our own little property called #NextBigThing where we feature an upcoming creator every Wednesday. All of this is possible solely 'cuz of Reels. It has pushed and motivated these budding creators to create more and more content.  So, scroll down to see some of these fab creators!
They're the Next Big Thing!
1. Harpreet Suri









View this post on Instagram












Harpreet is a mother of 2 children and that's her superpower. She is also a Covid-19 survivor and we're so happy to see her become strong and stronger each day. During the pandemic, she took Instagram as a platform to educate and spread awareness about motherhood and parenting. She also tried to spread positivity and happiness through her online workshops for hundreds of kids and parents. What makes me love her is her original and raw content. Also, her feed is so entertaining and engaging to watch, if you don't know what I'm talking about go check her profile out right away.
2. Vineet Singh









View this post on Instagram












I have to say, Vineet is one of the most talented percussionists that I've come across and tbh he has kept me hooked to his feed with his creativity. He is a musician who loves to perform songs with his own 'lil twist, which btw is mindblowing. He is also pursuing music professionally with his band named 'Annhad'. Along with music, he is also a keen traveler and a big-time foodie. He believes that as an artist, it's really important to vibe with your audience so that they can feel peace and a sense of belongingness, which hit me right in the feels. To see his amazing talent don't forget to check his 'gram.
3. Tina Kothari









View this post on Instagram












With over 70k followers, Tina has content for everyone on her feed from fashion to beauty and lifestyle. What makes her stand out from the others is how she manages to add a personal touch with her stories to all her content.  She became a mother to a daughter at a very young age and as the years passed by her spouse and her daughter encouraged her to do something different and unique. I'm so proud of her for overcoming all her barriers since 2018. If you don't check out this one, you'd defo miss out on some great content.
4. Bhawna Lunthi









View this post on Instagram












Bhawna is a graphic designer by profession but currently, she's trying to make her presence feel on Instagram and Youtube. Let me tell you, that she's an introvert but when it comes to recording herself in front of the camera she kinda forgets that she's an introvert. She's been creating content for fashion, lifestyle, and some other relatable content as well for the past 2 years now. I love how she always makes it a point to keep her content positive through her smile and the colours used in the Reels. So, if you're looking to brighten your mood at any point, this is the profile you should scroll.
5. Rahill Mehta









View this post on Instagram












Rahill has always loved dancing since he was young and has been an enthu DJ since 2015. Both of his talents gave him happiness and the freedom to express himself to the world. That's when he decided to merge these two together and create an experience and a concept like never before, #TheDancingDJ. He is India's first 'Live Performer' to incorporate the fusion of dance and DJing. Also, the above Reel is one of his latest and I can't stop hearing it on loop. So, if you're looking for some 'Old School' music, Rahill's profile is your one-stop destination!
6. Mansi Kukreja









View this post on Instagram












Mansi is a super talented creator, who loves and enjoys creating content. She is into fashion, styling, beauty, and even editing, that's so cool, right? Her journey of content creation has made her grown into a confident young adult. Also, her quick simple hairstyle videos are the best, they keep us hooked to her profile day and night. Tbh, I've saved a lot of them as well for future reference. So, quickly go see her profile for some fashion inspo.
7. Gowri









View this post on Instagram












Gowri is a renowned singer and songwriter from Bangalore and she's been singing since she was 4. She primarily sings covers in Hindi and regional languages. She also writes her own music in English. Till today she has 3 singles out on all streaming platforms so don't forget to check them out. She's trained in Carnatic classical music too, like WOW. The challenging part of her content is she makes most of her covers in a language that she doesn't understand or speak but loves doing it. Also, she is slowly venturing into original music and covering Indie songs, sounds amazing, amirite?
8. Kanchi Sharma









View this post on Instagram












All the Gen-Z's in the house, I am sure you know Kanchi? She started her journey a little over a year ago and hasn't looked back ever since then. Her forte lies in grooving to trending beats and styling outfits. Creating content is something that excites her and she tries to keep it fun, positive, simple, and easy for her fans to recreate through Remix Reels. If you ever feel low and need a breather of fresh air and positivity, look at her feed and I'm sure it will bring a smile to your face!
9. Prakrati & Srashti Rush









View this post on Instagram












Guess what, they're identical 'two-ins'! Rush Twins is how they identify themselves on the 'gram. They create fun content around dance, fashion, and acting. As a matter of fact, they have been creating content for the past 4 years and have been dancing for over 10 years. The creative part of their content is that they try to infuse fashion in their dance choreographies. They say 'Dance is all that gives us rush in life'. Taking inspiration from their surroundings and turning them into art is what they truly believe in. So, don't miss out on these two for sure.
10. Sakshi Shah









View this post on Instagram












Sakshi is known as 'Style of the Subtle' on Instagram with over 22k followers. 2 years ago she switched her account from private to public and little did she know it was going to turn into a profession that she'd wake up to every single day of her life. Content creation has become her 'passion project' now. I love the fact that she uses her platform to speak her mind freely and also to create unfiltered content. She keeps experimenting with her content and that's why you should defo check out the Reel that made her viral, 'Things we've all done in school'.
Well, these creators have outshined their way and are trying to reach the top with their hard work and dedication. Keep supporting such creators as they need us the most. Also, tell us in the comments below which creator did you find the most interesting out of these. On a side note, I hope you guys are safe and booking your vaccine slots.