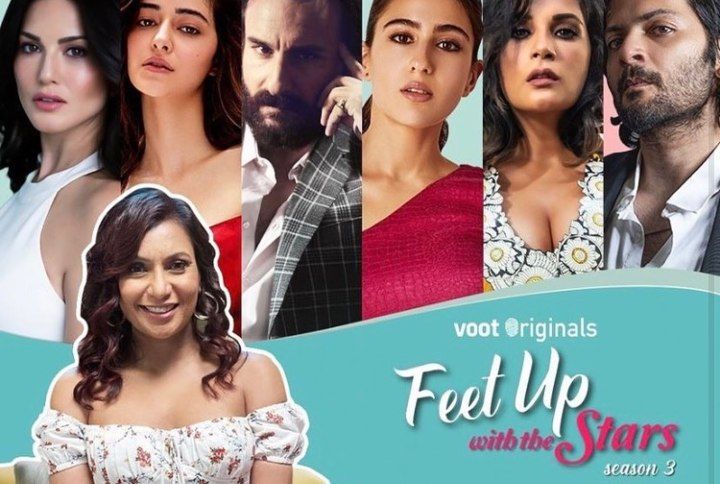 Voot's Feet Up With The Stars S3 has been making quite a buzz for its interesting celebrity guest list and the fun stories they all have been sharing. The latest episode featured Raj's Simran, the queen of expressions and our hearts, Kajol! We all know that there never be a dull moment when Kajol is on-screen, all thanks to her super candid and fun nature, right? In this episode, she spoke about her guilty pleasure, shared some nostalgic moments and cracked a lot of jokes!
The episode started off with the host, Malini Agarwal testing Kajol's memory by asking her some fun questions based on her previous films and the actress aced them pretty well. She confirmed a very interesting fact that Karan Johar used to believe she's his lucky charm for quite some time and would call her on sets even if she's not a part of the film! What I liked the most in this episode is the 'This or That' segment wherein Kajol gave some mind-blowing answers. You know, I won't reveal much but I can tell you this one thing, what do you think she chose between making a film with Ajay or a movie with her kids?
Speaking about a film with her kids, Kajol says-
More than a co-star I prefer Ajay as a director. So I would like Ajay to direct me and my kids, whoever my kid is. Maybe I will have a third one, you never know. Lockdown mein people have been getting busy. Bohot saare news aarahe hai, pata nhi ho sakta hai haha. Lockdown jaldi khatam ho jaaye, Bhagwan ke liye!
Overall, I absolutely enjoyed this episode and all the stories that Kajol shared. Her nostalgic moments took me back to the time when I was a kid who used to be glued to the screen watching Kajol a.k.a Simran run after the train in slo-mo and wait for the happy ending. Kajol totally elevated the mood of the episode with her vibrant energy and that's what I like the most about her. Catch this episode exclusively on Voot and like I always say, keep your popcorn bowl ready!