Whether it's a finishing touch or the centrepiece of your outfit, the right kind of accessory is a versatile companion to fashion. Always considered a luxury and an aspirational purchase, jewellery is divided into an infinite number of niches, one of which every fashion lover can relate to; especially when it comes to certain classic and timeless essentials that every jewellery box should have. But building up a jewellery collection takes some serious thought and not to mention, costly!
The good news is, if you're in the market for a little jewellery update or you're building a collection from scratch and don't have the fortune to spend, the newly-launched Signi Jewels is just for you! A jewellery brand centred around affordability and attainability and not just aspiration, imagine that! Quite a refreshing change, noh?  They offer a range of beautifully crafted pieces for those who are passionate about fashion on a daily. With the highest quality crystals that sparkle like diamonds and are pocket-friendly it can all seem too good to be true but in fact, is what make Signi stand out from the rest!
Here's all you need to know about Signi Jewels affordable daily wear collection:
All About Signi Jewels
First up, let's learn a little more about Signi Jewels. Their vision is all about creating pieces that while highly fashionable also encompasses uniqueness while still complementing the wearer. If you're passionate about jewellery trends, Signi aims to serve you all that more with a sense of wearability, while being affordable. They use only the finest material of crystals, polished and cut to perfection to give the optimal shine and brilliance. So while they are affordable, you can be sure that you aren't compromising on quality, purity, trust and transparency. I think that's pretty amazing! Especially if you're always keeping up with the latest jewellery and fashion trends it can take a toll on your budget.
The Affordable Daily Wear Collection
Signi's style and collections express a perfect harmony between minimalism and magnificence. Right on point with the eye-grabbing ability of the minimalism trend has caught everyone's attention this year. Less is more with Signi, but without giving up on the shine and sparkle. From gorgeous hoop earrings, rings, cuff bracelets to stunning necklaces, all the pieces literally shine like real diamonds when they catch the light. Yet, they have an understated, elegant appearance and charm that make them timeless pieces of jewellery. Plus with a focus on affordability, it makes it an ideal investment for those looking to add to or build up their collection from the ground up.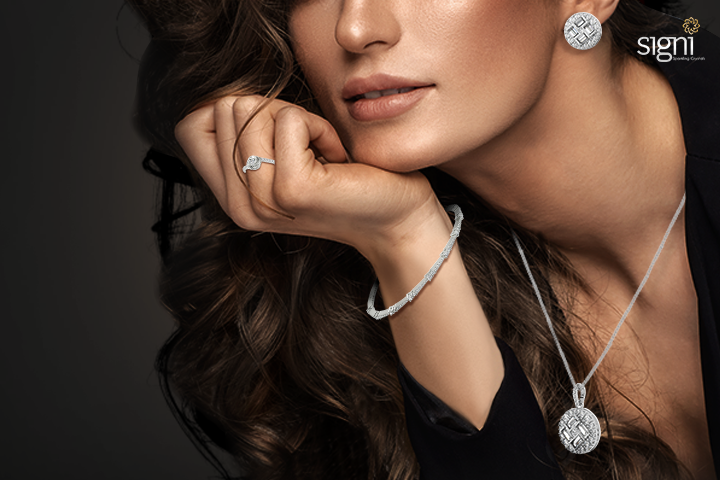 With the world opening up, people are eager to show off their style, and the shiny metals, crystals, and gemstones used in jewellery are the perfect vehicle to do so. If you're a fashionista you know the right accessories is one of the easiest ways to transform your outfits. Sometimes it can even be the crucial item that can really turn things around. Key classic pieces like tennis bracelets and dainty necklaces are a must-have and would be ideal to match any outfit! Be that a simple white blouse you're wearing at the office, or a cocktail dress. While the more unique gemstone pieces in Signi's line can combine perfectly with your existing collection. For example, that elegant bracelet can even be worn alongside your watch for a trendy look. Or stacking rings that are designed to complement one another. You can mix & match to your heart's content!
All in all, this makes any piece from Signi's stunning collection the perfect gift for your loved one or yourself without breaking the bank. Most of the pieces from their entire jewellery collection are in multiple categories ranging from 3k to 70k. Easy on the wallet and the guarantee of quality? How amazing is that! I'm sold already.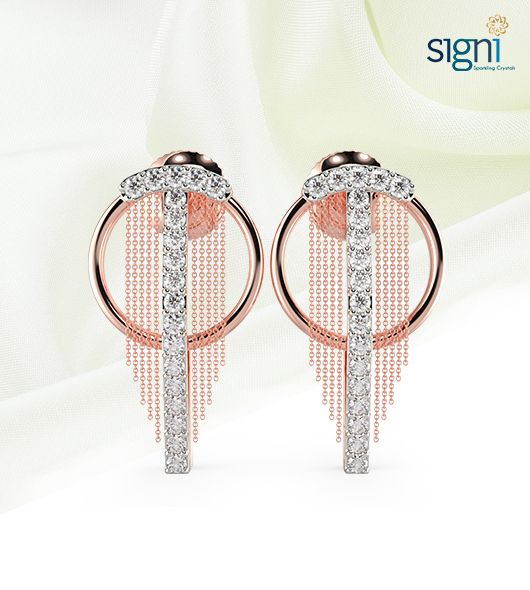 For more updates follow Signi Jewels on Facebook, Twitter and Instagram.
This post is in partnership with Signi Jewels.