Attention 'grammers! You probably will agree that since the launch of Reels, Instagram has completely dominated the digital market. With the rising number of young creators and changemakers showcasing their creativity and talent the 'gram has become a platform for people to express themselves. Today, Instagram recognized these sought-after creators by releasing a list of 25 emerging creators under the age of 25. Yes, you heard it right as a part of their 'We Are In The Making' campaign that celebrates young creators who're in-the-making, in the run-up to Meta Fuel For India 2021. Curious enough to know who these 25 creators are? Wait no more, just scroll and meet them!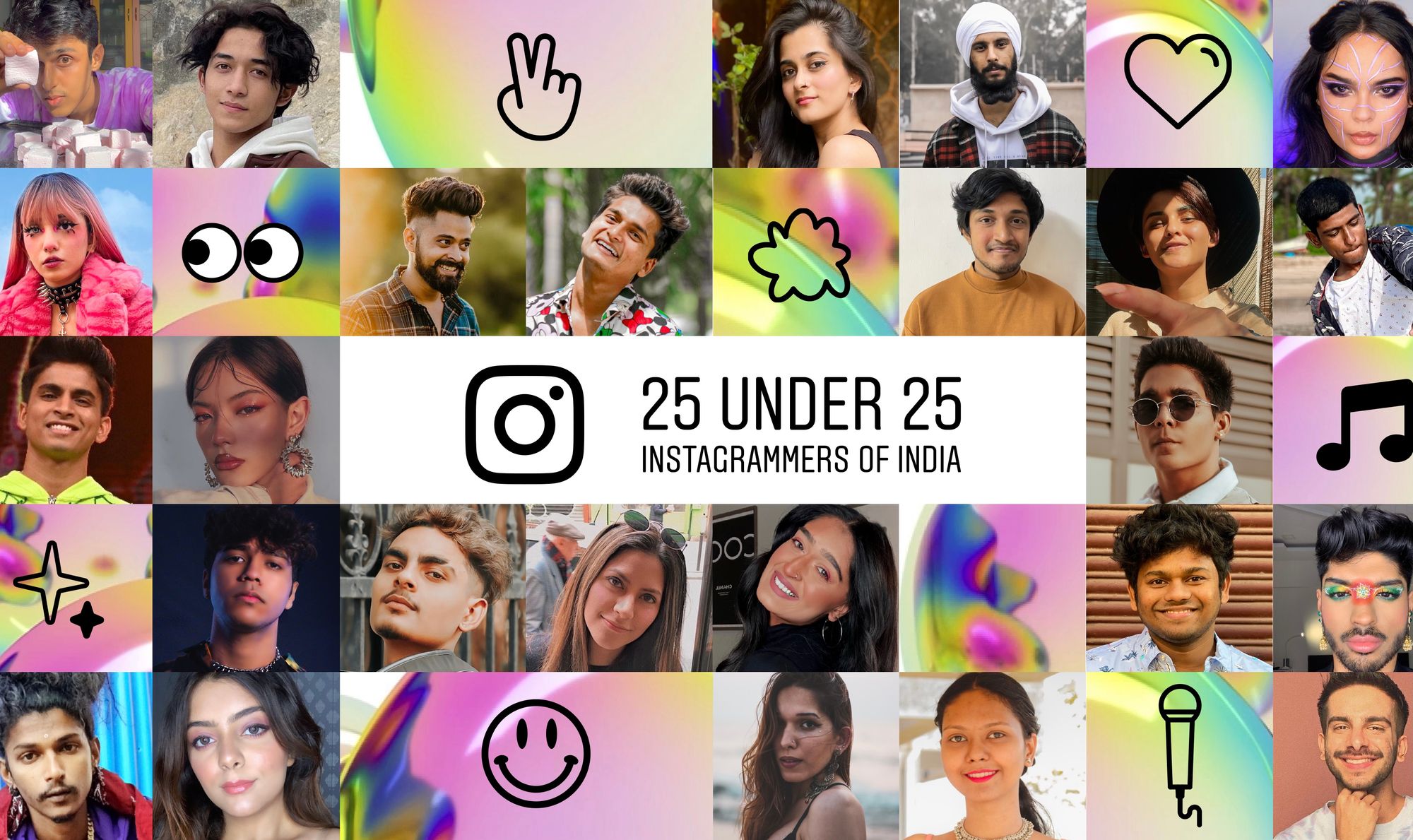 A little about the #25Under25OfIG list, it's a wholesome list of exciting creators and trendsetters on the 'gram who are rocking n' reeling with their unique stories and content in their specific genre. Their relatable content hit us right in the feels making them stand out from the clutter. The list was selected based on various parameters and was judged by popular Bollywood actor Sara Ali Khan and some renowned creator celebs like Kusha Kapila, Masoom Minawala, and a few more.
Meet 25 In-The-Making Creators:
1. Aditya Hirlekar
Aditya loves cooking and we love watching him cook and share mouth-watering recipes with us. We love how enthu he is on the 'gram, can't wait to try all the exciting dishes he has in store for us!
2. Akash Thapa
Akash is a superb dancer who truly believes in hard work. His dancing Reels is a treat to watch and we just want them to keep coming, hehe!
3. Divija Bhasin
We all remember her for her viral 'work from home' Reel, amirite? Divija's mental health content is light-hearted and relatable to another level.
4. Gurpreet Singh
India's first animation/robotics dancer, Gurpreet is blowing our minds with his talent and choreography. Ngl, but his dance style is beyond imagination!
5. Harshleen Jhans
Harshleen is one such creator who has transformed her passion into her profession! Her dedication and experiments with new makeup techniques, trends, editing, has made her successful today.
6. Krutika
Krutika popularly known as The Mermaid Scales is known for her funny, everyday life content. Her unique and hatke content always excites people to watch more.
7. Kushal Mistry
When Reels was launched, Kushal dove in to express himself through his content and has seen great success as a Gujrati creator.
8. Naveen Singh
Naveen's content revolves around an average Indian middle-class family, in a relatable, light-hearted way which we and his fans can relate to maxx.
9. Niharika NM
Niharika NM is stealing the show on the 'gram with her short format videos aka Reels. We just can't get enough of her content and can binge-watch it all day long!
10. Nirmal Pillai
Nirmal found his love for making videos and after he did there was no going back, his Reels and content is enjoyed by us and everyone.
11. Parna Deshpande
Parna is a proud pet mom of 2 fur babies! Her real, relatable and aesthetic content is what makes her the rising star of the 'gram!
12. Piyush Gurbhele
An extraordinary dancer and performer who has surprised millions of people with his swagger and smooth dance moves.
13. Priyam Yonzon
Priii is a digital creator who loves anything and everything about fashion! We absolutely adore her Reels and content.  
14. Rohit Zinjurke
Now, what can we say about this handsome boy? His fashion and styling content is defo worth saving forever. Looking forward to what he comes up with next!
15. Rupa Ram
A supremely talented creator who is creating some exciting and unique content on the 'gram. Check out his feed if you haven't already for some awesomeee content!
16. Sagar Kumar
Sagar Kumar is a creator and dancer who has some big dreams to achieve. He already is on a winning streak and we can't wait to see him grow more.
17. Sahil Nitin Magar
Saahel is a trained musician who went viral on Reels after he posted the Hindi version of Stay. His mashups, Bollywood song covers and remixes are to listen on loop.
18. Sakshi Shivdasani
Name someone as relatable and true as Sakshi, we are waiting! From her funny content to her rants we can't stop saying, 'SAMEE' every time we see her content.
19. Saurabh Ghadge
Making people smile with his entertaining and witty self, Saurabh Ghadge has become a common household name, don't you agree?
20. Shantanu Dhope
Being gender neutral, Shantanu breaks all stereotypes with his makeup skills and honestly, he never fails to WOW us with his skills and content.
21. Surya MKR
As a rapper, beatboxer and social media influencer, Surya MKR is making Tamil proud with his popular Reels.
22. Tanya Balchandani
The girl who started her content creation journey out of curiosity for Reels and interest in makeup, today is slaying it on the 'gram with her stunning looks and transitions.  
23. Dr. Trinetra Gummaraju Haldar
A digital content creator and a doctor, Dr. Trinetra is an inspiring and proud transgender woman who seeks to better queer lives through her powerful means of expression and art.
24. Vaishnavi Nalbalwar
Vaishnavi is an amazing fashion stylist and content creator with DIY fashion hacks. Tbh, her feed is like a one-stop destination for all things fashion and styling.
25. Vishnu Kaushal
This Punjabi boy is totally winning the world's heart on the 'gram with his sense of humour and relatable content.
There you go! The list of '25 Under 25 Instagrammers Of India' is complete and we are sure it defo introduced you to some new amazing creators. Well, all of them are inspiring and making a mark with their own unique style in their community. We cannot wait to watch more exciting Reels and the content of these creators on our feeds. On a side note, we hope everyone is keeping safe and wearing a mask while stepping out.