In today's fast-paced and ever-evolving world of the Internet, social media is something that has become a major part of our daily lives. Meta released its 'Year-In-Review' today and it confirmed, 'Vaccines', 'Olympics' and 'Captain Vikram Batra' amongst its top trending topics. Every year the Year-In-Review reflects the themes that define the top keywords for the year. For 2021, Covid and health, sports, and an assortment of cultural moments and topics captured the minds of Indians across Facebook and Instagram. Read on to know more about what topped this year's trending list.
Social Media And Reels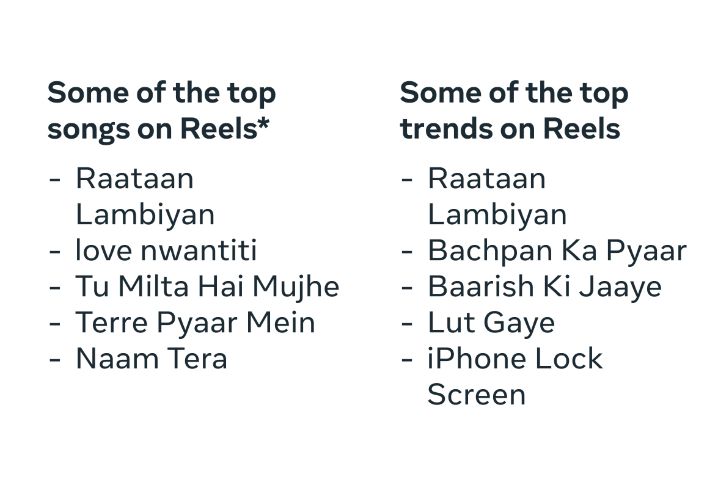 Reels have become a way for people to showcase their talents and express themselves. Some of the tunes that were on the top trending list this year included the songs 'Raataan Lambiyan', from the movie, 'Shershaah' by Tanishk
Bagchi, 'Love Nwantiti' (feat. Dj Yo! & AX'EL) [Remix], by CKay, and 'Tu Milta Hai Mujhe' by Raj Barman. While some of the trending challenges on Reels this year included 'Bachpan Ka Pyaar', which was a lip-sync and dance trend, 'Baarish Ki Jaaye', which involved a remix & an AR effect, and 'Lut Gaye' feat. Emraan Hashmi, which was again a lip-sync trend. The iPhone screen lock trend was also used a lot. The most used AR effects of this year were 'red glitch' by @ccssiano, 'party lights' by @dhfdz_, 'red rose' by @maf._.a07, 'maple' by @vieryvito, and 'all soften' by @rahmamqf.
Pandemic And Well Being
As we all are aware, the last couple of years haven't been so easy. The pandemic affected a lot of lives in more ways than we could have ever imagined. In these times the topics that gained the most attention online were 'prayer', 'oxygen', and 'hospital'. Social media platforms eventually served as a platform that people used to get in touch with one another to provide support and help each other in any and every way possible. This then graduated to various 'vaccine' and vaccination-related topics, as people looked to immunize themselves from the virus. A surprising trend though was 'Flaxseed', which a lot of people shared and discussed because of its perceived benefits.
Sports
2021 will always be a special and memorable year for India as this was the year when our athletes made us proud by creating history at the 'Tokyo Olympics' and 'Paralympics Games'. Our athletes achieved the highest tally of medals in the games this year and the country celebrated with the 'Gold Medal' being the keyword. It was also a big year for all our cricket fans as the Indian Cricket team this year made its way to the finals of the inaugural 'ICC World Test Championship'. Another topic that was trending in this theme was 'Women's One Day International Cricket' as our cricketers like Mithali Raj, Smriti Mandhana and Jhulan Goswami were acing the game with their incredible performances on the field.
Cultural Moments And Topics
India is a diverse country with different cultures and interests, and this year one of the trending topics during the festive season was 'garba'. The release of the movie 'Shershaah' during the time of Independence day started a conversation about the brave Param Vir Chakra 'Captain Vikram Batra'. Lastly, some of the other topics that managed to capture the most attention in this theme were 'jewelry' and 'cryptocurrency'.
Well, these were the top trending keywords, trends, and AR filters of 2021. It was truly a year full of interesting topics and we look are totally looking forward to the next year. On a side note, we urge you to get vaccinated and stay safe.