Former Miss India, Neha Dhupia is presently tied up with promotions for hostage drama film, A Thursday that follows the abduction of cheerful kindergarteners. With the trailer release we see an ensemble cast of Yami Gautam Dhar, Neha Dhupia, Dimple Kapadia and Atul Kulkarni all fitting into their roles seamlessly. Neha is seen playing ACP Catherine Alvarez, a pregnant cop. Being a mother, I'm sure she could relate to the character. The movie is all set to release on 17th February on Disney+ Hotstar. Scroll on to see what Neha wore to the promotions.
Here's why we loved Neha Dhupia's colouful OOTD:
Stylist Damini Das styles Neha Dhupia in a brightly coloured maxi dress from Shop Drawn. We've seen Neha's love for comfort dressing and maxi dress styles and she is max relatable. Always on point and stylish, everything she wears is stuff I would wear too. Let's talk about this outfit thought, on first look it just looks like a colorful dress but when you look closely you notice interesting patterns and suddenly it feels nostalgic but you're still unsure.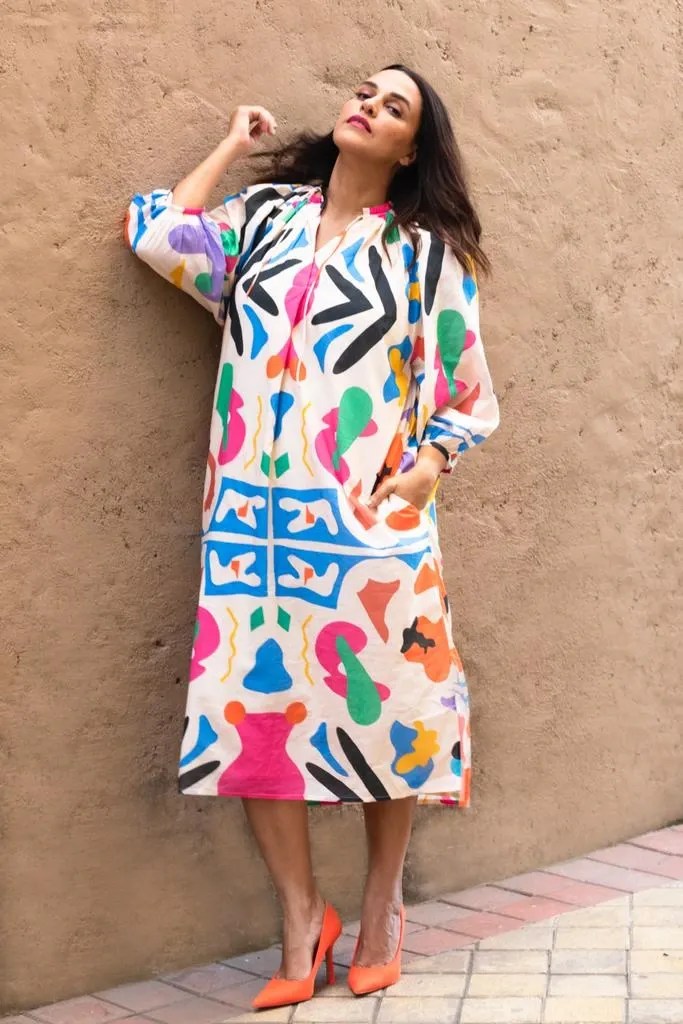 Remember when we were kids and we folded papers and made cuts and holes in them to create patterns that mirrored one another? This is exactly that. It is a print inspired by paper cutting art and looks like a festive medley of different shapes, almost like someone stuck brightly coloured, chart paper to this dress. This dress features a knot-front detail around the neckline that has soft gathers, an exaggerated raglan sleeve adds to the drama of the dress. I think it's wonderful that the dress cuts off at the ankle and comes with side slits; this way you get to show off your fun footwear. Neha completes her look with orange pointy pumps. but if you were going to the beach, funky sandals all the way, opt for lace up sandals for the night for extra pizzaz!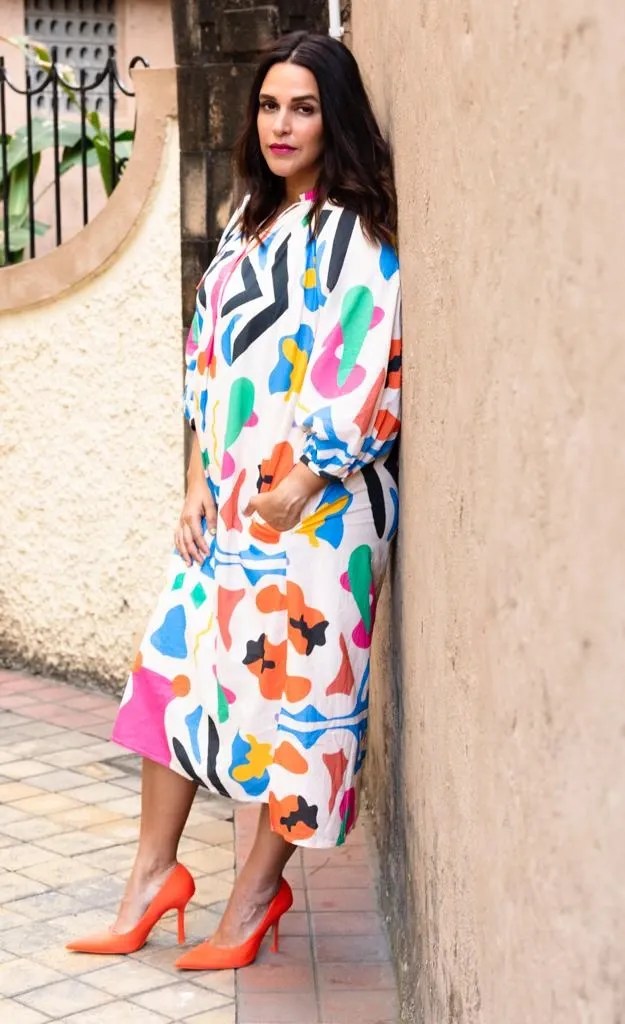 Hair and makeup artist Vibha Gusain lightly tongs Neha's hair for that glorious beachy vibe. For makeup, strong brows, smokey brown shadow, flushed cheeks and a pop of pink for the pout. Perfect choice for a quirky outfit like this, no?
Follow @missmalinifashion for more on everything fashion related and download the Girl Tribe by MissMalini App to join our Fashion & Beauty community.