It was in January 2021 that I first saw Khushalii Kumar paired up with Parth Samthaan in the music video of Pehle Pyaar Ka Pehla Gham. I was mesmerised by their chemistry and so were a lot others, and thus I was so glad to see them back together in their recently released motion picture track, Dhokha. What just doubled up my excitement is that now not just for a few minutes, but soon I will get to see this pairing in a full-fledged film as it was announced yesterday that Parth is making his Hindi film debut opposite Khushalii in Ghudchadi, which also features Sanjay Dutt and Raveena Tandon.
This marks the duo's third outing together and Khushalii and Parth are not just co-stars but also close friends. When I asked Khushalii about the change she noticed in Parth after their first music video, when they reunited for Dhokha, she had a very sweet answer to that.
She responded,
"He has changed more in his physical appearance. He has been working out a lot and following a strict and nice diet. He has become a bit more disciplined. When I met him during Pehle Pyaar Ka Pehla Gham, it was right after the first wave of Covid and we were just getting back to work. We had gone into our comfort zones of eating and chilling. So, here I saw his physical transformation, and I am sure the audience did too. He has put in a lot of hard work into that. He is a wonderful actor, great performer and it's always a treat to be opposite him on screen. Doing all the romantic scenes is fun but I really enjoyed doing the emotional scenes with him."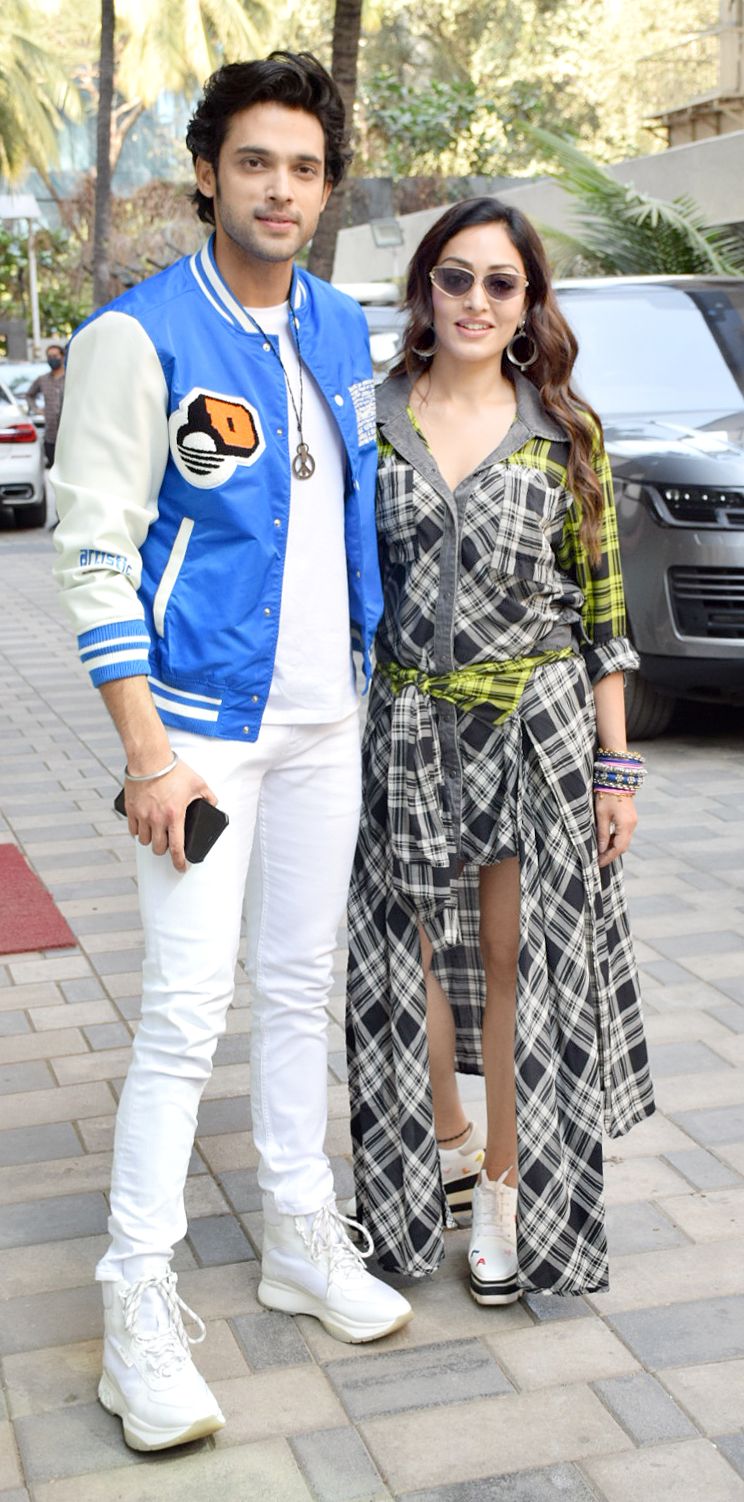 While Ghudchadi marks Parth's film debut, it also is Khushalii's third film after Dhokha Round D Corner and Dedh Bigha Zameen, and what makes it special is that it is her third film even before her first has released. When I ask her if it helps increase her confidence when the makers are showing such faith in her, she replies in the affirmative.
Khushalii insists,  
"Of course it does give you encouragement, but at the same time I have been waiting for my films to release. It's just due to the Covid situation that it hasn't happened yet. Fingers crossed, mostly by April-May it should release."
The actress is working with Aparshakti Khurana and R Madhavan in Dhokha Round D Corner and with Pratik Gandhi in Dedh Bigha Zameen. Growing up, she has seen the world of cinema from behind the camera, coming from such a renowned film family, but when I inquire about how the experience was different in front of it that too with such esteemed co-stars, she gets excited.
Khushalii responds,
"It's been amazing working with all these people. And R Madhavan is like a school of acting, an institute in himself. It was a whole learning experience and a beautiful journey that I shared on set with him, and the same was with Pratik. Both are wonderful people and they made me feel so comfortable and so much at home. We just connected instantly. In fact, we completed our film way before schedule. Everything that we shot was completed in one or two takes. We finished my first film 10 days before the schedule and it's all thanks to the entire team who helped me bring out the best in me."
Being a cinema nerd, I always enjoy seeing new faces on screen as they bring in a freshness with them, and with a pairing like Khushalii and Parth, I am real excited to see it on the 70mm screen. To add to that, considering the faith that makers are showing in Khushalii already, I am certain that I am in for something really special.