Another year, another FDCI x Lakmé Fashion Week! Each year, our excitement certainly increases as we wait in anticipation of what is to come. And since the pandemic hit us, we were robbed of 2 years of physical shows and that particular fashion week frenzy, so when they decided to come back this year you can only imagine how ecstatic we were! Let me tell you, they did not disappoint! Day 1 showed us a healthy mix of new designers in the fashion industry and some of our favourite experts of the trade.
The Gen-Next Show
Alpona Designs by Soham Acharya and Shriya Khanna were introduced to us in this year's Gen-Next show. While one showed us a bold mix of prints and colours the other played with a more delicate, monochrome and geometric design. Either way, they both certainly blew our minds by showing us both sides of the spectrum!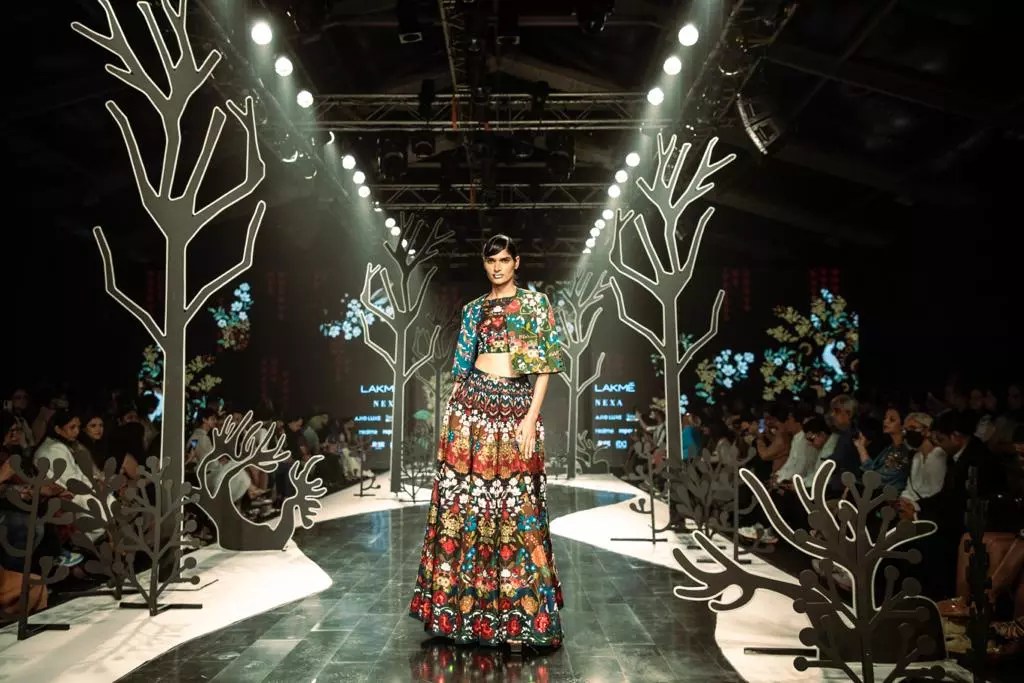 Outhouse
Outhouse's collection, OH Dopamine is an ode to the Y2K era and who doesn't love nostalgia? If you want to make a statement this collection is certainly the way to go. From colourful beads to resin to crystals and rhinestones these items are certainly a blast from the past and we have nothing but heart eyes for it.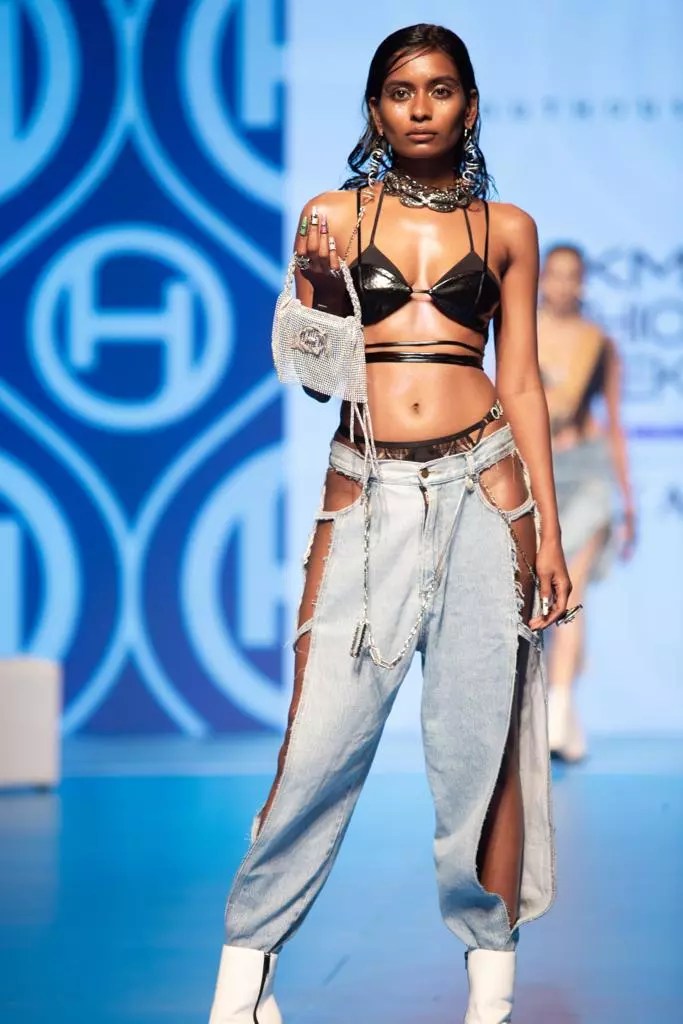 Rara Avis By Sonal Verma
Rara Avis by Sonal Verma's collection, Hodophilic had the perfect balance between contemporary and traditional styles. The collection featured silhouettes that are certainly out there, yet have a fun and breezy vibe to them. With vibrant colours and exquisite embroidery, we can already imagine these pieces being a hit during the wedding season!
Shruti Sancheti
Shruti Sancheti's collection, Alchemy, celebrates techniques from the Mughal era along with delicate detailing that that time was known for. The legacy of captivating designs and patterns from India was showcased flawlessly through this line and we're loving it!
Alpana & Neeraj
Alpana & Neeraj's collection presented by Lakmé Lumi Cream channels a certain boss lady energy and I mean, who wouldn't love that? The pastels and neutrals add a fun twist to their signature structured and fierce silhouettes. The star of the show however, has to be the adorably large bows and elegant drapes that some of the pieces in this collection feature!
Samant Chauhan
Samant Chauhan's collection, Winter Rain, certainly looks exactly as the name indicates. The muted blacks, blues and greys do a great job of reminding one of a beautiful albeit gloomy rainy day. The line features metallic embroideries paired with silk blended with organza, giving it an exploratory and fun spin to it. It certainly makes us look at life from a different  perspective.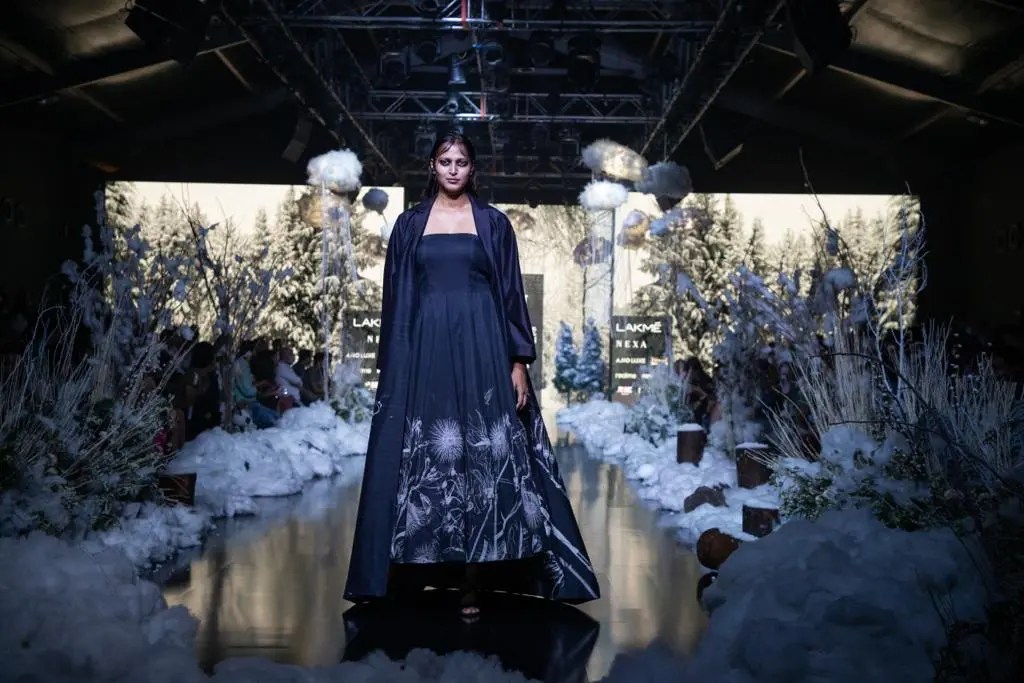 Varun Bahl Couture
Lakmé Salon and Varun Bahl Couture present the collection Quintessential, which is just the perfect amount of extra! It adds a contemporary and dramatic touch to traditional designs and has certainly given the grandeur of Indian couture a new meaning. Romantic embroidery, patchwork and hand-sewn mirrors paired with abstract and stylish designs surely make this line a dream come true.
Shantnu And Nikhil
Shantnu And Nikhil presented by Realme showcased their collection, Nomad, in an extravagant way and we're here for it. From a plethora of different textures to modern silhouettes to prints and motifs this collection has it all! The vintage fisher hats and puffer jackets play right into the trends at the moment. Giving off a nature-themed, mystical vibe thanks to the Aztec prints and use of fringe, this collection has to be one of our faves!
JJV BY JJ Valaya
JJV BY JJ Valaya's collection, Rumeli~The Summer Story goes the sustainable route and we can't help but drool over the stunning pieces. It features items made out of TENCEL LUXE, a filament yarn that is a sustainable, eco-friendly and vegan alternative to silk. This year the brand celebrates its 30th year in fashion and they have honoured that by launching its all-new bridge-to-luxury brand, JJV. This luxury brand just proves that one can still have a unique and fashionable sense of style with subtle and exquisite designs without the use of heavy embroidery.
Follow @missmalinifashion for more on everything fashion related and download the Girl Tribe by MissMalini App to join our Fashion & Beauty community.