A few days ago, Dheeraj Dhoopar and wife Vinny Arora Dhoopar shared the big and exciting news of their pregnancy with the world through a sweet post on social media, and ever since then I had been pretty excited for this adorable couple. As I got a chance to interact with the couple, I couldn't help but ask them about their plans in the coming months, and their answers have sure left me all the more intrigued. Here are the excerpts:
How long did it take for you both to grasp that you are going to be parents soon and there is going to be a new life coming in your lives?
Dheeraj: "It was an extremely emotional moment for me when I first got to know about it. I think there is no other feeling as pure as what we are feeling currently. Right now we are letting the whole feeling sink in."
Vinny: "We are both still trying to grasp the fact that we are going to be parents soon. It's all so very new to us. I think that only when the baby comes in our arms is when we'll truly believe that all this is for real."
Vinny, how has Dheeraj been pampering you during this pregnancy?
Vinny: "Dheeraj has always been very caring, everyone who knows him knows that. He is a wonderful person but he has become so protective of me now. It's kind of cute actually and I am loving that. I don't have to bend for things, work extra hard and I can ask for massages whenever I want. He keeps asking me if I am craving for something, which I am not these days, but he still keeps ordering things for me to eat. I am loving it, it's very sweet."
Dheeraj, what extra efforts are you taking to make this pregnancy special for Vinny?
Dheeraj: "I feel the best thing that a husband can do for his wife under any circumstances is to give her ample amount of time. I have been blessed when it comes to this. I have managed my timings in such a way that I have always made a good amount of time for Vinny. And now with our pregnancy, I will definitely spend more quality time with her and pamper her to the max."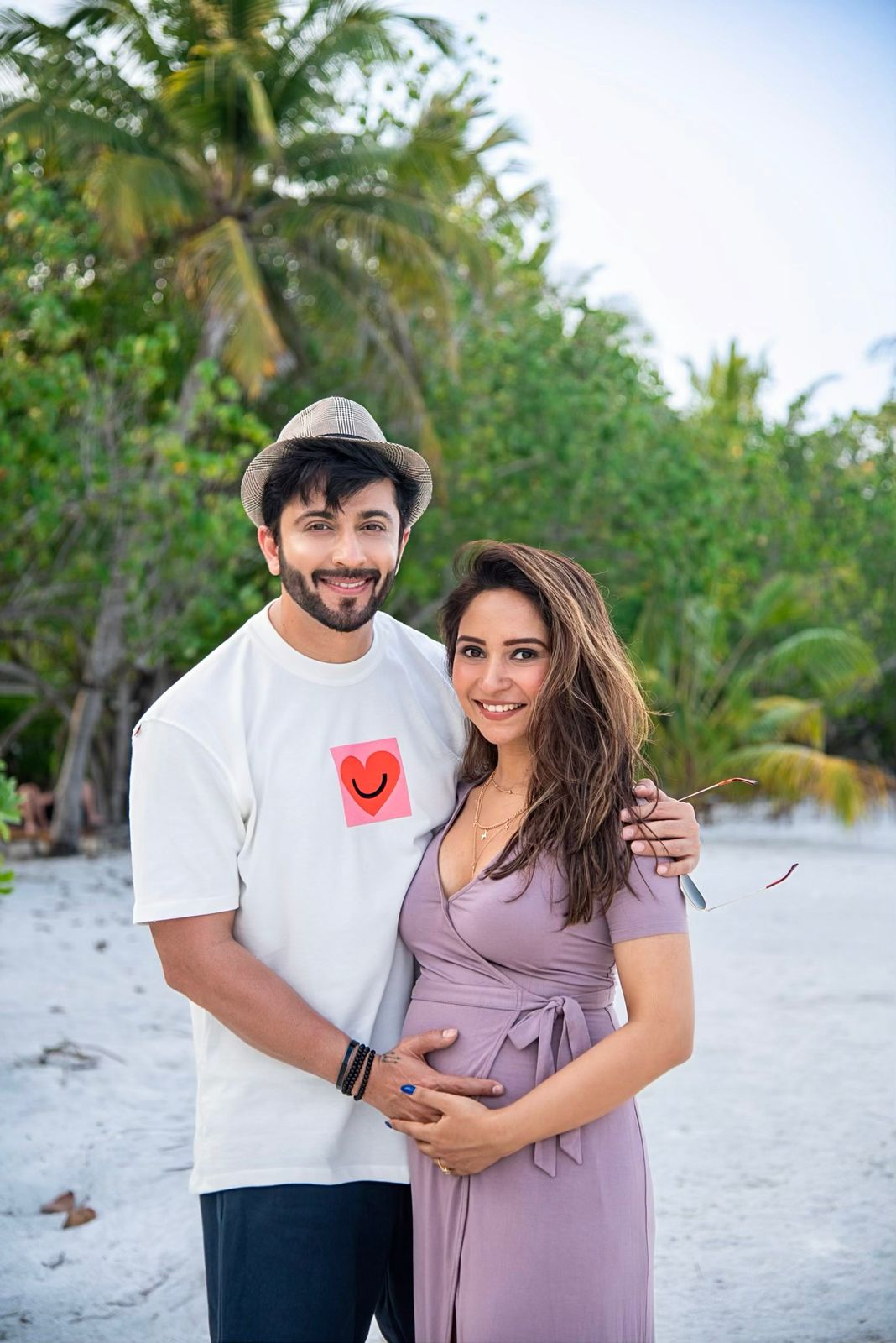 Have you made any plans for when the baby arrives? Thought of any names for your kid?
Dheeraj: "Our due date is in the first week of August, so we have planned things accordingly. We are currently discussing names amongst us. Not thinking much about it as we want to also see our baby first and then think of names. So working on it both ways so that we can at least shortlist a few."
Vinny: "Of course, we have thought of about a thousand names if it is a boy or a girl. We are not into any fancy preparations just as yet, but you really never know. We are just going by what our hearts say. We are just taking it easy and enjoying the phase that we are in right now rather than preparing hard for the future. We are going to take it as it comes."
Who do you think will be the fun parent and who will be the strict one?
Dheeraj: "Knowing us, I feel Vinny is going to be the strict one and I am going to be the fun element. But I feel I would like to balance my equation with my kid."
Vinny: "Hands down, Dheeraj is going to be the fun parent and I will have to be the bad cop. But that's what we do. He is going to be a very indulgent father I know for sure, so I will have to be a strict mom, whether or not I like it. But I think I will like it as well."  
What is that one quality in each other that you think will make the other a great parent?
Dheeraj: "I think Vinny is a very caring person by nature. I think this quality in her is going to make her a great parent. I am a first hand witness to how she has taken care of me and I can only imagine what our kid is going to experience. I also think that Vinny is very balanced when it comes to decisions and important junctures and this will really help us."
Vinny: "Dheeraj is great with kids. He has always been a favourite amongst his nieces and nephews. So, I know this for a fact that he is going to make for a great father, there is no denying that. And as I said, he is the fun one, he is into all the masti and naughtiness and I think that is something that kids really dig. I think that will make him a great father, apart from all the lovely things he is going to do for the child, but this one is the cherry on the cake."  
What is that one quality you want to imbibe from your own parents when you become one yourself?
Dheeraj: "This is a very tough question for me to answer. I think all qualities of my parents are there in me on some level. I think there is no particular quality but it has to be a balance of all important qualities that makes a true personality."
Vinny: "My father is extremely sensitive. He is very compassionate and understanding. In our younger days, we were always able to reason out with him, even when we were in disagreement. He was always available and I think that is something that I want to imbibe when I  become a parent myself. I want to be approachable to my child, and for them to be able to talk to me about anything in the world. Whether or not we are in disagreement, we should be able to reason out with each other. That is something I would like to have in my relationship with my kid."
What does your intuition say? Will it be a boy or a girl?
Dheeraj: "Frankly speaking I don't get an intuition about it. I am very open to whatever the almighty has to offer."
Vinny: "Honestly, I don't have any intuition as such. I just want the baby to be healthy. Of course, I am slightly biased towards baby girls though. But right now my intuitions are pretty mixed."
Both Dheeraj and Vinny are just too adorable and I am sure their little munchkin will cross all there level of cuteness as well. I can't wait to see these two embrace parenthood with the excitement and love that they have, and for that, I wish them lots and lots of love and luck. These three will surely be a riot together!