In the world of Love where cupid sets a meet-cute between lovers and romcoms get everyone's hearts fluttering, we all desire a relationship that lovingly nurtures us and brings us a happy slice of life. If you have got someone who makes you jive to romantic playlists, you go to keep them! With Bollywood reel and real life weddings, the couple goals keep soaring higher, just like Kiara Advani and Sidharth Malhotra if you wish to celebrate each other than what better occasion than the Valentine's day? As you set to say those three words, eight letters (I LOVE YOU), let the five love languages guide you through. Words of affirmation: say you love and appreciate them; Quality time: take them out on their favourite kind of date; Physical touch: based on their preference, embrace them (sexually or non-sexually); Acts of service: Cook them a meal or help them thoughtfully; Gifts: buy them something special. If they love all things beauty and wellness, then you are in the right spot. Here is the ultimate 2023 Valentine's day gift guide with the best of our handpicked collection:
MyGlamm Lit XOXO Fragrance- Valentine Range, INR 395
Notes of love, now bottled! The limited edition perfumes crafted with notes of berries, musk and floral accents mark the first impression with a mystique love note and lets the aromatic signature blend linger as you depart. A perfect choice for the modern Gen-Z girl.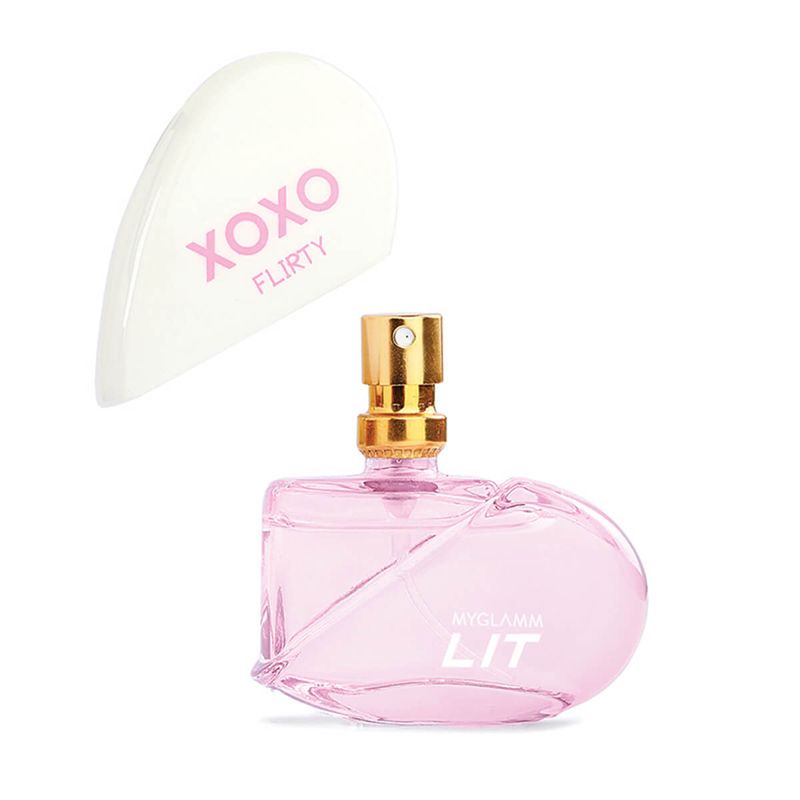 Forest Essentials Valentine's Glam Gift Set, INR 5,645
Shower her with expressions of love from the Natural Makeup collection. A range of creamy, lightweight blends made with clean, natural ingredients using age-old Ayurvedic rituals of beauty. This Gift Set includes: Charcoal Black Gulaab Khaas Kajal, Tinted Lip Serum Madhu Rasa Gulaab Jal, Gulaabi Noor Nikhaar Cheek Tint, Clear Lash & Brow Serum, Canvas Pouch.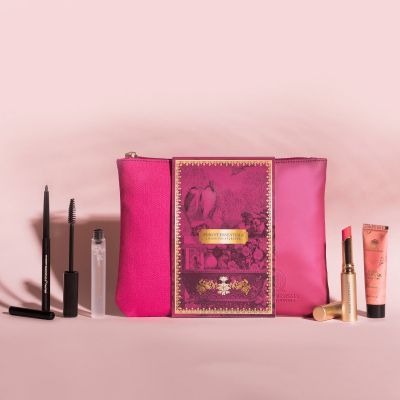 Put Simply- Cleanse, Moisturise & Protect
Get Your Greens Cleanser, INR 779: A jelly-like gel cleanser that gently lifts away dirt, makeup, and sunscreen without stripping the skin off its natural oils and moisture.
 Water Damn Moisturiser, INR 849: A gel-cream hybrid moisturiser that intensely hydrates the skin without the greasiness. 
 Beat The Sun Sunscreen, INR 899: The super trio of Tinosorb M, Uvinul T 150 and Uvinul A Plus provide broad-spectrum UV protection with an ultralight feel that's suited for all skin types. 
MOIRA PINK IT UP Bundle, INR 5,440
Get ready to fall in love with the dreamy pink collection make-up set. The hues of this collection are for every moment, every mood and  every skin tone. This bundle set contains: Signature Ombre Blush , Diamond Daze Liquid Shadow, Like a Melody Shadow Palette, Gloss Affair.      
 wiSDom Fragrances Orchid & Vanilla Candle, INR 3,000
Transports you to a field of fragrant flowers blooming with their intoxicating and sweet aroma. Light up your senses and your surroundings with this alluring fragrant candle with top notes of the sensual orchid accord, a heart of heady narcissus, with a sweet & comforting base of vanilla.
SOEZI Ready To Wear Kit, INR 849
Get your girl some glamorous, and good quality press-on nails. It's hassle free and instantly uplifts any look. Nails give off the main character energy so why not give her some much needed spotlight? 
Better Beauty Valentine Special Gift Set, INR 3,396
Here is a gift set curated with Better Beauty products that promise the goodness of clean, cruelty-free & conscious skincare. This Valentine's gift set consists of: Skin Balancing Cleanser with Hyaluronic Acid, Skin Beauty Buffet Face Serum, Hydration Booster Face Moisturizer, VC20 Intense Boost Face Serum. 
Vilvah Gift Sets For  Her, INR 2,499
Vilvah has designed a beautiful gift set for the skincare queen in her. From Lip Balm to a Face mask, Everything she needs for a glow-up is inside this box! The box consists of Grapefruit lip balm + Lip scrub+ Wild rose face mask + Rosewater toner + Aloe Vera gel + Rose goat milk soap.
Vilvah Gift Sets For Him, INR 1,999
All the grooming essentials for your man is inside this box! This set includes the best face care and beard care must from Vilvah. The box consists of Beard oil +Beard comb +Charcoal facemask + Cool water men's soap + Vetiver water facial toner.
The Body Shop The Sweetest Strawberry Heart Gift Box, INR 1,395
It's a Berry Good surprise for anyone who enjoys fresh juicy strawberry-based products with a fruity fragrance. The Sweetest Strawberry Heart Gift Box comes with Strawberry Lip Butter, Strawberry Body Butter, and Strawberry Hand Cream that is guaranteed to give you head-to-toe TLC. 
The Love Bathing Gift Set By Squish Town, INR 895
Blended with the finest ingredients, sourced from all over the world, and lovingly packaged to perfection. The products are infused with the aroma of natural essential oils that soothe, invigorate and captivate your heart and soul.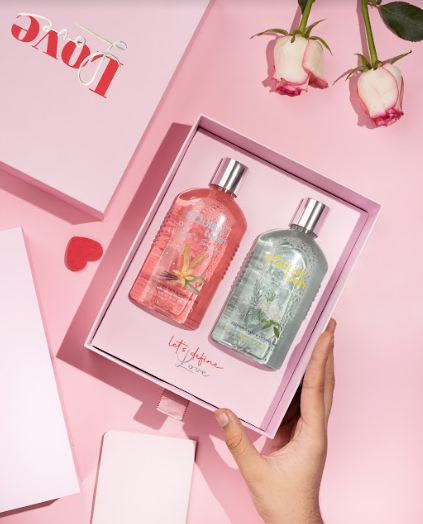 Love Is In The Pair By BiE, INR 998
The hydrating combo includes a Fresh Forward Deep Hydrating Cleanser and  Vin Rouge Renewing Face Wash with Eyefinity All-in-one Under Eye Gel absolutely free. Some self care and pampering goes a long way for your loved one.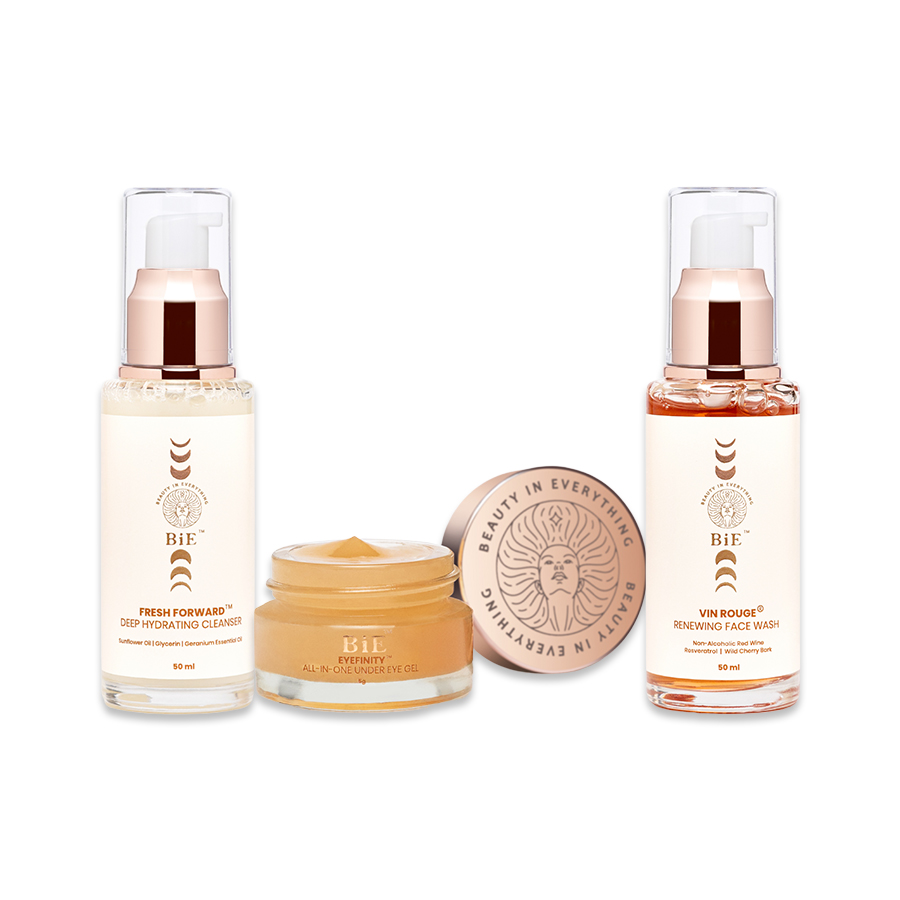 Vahdam India Weekend In Paris Gift Set, INR 999
Unbox love & wellness with a cup full of tea + a heart full of love = the perfect valentine's day. Made with the utmost love Vahdam presents an exciting combination of nine sensational Herbal, Black & Chai Teas.
Plum Red Velvet Love Kit, INR 1,195
What's better than a delicious body care gift kit that smells like your favorite slice of cake and leaves you feeling fabulous. Plum BodyLovin', has curated a kit inclusive of a body wash & body butter in the brand's signature Red Velvet Love fragrance.
Makeup Eraser India, INR 1,899
A sustainable makeup remover that  erases all the  makeup with just water. Including waterproof mascara, eyeliner, foundation, lipstick, & more! It  is ultra-soft, hypoallergenic, & dermatologist approved.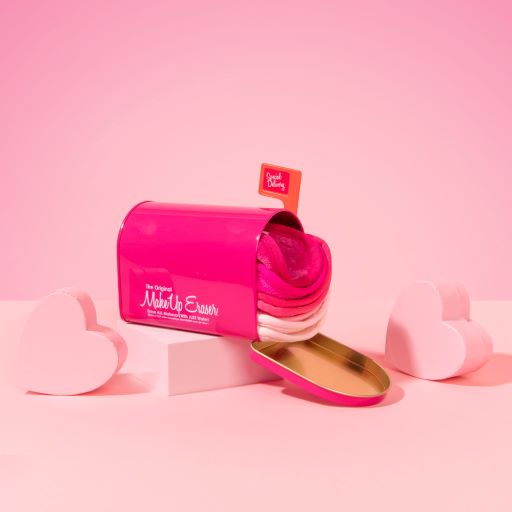 Haruharu Wonder Honey Green Reparative Cream, INR 2,100
If she loves K-drama and K-pop then K-beauty with Haruharu Wonder will be an ideal pick for the day of love. A hydrating cream that repairs and replenishes your skin and targets blemishes to restore a healthy, balanced, and clear complexion. 
Bath & Body Works Sunshine Mimosa Gift Box Set, INR 4,699
Sure to brighten the day, for some morning love and aromatic love, the kit smells like a sweet, sparkling cheer to happiness.The fragrance notes include bright, bubbly champagne and fresh citrus. Inside contains: Ultimate hydration body cream, fragrance mist and shower gel.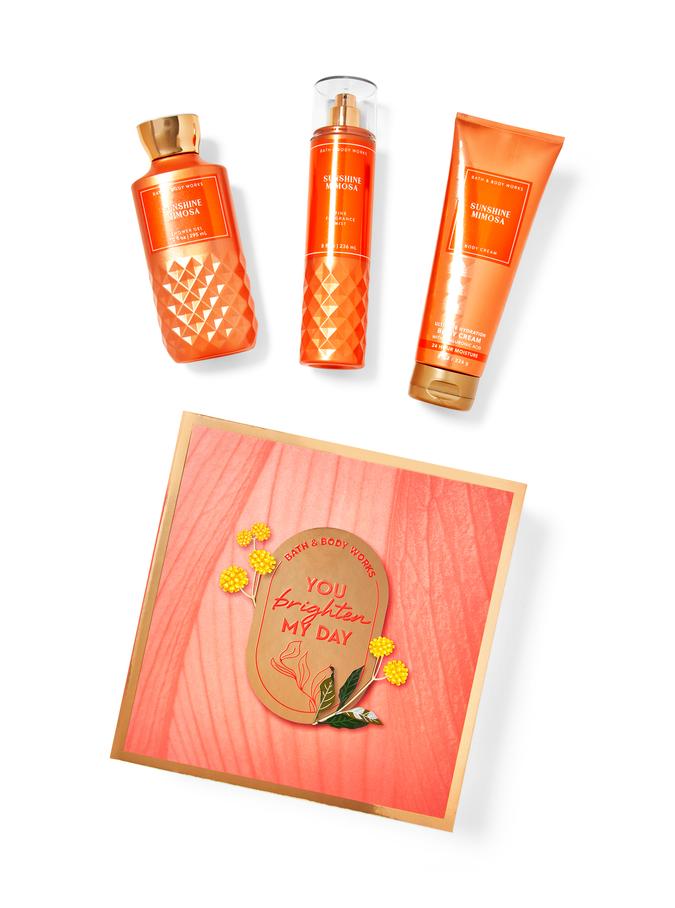 Blossom Kochhar Aroma Magic Diamond Glow Facial Kit, INR 1,950
This 6-step formula restores softness, smoothness, resilience, and radiance. The unique ingredient included in this kit gives the skin renewed energy and leaves your skin revitalized and rejuvenated.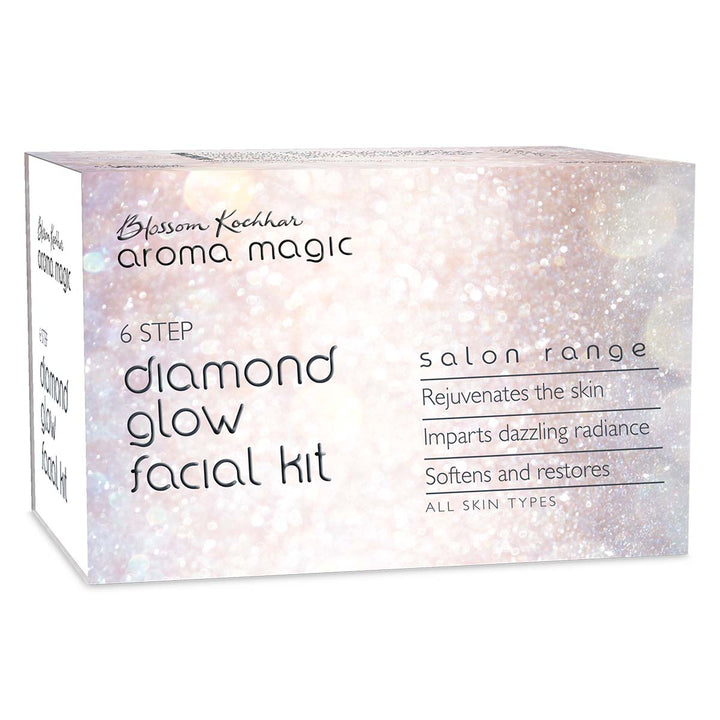 Moroccanoil Brumes du Maroc, INR 3,060 
The hair and body mist features the signature Moroccanoil scent, an exotic blend of spicy amber and sweet floral notes, which will transport you on a sensorial journey through the Mediterranean. Featuring Argan oil and Vitamin E to hydrate and nourish, Brumes du Maroc can be used on hair and body throughout the day as often as desired.
PureSense Gossip Girl Gift Box, INR 1,600 
These gift boxes are created for girls who are themselves no matter what everyone expects them to be. Their charismatic personality, engaging conversation starters, & unmatched energy charges the batteries of people around them.
Neal's Yard Remedies Shaving Set, INR 7,670
Let his mornings be full of freshness with this combo of an aftershave balm, face wash, shave cream and a big-sized box from Neal's Yard Remedies. He will surely love this organic certified combo ensuring nourished, hydrated, and improved skin texture.
O3+ D-Tan Masks, INR 1,550
The O3+ Tan Removal Pack has 5 benefits in just 1 jar as it hydrates, nourishes, soothes, calms &  heals the skin. The goodness of mint and eucalyptus oil cleanses the skin.
Makeup Studio Lipstick Matte  XOXO Red, INR 1,540 
You don't want to miss this matte-ness. The high-pigment lipstick with a silky texture and matte finish makes your lips irresistible! Available in 12 other shades. Because a girl can never really miss out on lipstick. 
L'Oréal Professionnel Paris Anti-Oiliness Dermo-Purifier Shampoo – Scalp Advanced, INR 695
Hair care is as essential as skincare, gift her a bottle brimming with goodness that her hair will love. This lightweight gel purifies the scalp and the fiber from residue, sweat and oil for a fresher and cleaner feel.
Typsy Beauty Pink Illusion Gift Set, INR 2,599
Bringing her pink dreams to life, the Pink Illusion gift set from the Once Upon a Fantasy collection is a comprehensive lip + eye + cheek combo that includes: Enchanted Garden Rose Blush, the Crystal Crush Plumping Gloss in the shade Pink Diamond and a shimmering cream shadow in deep Pink hues.  
Schwarzkopf Simply Color, INR 725
An at-home hair colour range which is gentle on the scalp. A colour that is both natural-looking and long-lasting. The coolest part is, it's infused with lots of soothing and hydrating ingredients like argan oil, soy protein, and oat milk, keeping your hair soft and shiny throughout the dyeing process.
Indulgeo Essentials Brow Bro Combo + ABJ Mist, INR 1,200
Fuller and precise brow arches are every girl's dream. This combo contains the Brow Bro and ABJ Mist. Best used together, both products contain the best ingredients and properties for taking care of the brows.
Innisfree Black Tea Set, INR 2,780
The Set Contains the Black Tea Youth Enhancing Ampoule, Black Tea Youth Enhancing Treatment Essence and the Black Tea Youth Enhancing Cream – the perfect gift for any skincare enthusiast.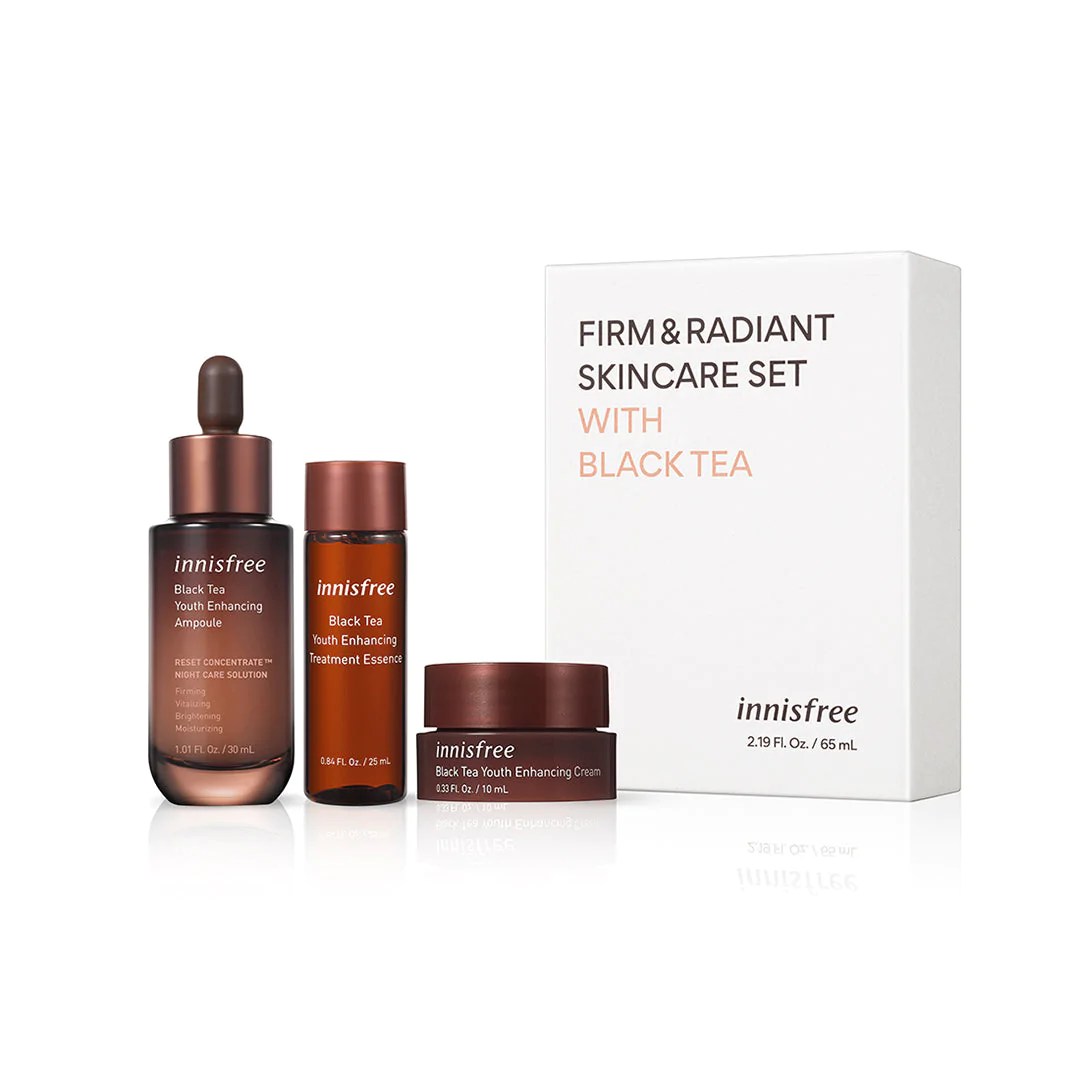 Laneige Glowy Makeup Serum, INR 1,900
 This is a makeup boosting serum that helps create healthy and clear dewy glowing skin. It creates a dewy canvas for makeup without caking.
Simply Nam Velvet Cream Magic Blush, INR 1,399
The Velvet Cream Magic  Blush is an  everyday go-to blush with a creamy consistency and a lightweight texture. Rich in natural oils and butters, it glides effortlessly and melts into your skin making the skin look flushed & fresh.
Inatur Charcoal Men's Gift Set – INR 820
This men's hamper includes Charcoal Face Mask, Scrub and Mask. Charcoals help in removing the dirt from the pores and give your skin a thorough cleansing.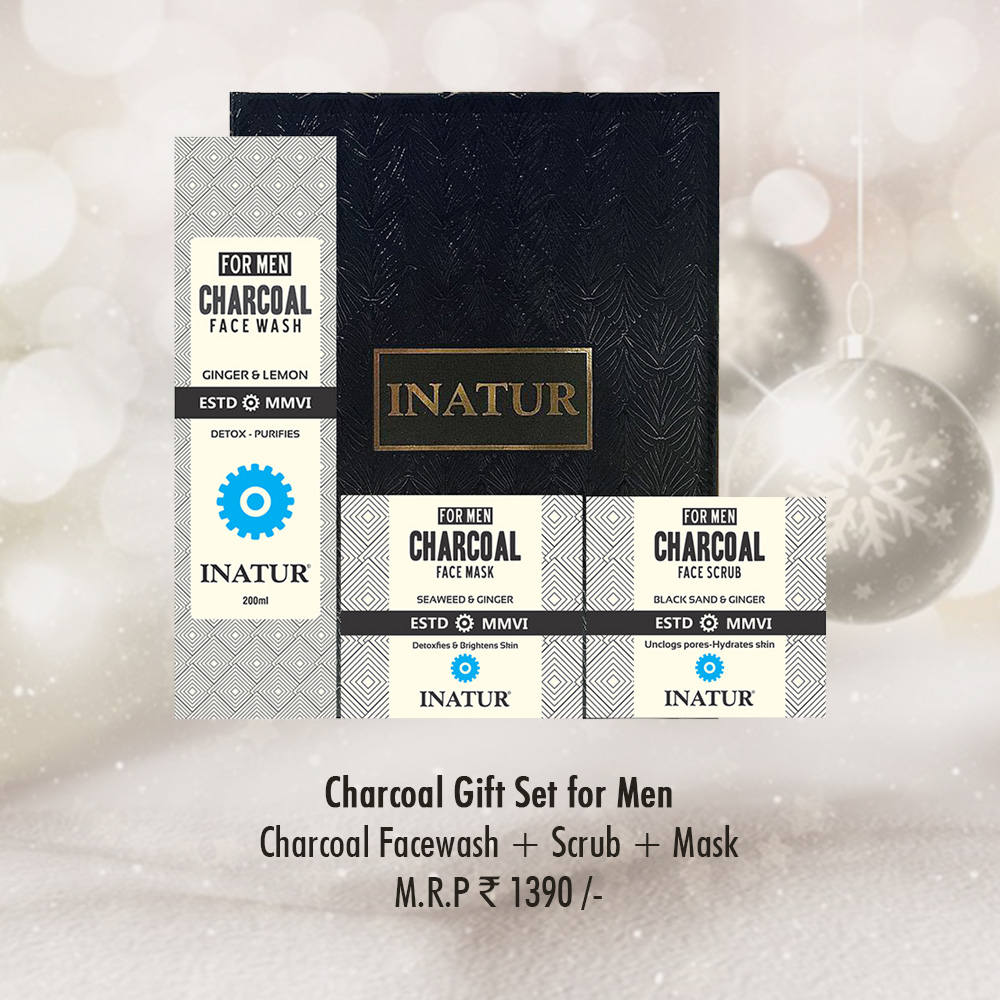 KAJA Wink Stamp Wing Eyeliner Stamp & Pen, INR 1,950
This is a Dual sided wing stamp and felt liquid liner is jet black and  all day wear, waterproof and smudge resistant . It is a double ended  wing stamp pen  and accompanying liquid liner that is super easy to get the winged eyeliner.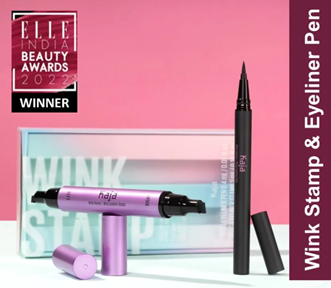 Kimirica Love Story Experience Set, INR 1,249
Infused with romantic notes of Gardenia and Night Blooming Jasmine these self-care products are sure to transport you to a romantic escapade. This gift set is boxed and ribboned up luxuriously with Hydrating Body Wash, Nourishing Body Lotion, Relaxing Bath Salt, Handcrafted Glycerin Bathing Bar, Caring Hand Cream. 
 Skinvest Sunny Side Up, INR 2,999
Face mineral sunscreen with Niacinamide, Ideal for daily use to moisturize, prevent and reduce acne, it protects the skin from sun damage. Skinvest's 'brown-skin-friendly' product range is here to transform the way you feel about your skin through our clinically proven, effective, gender-neutral, innovative, and fun products.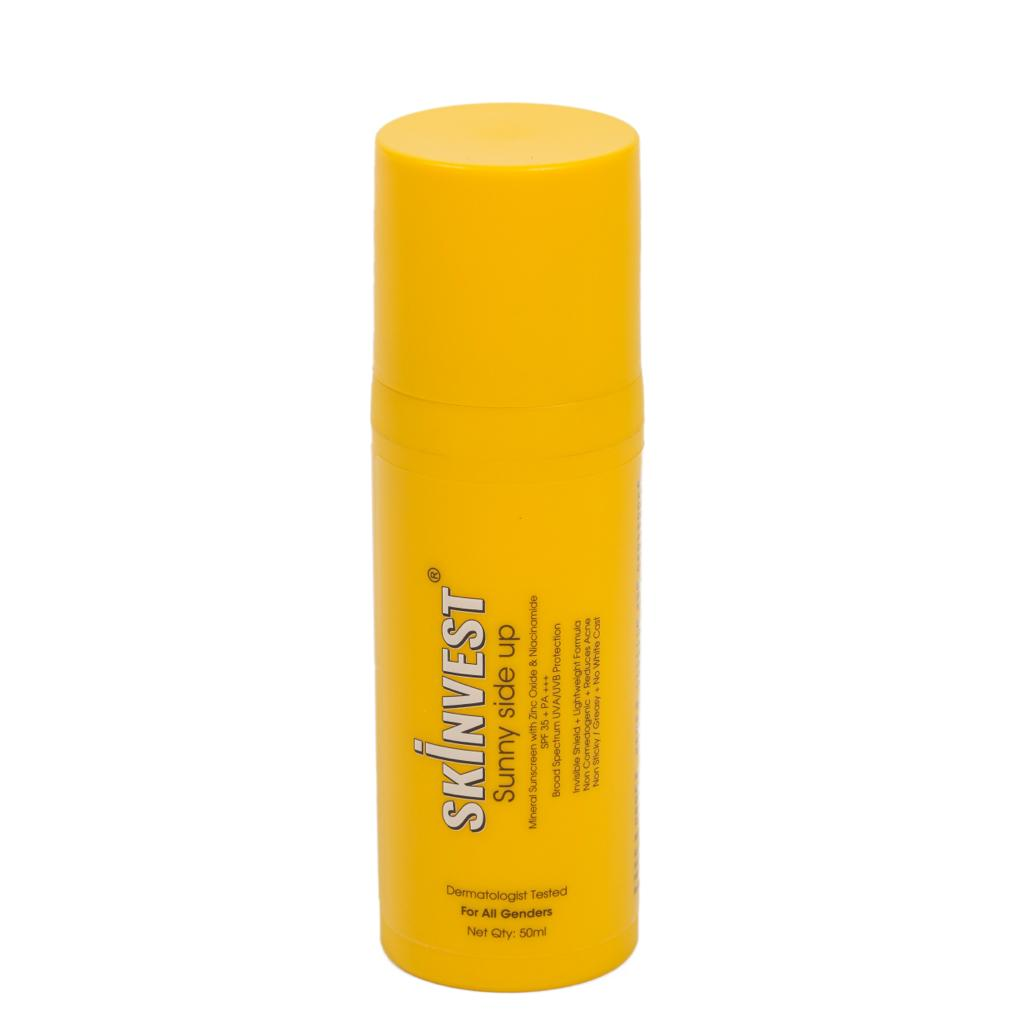 mCaffeine The Coffee Glam Body Care Kit, INR 1,099
The perfect gift for yourself or someone you wish to pamper with the best of body care. The kit contains the finest coffee indulgences seasoned with a dash of shimmer to make your loved ones feel extra special. Go on, give them something that is sure to leave them glowing and glamorous!
e.l.f Glossy Lip Stain, INR 690
Non-drying lip stain with a gloss finish. This lightweight, non-drying lip stain imbues lips with a sheer kiss of color and a healthy hint of shine in one step. Available in 8 gorgeous shades.
M.A.C Macstack Mascara – Black Stack, INR 2,800
A continuously buildable mascara that stacks on infinite layers of volume and length, with a bigger brush that delivers instant volume and is ideal for longer or upper lashes. A must have in a girl's vanity!
Earth Rhythm Radiance Reviver Kit Vitamin C, INR 1,999
For the sunshine girl, some juicy Vitamin C glow packed in a box.
Anastasia Beverly Hills Liquid Lipstick – Sarafine, INR 2,700 
A full-pigment liquid lip color formula that dries down to a weightless matte finish for smudge-proof wearability and long-lasting color. Perfect for a moody bold rouge pout!