Last week saw peak Indian fashion through the incredible artistry in myriad of displays through theatrical performance, retrospective exhibits and cascading celebrities. Manish Malhotra collaborated with the grand Nita Mukesh Ambani Cultural Centre and The Great Indian Musical, where he relives his momentous years of costume designing, designing 1300 costumes for the illustrious play. The mega-affair displayed a massive showcase of the various beauties of India's extravagant art and craft forms and Manish Malhotra perfectly summarised its emotions with his creative vision.
Nita Mukesh Ambani Cultural Centre's bid to bring India's cultural legacy to a predominantly global scale brought a display of India's most cherished designers and their esteemed work to be exhibited at the opening gala. Manish Malhotra's legacy of iconic artistry was brought to the exhibit with five of his most exclusive, and trend-setting designs. It displayed a variety of designs, from his time as a renowned costume designer for Indian cinema's most legendary films.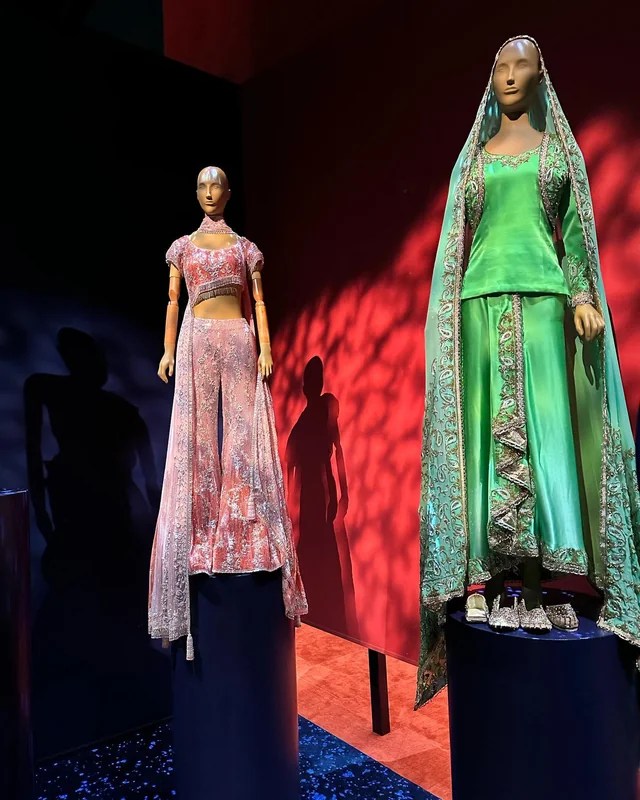 His salmon pink, sharara clad costume from Kabhi Khushi Kabhi Gum for Kareena Kapoor where he changed the outlook for contemporary and traditional garments and changed the face of Indian Fashion. Kajol's outfit from Dilwale Dulhania Le Jayenge, displaying a striking viridescent sheen. Priyanka Chopra's iconic outfit for the chartbuster song, Desi Girl, showcasing an evolved vision for traditional saris. His work as a couturier displayed two of his predominant designs, embracing age-old crafts and fine craftsmanship. His lehenga from the Mijwan collection flaunts the superiority of Indian embroidery styles like chikankari. Another piece displayed the flawless phulkari inspired jacket with a lehenga derived from the culture of Punjab.