The highly anticipated trailer for Excel Entertainment's comedy film, Fukrey 3, has generated a massive buzz since its release. It not only invoked nostalgia among fans of this comedy franchise but also set a new standard for humor and entertainment. Besides receiving an outpouring of love from the audience, the Fukrey 3 trailer has also captured the hearts of several celebrities who have taken to social media to express their admiration.
Celebrities like Salman Khan, Kriti Sanon, Varun Dhawan, and more have shared their reactions to the trailer. Here's a glimpse of how these stars reacted:
1. Salman Khan
Salman Khan shared the trailer of Fukrey 3 on his Instagram story and showed his support for the film and Excel Entertainment.
2. Kriti Sanon
Kriti Sanon shared her thoughts on the trailer, highlighting the film's humor, and creating more buzz among her followers. Kriti also tagged Varun Sharma and wished him luck!
3. Varun Dhawan
Varun Dhawan also chimed in, showing his support for the film and appreciating Varun Sharma and Pulkit Samrat, and sharing his eagerness for the release!
4. Kriti Kharbanda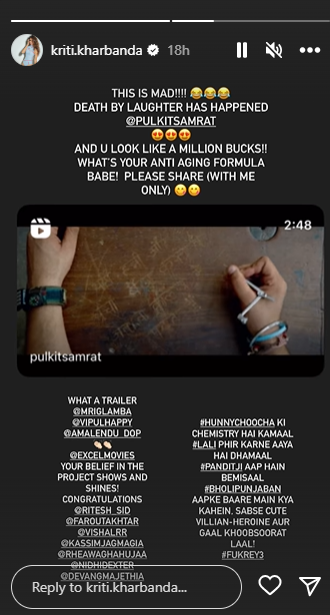 Kriti Kharbanda took to Instagram story and shared her thoughts and reaction to this trailer drop. She tagged the entire team and appreciated them!
5. Aayush Sharma
Aayush Sharma posted an Instagram story appreciating and showing love towards the cast members of 'Fukrey 3' and showed his eagerness for the release of this film!
The Fukrey 3 trailer has not only delighted the audience but has also garnered praise and support from celebrities like Salman, Kriti, Varun, etc. increasing the excitement surrounding this film!