The world of cinema is abuzz with excitement as the talented actress Rashmika Mandanna provides fans with a behind-the-scenes look into the dubbing sessions of her upcoming film 'Animal' alongside Bollywood heartthrob Ranbir Kapoor. The sneak peek into the dubbing studio has ignited curiosity and anticipation among fans, offering a glimpse into the collaborative efforts shaping the much-anticipated film.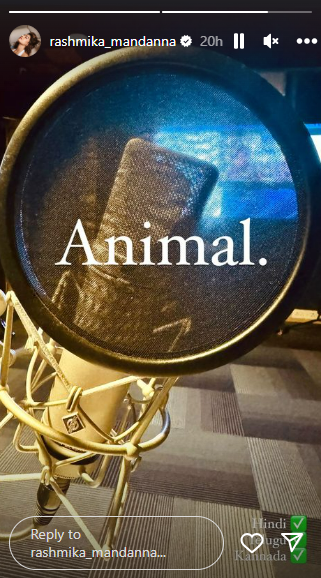 Rashmika is set to make her mark in Bollywood with 'Animal,' a highly anticipated project that features an ensemble cast led by Ranbir Kapoor. Fans were treated to an exciting teaser when Rashmika Mandanna took to social media to share snippets from her dubbing sessions for 'Animal.' She shared a picture of the recording mic, with three languages listed, that the film will be available in – Hindi, Kannada and Telugu. Rashmika is also known for her engaging and relatable social media presence, offering a sneak peek into the creative process behind bringing her character to life. Rashmika Mandanna's sneak peek into the dubbing sessions for 'Animal' has elevated the excitement surrounding the film.
'Animal' is poised to be a game-changer for both Rashmika Mandanna and Ranbir Kapoor, and the behind-the-scenes journey shared by the actress only adds to the fervour surrounding this intriguing film.