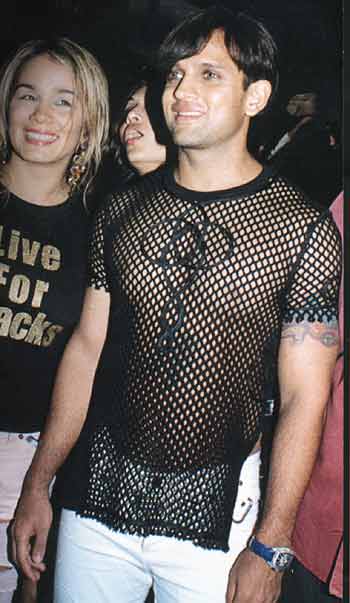 Just recently Mridula wrote to ask asked me to clarify if Yash Birla was ever married to the actress Heera Rajgopal and how Avanti fits into this picture so I dug up this info: Avanti and Yash met in college and married a year after the tragic death of his family in a plane crash on February 14, 1990. I don't think he had time to be married before (although I'm usually too distracted by what he's wearing to focus on what he's up to!) As far as Heera Rajgopal goes apparently she was known for serious skin exposure in her films across Tollywood and for an alleged romance with Ajith Kumar which ended when he married Shalini. She married Nikhil Nagarajan in 2000 and now lives in the US after her divorce.
Randomly enough, last night my friends spotted Yash & Avanti Birla at Riyaaz Amlani's Salt Water Cafe in Bandra, Mumbai (they serve an amazing breakfast by the way.) Expectedly they were wearing their usual bizarrely coordinated and undoubtedly expensive outfits (like two Hells Angels barbies.) How scary is it that someone gave Yash an award for being the most stylish Industrialist by the way? They also had several buff bodyguards surrounding them at all times. It's possible these were just their personal trainers as well, no one really knows for sure. But I'm curious why the young Birla scion would need so much security on a night where he and the Mrs. were "grunging it" (relatively speaking)  with the rest of us mere mortals?
It would be pretty ironic if they were doing it to just draw attention to themselves (then again, surely they must know their collective wardrobes take care of that already.) My guess is they're not taking any chances incase they run in to the fashion police!