Did I tell you how psyched I was that MissMalini was officially invited to blog about Lakme Fashion Week? Holla I have arrived! Ok so I could pretend to know all about fashion but really I'd feel like a bit of a con job. So how about I take you through my first day at Fashion Week my way? That means you get the uncut, random thought, trigger-happy version just the way I saw it! Deal?
Ok so let me tell you straight up that I don't go to Fashion Week to look at the clothes. I go to Fashion Week to look at the people look at the clothes 🙂 the highlight of my evening is finding a vantage point from which to snap the celebrities (like that one time with Bipasha Basu) this time I was mortally disappointed that Manish Malhotra had no show-stopper. I mean don't get me wrong the show was super fun and happy and the music was hopping but considering I was actually IN my seat this time (unlike last year) what a bummer! His front bench consisted of Urmila Matondkar, Raveena Tandon, Dino Morea and Celina Jaitley, not too shabby!
The cool thing about being "press" is that you have a pre-assigned seat and can troop in all business-like instead of doing the excuse-me-pardon-me squeeze through the aisles. For some reason though the good peeps over at Lakme think my name is Malini Sharma. Er.. not so much. My friends thought that was hilarious and the perhaps there was a "Mr. Sharma" tucked away that I had somehow failed to mention! Anyhoo, here's the lo down (as I remember it) from Fashion Week.
I love that Verve was "penciled in" amid all the printed place-holders. I sat next to the High Heel Confidential girls who are awesome and I really did try to get a picture of them for you but they're super shy and prefer to remain incognito. Suffice to say they are lovely and you would BFF them in a heartbeat.
So as you can see I got lots of footage of the shows (Anupama, Nachiket Barve and Manish Malhotra respectively) to give you a feel of the vibe (and the press note with fancy words and official pictures are surely on their way.) But I'll tell you one thing, atmosphere-wise music is crucial and Manish Malhotra had by far the most pumping sound. Also all his models had ace energy and clearly were having a blast on stage!
I also spotted this actress in pink (with what appears to be her new squeeze) getting all cuddly with her boyfriend. For some reason am totally blanking on her name, help! *Thank you Chetna for jogging my memory!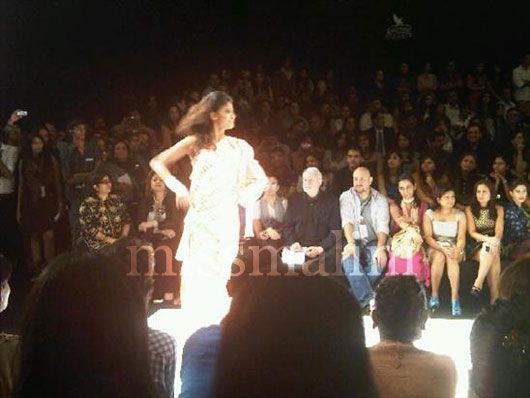 Oh and Carol Gracias is back and how! Its amazing the applause she get every time she hits the ramp. I can't help but wonder if its everyone's way of making nice about the wardobe debacle that killed her mojo for a bit. Also full respect to the model with the shiny head. I'm serious, it takes balls to walk down the ramp on a bad-hair-day forget no hair day! *OMG you're right yashaswini it's Diandra Soares, and she is stunning (with hair and without!)
So there are basically three places to hang out in at your average Fashion Week:
1) The actual show venue where you do a lot of people watching for about 20 minutes while the ushers rocket around "sensitively" seating everyone (so not an easy job by the way!), ironically the actual show lasts about 15 minutes at most.
2) The lobby, where you schmooze and loiter (hoping to spot a celebrity) on your way to one of the lounges (either Kingfisher, Gitanjalee or Grey Goose) where the drinks are free and the music is bopping.
3) The stairs on the far end outside where all the smokers unite.
Plus after each show there is about 10 minutes of absolute chaos when a wall of paparazzi forms in the lobby between the lounges and the smoking section and celebrities come out and do their thing in a frenzy of flashes and "Raveena, Raveena look this side!"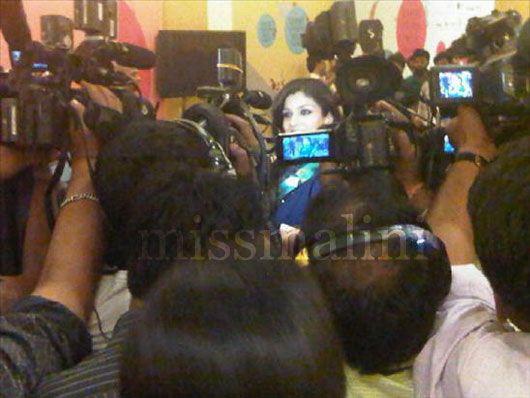 Then of course there are your Fashion Week regulars, its work for some, play for others. I always like running into them though because they're super talented and still so friendly. Big love to Sabina Chopra aka Mrs. Lakme (for always sorting me out with passes and having a wicked sense of humor!), Sujal Shah (Head of Fashion at IMG) who I recently discovered has quite the radio voice! Bandana Tewari for her classic elegance and the fact that she lets me take her picture 🙂 Vikram Raizada who always makes me feel so good about myself and Narendra Kumar Ahmed aka Nari who's a bigger party animal than I am!
Also ran into my Twitter buddy @psingh400 wearing this stunning dress by the label "Mermaid" in Goa, hmmm must investigate!
Of course we ended up at the Grey Goose lounge and then China House and where I ran into Sonny & Preeti Caberwal who incidentally I met same place, same time last year! They are really awesome (like the mausam, I'll explain that in a second*) and are responsible for that pretty wicked contest on Exclusively.in I told you about. They even brought along one of Madonna's dancers! Sunjay Guleria who works with them (and is super-fun to party with and quite the poser as you can see!) introduced me to the winning girls (I'll get a video of them today!) and said very nice things about my legs. Lol, God I love my life 🙂
*For some reason we kept saying that all night. And this song is now stuck in my head.
P.S. Hilarious that these two guys seem fairly oblivious to their fashion blunder at Fashion Week. Ah the irony can't you you just taste it?!