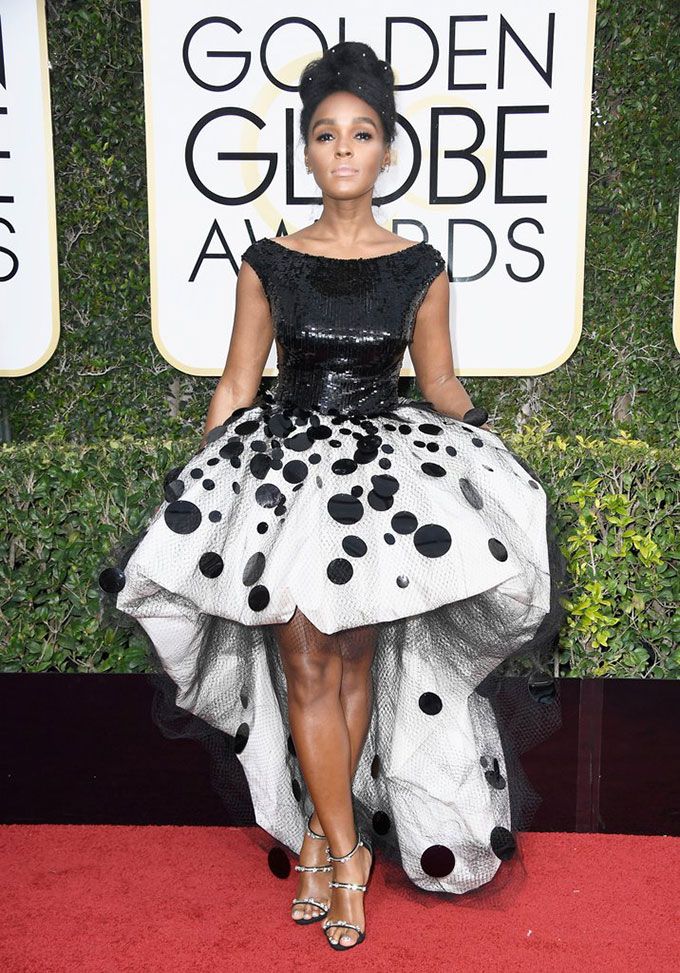 We were, quite literally, floored by Janelle Monae's stunning look at The Golden Globe Awards held earlier this week. Staying true to her signature black and white, monochrome style, she wore this gorgeous dress, custom made for her by design house Armani Prive. Her sequined black bodice and bubblicious coat-tail skirt with black netting and dots left us totally in awe of her innate fashion sense. We absolutely love how she always manages to keep it quirky, fun and classy all at the same time!
We saw a hint of something magical going on with her hair and make-up that night and on further investigation, we knew this was something we just had to share with all of you! She stays on trend with a fabulous up-do, taken up a notch with delicate diamonds and micro pearls sprinkled all over. Her hair stylist, Nikki Nelms, added a fun touch by corseting the back of her hair-do with a thin black ribbon and a stunning clip. This little trick is definitely going in our books as THE one to try for our next big fashion night out!
Her make-up, by artist Jessica P Smalls, is all kinds of yummy too… That soft pink lip and bold smokey eye with a smidgen of silver in the centre of her lower lid adds that extra touch of quirk and glamour. So frikkin' pretty!
This isn't the first time we've found ourselves diggin' on this talented actress, singer and Covergirl spokeswoman – click here to see all the times we've loved her magical fashion sense over the years.
Tell us what you think about Ms. Monae's style and swag in your comments below… We'd love to know!
You can click here to see all of our favourite hairstyles and here for our favourite beauty looks from The 2017 Golden Globe Awards.