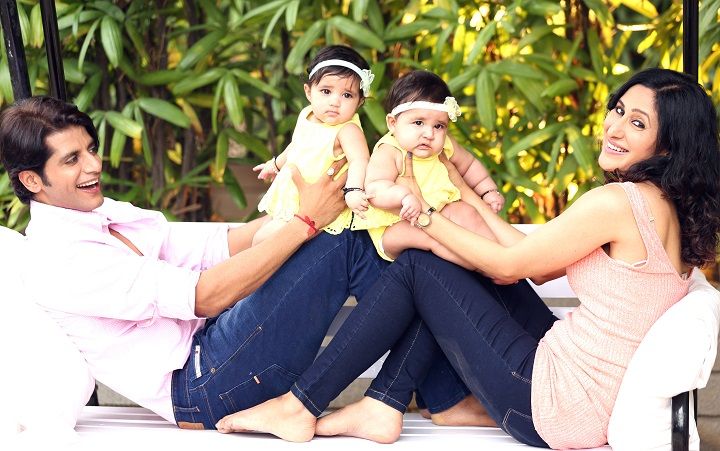 We live in a day and age when most star kids have fan clubs dedicated to them. Taimur Ali Khan and Misha Kapoor were stars even before they were born – their fan pages on social media became active right after their birth.
I sometimes wonder if these millennial babies will have their own Instagram accounts when they grow up! Meanwhile, some celebs prefer to give their babies an Instagram account right from the start. They document their little one's journey from the beginning – and who knows – they might hand it over to them when they are adult enough to manage their own handles!
Take a look at a few tech-savvy parents whose babies already have Instagram accounts:
1. Bella and Vienna – Karanvir Bohra and Teejay Sidhu
Teejay manages her baby girls' Instagram accounts and it's heart warming to read the long and elaborate thoughts that go on in Bella and Vienna's minds – from their mom's perspective. Wonderful, right?!
Check out these photos from Karanvir & Teejay's first photoshoot with their girls.
2. Kavish Mehra – Karan Mehra and Nisha Rawal
The latest parents to join the bandwagon are Karan and Nisha, who welcomed their baby boy Kavish a few weeks ago.
3. Kainaat Singha – Rannvijay Singha and Prianka Singha
Rannvijay and Prianka don't post many photos of baby Kai on her Instagram handle, but they post a lot of fun stuff, such as her OOTDs, her stroller and some fun memes too. Go follow!
4. Arya Salve Sethi – Hermit Sethi and Shveta Salve
As intrigued as we are to see how Shveta documents her baby's journey on @aryakikahani, we sadly cannot because it's a private account. But hey, mommy's Instagram account is not private and she posts enough cute photos of Arya!
5. Rayna Dutta – Durjoy Dutta and Avantika Mohan
Durjoy and Avantika's beautiful li'l girl Rayna is one cutie pie! Her feed is filled with photos of her laughing, yawning, sleeping or just staring at something in surprise. It's too adorable!
Follow them all for some cutesy stuff!