2018 Was Officially The Year Of Crazy Nails
Jyotika Udeshi , 13 Dec 2018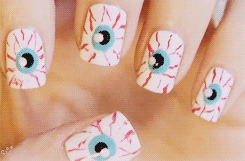 Nail art has always been a way to express creativity… but 2018 has taken this art form to a whole new level! From 3D creations to downright creepy ones, we've seen a ton of crazy designs this year. Here's a list of some of the most shocking nail art we've come across.
1. Nails With Braces
As if having braces on our teeth wasn't enough, this design brought the horror to nails as well. The metallic teeth and thin wires may be appealing to orthodontists, but it took me back to my teen years… and not in a pleasant way.
2. MAC-Inspired
This nail art could either cause makeup junkies to fall in love or send shivers down their spine. Not only do the brushes look super authentic, but also work in real life to put on eye shadow. Whilst it might save you some luggage space by eliminating the need to carry makeup brushes, it can also freak your co-passengers out.
3. Gingerbread Nails
These nails really embody the spirit of Christmas. From gingerbread men to sugar-dusted cookies, they feature an array of food that can make you hungry in seconds. Trust me, after coming across this image, I immediately scarfed down about half a dozen cookies.
4. Royal Tips
The royal wedding was definitely one of the highlights of 2018, but this nail art took the obsession a little too far! The design featured a 3D rendition of the newly-wed couple, complete with the veil and tiara. I guess you could go for it since it's pretty much the closest we'll ever get to royalty…
5. Sundae Nails
If you are guilty of biting your nails, this design will definitely tempt you further. Featuring miniature m&ms, a double scoop and oodles of whipped cream, these nails look a tad too realistic (and delicious).
6. Pom Pom Accents
Looking to make a statement? These accent pom pom nails could be a worthy option! The furry little balls are attached with magnets so they can be easily removed when you need to work. The rest of the time, they will keep the spotlight on your tips.
7. Eyeballs
This is the stuff nightmares are made of. With the veins and pop-up eyeball, this creepy nail art is a little too lifelike for my taste. For Halloween though, it's perfect!
8. Corkscrew Tips
Out of all the nail art I've come across, this design is probably the coolest to wear, but the hardest to maintain. I mean, look at those spirals!
9. Expressive Nails
I genuinely have no words to describe this creation.
If you had to try one of these out, which would you go for? Let me know in the comments below!
P.S: Follow @missmalinifashion and @missmalinibeauty on Instagram for more updates.