We've always tried to give you a variety of recipes you could try out at home. After all, that's what innovative cooking is all about, no? Vidhi Doshi a.k.a @Ramenhairedgirl always curates such interesting recipes for us every single time. For instance, we loved the Maggi sandwich, the Sri Lankan dal and the noodle-stuffed samosa too! Today is no exception because Vidhi has shared a super interesting recipe of a Hotteok. A Hotteok is a Korean dessert pancake dish that's stuffed with different sweet mixes. Well, it's not your regular sweet stuffed pancake recipe that you may have heard of. But in the below recipe, Vidhi has given this traditional dish a little bit of a twist. Basically, she's turned this sweet dish into a savoury one, because, why not? So, here's presenting a Hotteok that's stuffed with noodles! Yup, you read that right. Intrigued? We are too. If you're looking to experiment instead of taking the traditional route, this recipe is ideal for you to try out. So, let's scroll down to see how it turns out.
What You'll Need
For The Dough
1.5 cups of flour (1 cup is 250 ml)
1.5 tsp of yeast
1 tsp sugar
Salt to taste
For The Filling
2 cups of rice noodles/vermicelli
1 tbsp oil
2 tbsp soy sauce
1/4 tsp sugar
1/2 tsp freshly ground pepper
1/4 cup finely chopped carrots
1/4 cup finely chopped spring onion greens
1 small onion, finely chopped
Oil for greasing and shallow frying
Here's How You Can Put It All Together
Step 1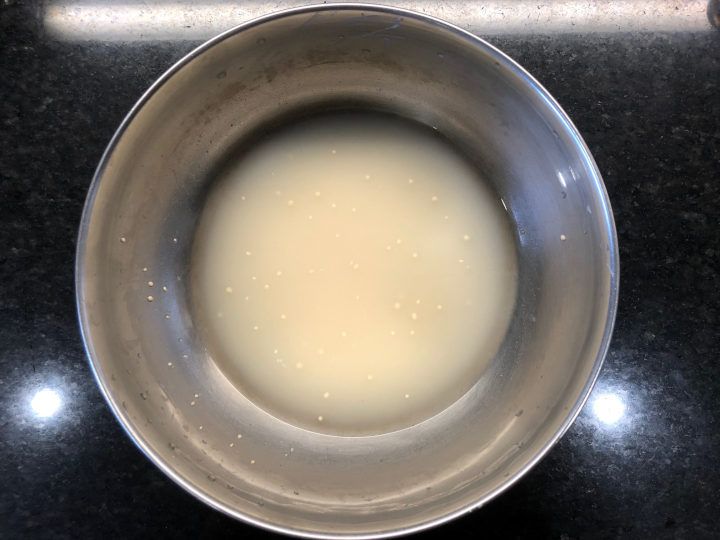 In a bowl, take 3/4 cup of warm water, yeast and sugar and mix well. Set aside for 10 minutes.
Step 2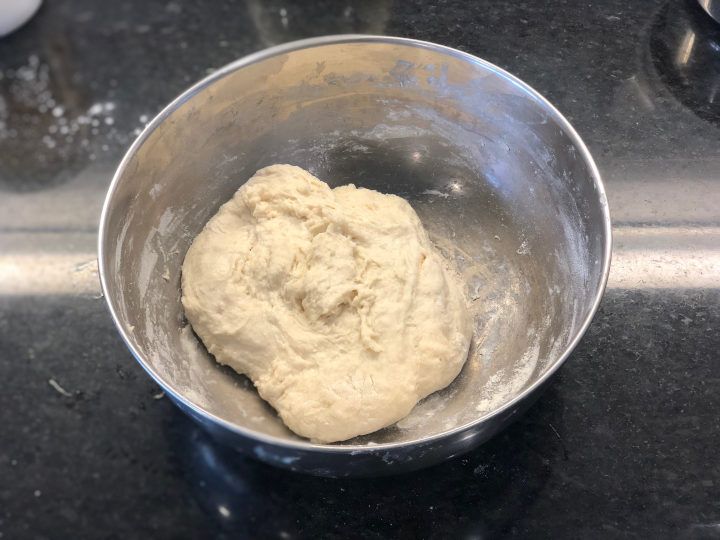 To this, add the flour and salt. Mix with a wooden spatula for one minute (don't worry, the dough has to be this sticky) and keep aside for 1 hour to rise in a warm place. Once risen, deflate the dough with your hands but don't knead it. The dough is super soft and sticky, that's how it's supposed to be. So, do this and keep it aside.
Step 3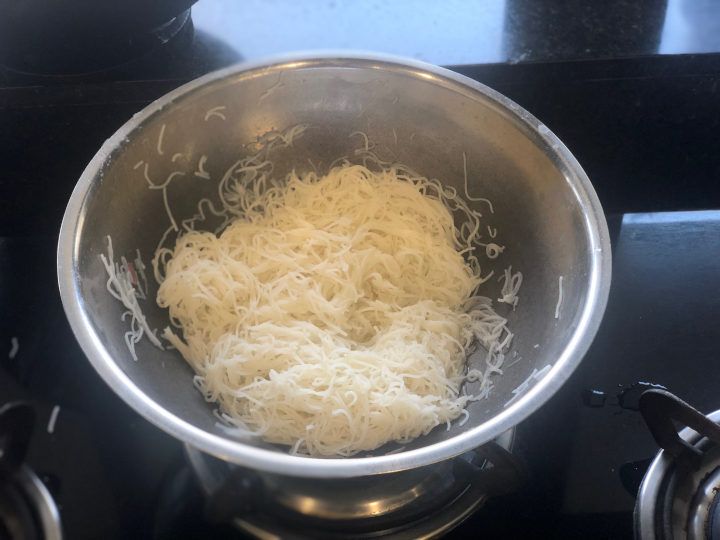 Heat a tbsp of oil in a pan, add the cooked rice noodles and saute for a minute (the noodles have to be chopped or cut).
Step 4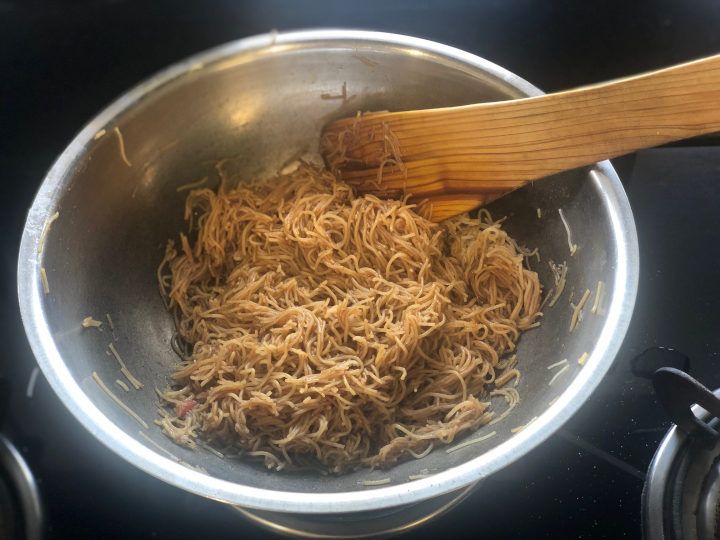 Add the soy sauce, sugar and black pepper and cook for 1 minute. Reserve a little cooking water from the noodles (1 or 2 tbsp ) and add at this point if the noodles are starting to stick or burn.
Step 5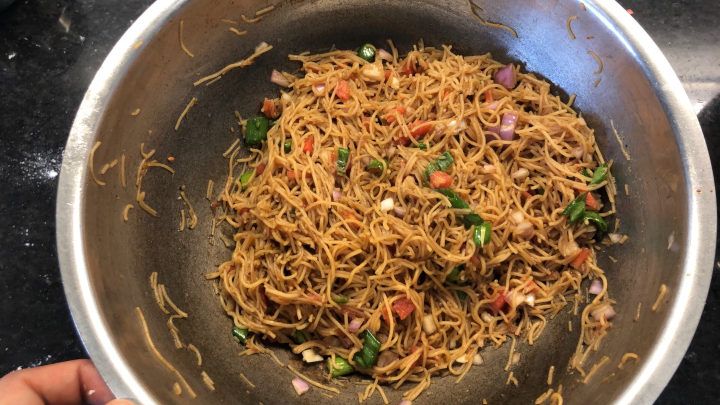 Take it off heat and add the carrots, spring onion and onion to this, and mix well.
Step 6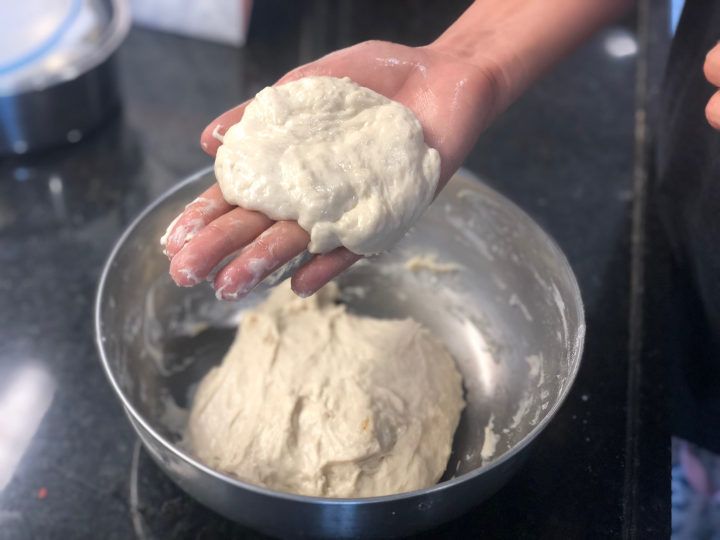 Divide the dough into five. Grease your palm generously as the dough could get sticky and messy. Take a portion of the dough and flatten it on your palm.
Step 7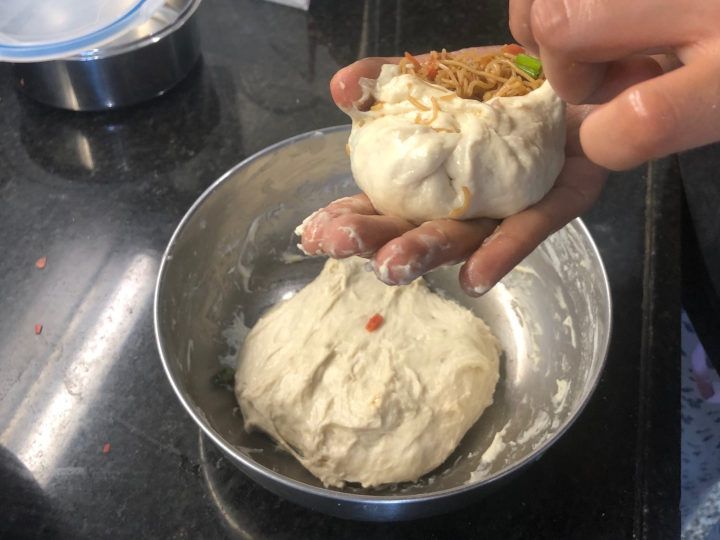 Add 2 tbsp of stuffing on it and carefully close the sides to form a ball.
Step 8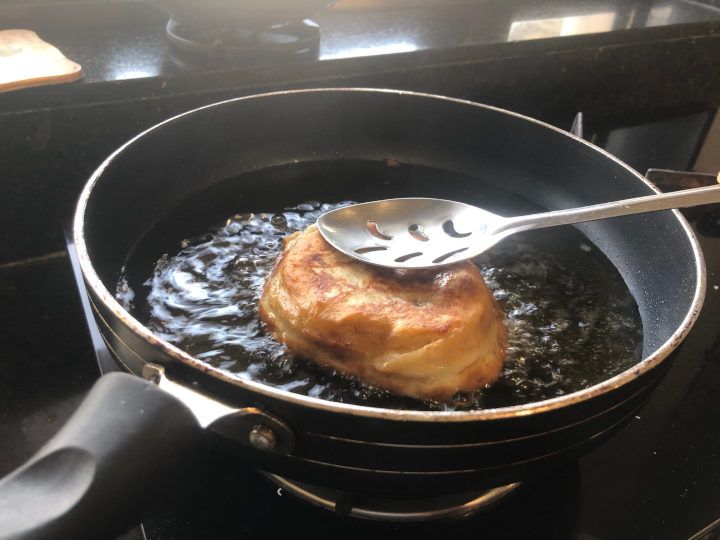 Heat a flat pan and add 1 cup oil. Place the prepared dough ball on it carefully and let it fry on one side. Then carefully flip it over and press it so it becomes flat and let the other side fry as well!
Serve hot with a dip by mixing soy sauce, garlic, sugar, green onions together!
#MMProTip: Make sure the dough is well stuffed and there are no holes in the dough. If the oil seeps in, it will splutter.
If you're not the fan of sweet food like the traditional Hotteok, you ought to love this savoury version for sure. If you love experimenting with your food, there's no better recipe to try out than this one. Give it a go and tell us how it turned out in the comments below!
Don't forget to follow us at @missmalinilifestyle to never miss a beat!