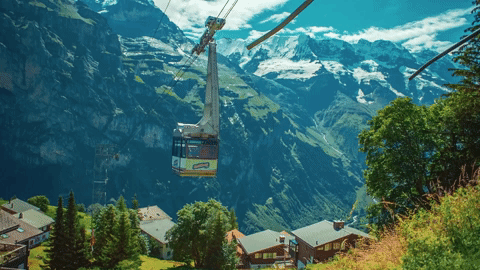 When I say Europe, do you picture the snow-capped Alps, green meadows, and cable cars? Yup, this is how a fraction of European countries look, but there is so much more to it. Take it from someone who has lived in Europe since she was 14 (Bonjour!), that the countries themselves are unique in their own ways.
I know how confusing it can get for first timers to choose which European destinations to visit. Nevertheless, having been on numerous road trips across the continent, weekend getaways to different countries, and spring break parties on various islands, I can assure you that I've seen just about all of it. So, dear readers, here I am, imparting to you the 8 years worth of knowledge that I've collected. Here are the top 5 countries that I believe you should see if you're going to Europe and are on a time crunch…
1. Germany
Ok, I might be a bit biased because I spent the last of my childhood years here, but guys, this country is as beautiful as you can possibly imagine! With the alps running across the southern states, and dense forests surrounding major cities, Deutschland is insanely picturesque.
The top 3 places you must visit in Germany are:
Munich: Not only is this city famous for its annual beer festival, Oktoberfest but it is also full of historic museums, art galleries, and beautiful gardens. Visit the English Gardens and the Nymphenburg Palace for sure!
Berlin: Known informally as the party capital of Europe, Berlin is beautiful for not only its underground clubbing scene but also the historical importance that this city played during the Cold War. The Berlin Wall and Brandenburger Tor are a few iconic sights.
The Neuschwanstein Castle: Close to Munich, this 19th-century castle stands tall on a hill. You can pay a visit inside this colossal castle as well.
2. Switzerland
Straight out of a fairytale, this country is known for its lakes and beautiful scenery! Often the go-to location of a lot of Bollywood songs *plays Zara Sa Jhoom Lu Main from DDLJ*, Switzerland is a must-see for you all!
The top 3 places you must visit in Switzerland are:
Mt Titlis: With the world's first cable car, this mountain is spectacular in all its aspects. You can ski here, or just eat and drink some beer while sitting on top.
Interlaken: Interlaken is situated in a valley, surrounded by the alps on all sides and between two emerald-watered lakes. I mean, WOW.
Lucerne: Famous for its preserved medieval architecture and gothic towers, Lucerne is a must-see for all history lovers!
3. Poland
Often overlooked, Poland is located in Central Europe, and a must visit for everyone who wants to see a little history paired with beautiful landscapes. It is also significantly less expensive than other European countries!
The top 3 places you must visit in Poland are:
Krakow: Known for its pretty local markets and gothic architecture, this city is by far my favourite in Poland!
Gdansk:  A party town for students by night, but picturesque town by day, you must visit this city.
Warsaw:  The colourful old town of the country's capital is filled with things to do! Visit the Saxon gardens and the palace.
4. France
Paris is always a good idea, no? But this country is much more than its capital!
The top 3 places you must visit in France are:
Paris: Apart from the Eiffel Tower and Champs Elysees, do pay the suburbs a visit! In particular, Neuilly Sur Seine is a gorgeous facet of the Parisian outskirts. This city is full of hidden gems at every nook and corner.
Nice: The picture-perfect city of Nice is part of the stunning French Riviera. If you haven't already, google the pictures now and you'll be booking your flights ASAP!
Corsica: Popularised by the movie, Tamasha, this paradise-like island off the coast of the country must be on everyone's bucket list!
5. Portugal
When choosing a country to visit, I personally like to see how impactful its architecture is, along with the cultural and demographical aspects is. In Portugal, you see a whole new world compared to the rest of Europe. The country is famous for its beautiful cities, trams, and obviously Cristiano Ronaldo…
The top 3 places you must visit in Portugal are:
Lisbon: Hands down, one of the prettiest places I have been to, this city has a vibe that is incomparable to another. The nightlife is perfect for any student, but simultaneously, Lisboa has a culturally rich city with historical monuments.
Sintra: Studded with bright coloured palaces and forts, this small town is ideal for a day's visit, 30 minutes from Lisbon.
Porto: Hear, hear all wine lovers! Porto is the to-go city to treat yourself to some classy wine by the river.
So, here you have it! The top 5 European countries that, in my opinion, are worth going to. On Malini's Girl Tribe, we had a discussion about the top European countries to visit! Be a part of such conversations by joining here. Which country has made your bucket list? Let me know in the comments below.
Don't forget to follow @missmalinilifestyle for more!