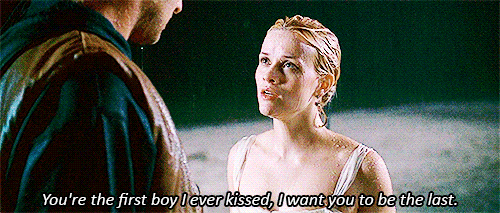 Picture this: A boy and girl meet, instantly dislike each other, are forced to spend time together, fall in love, then fireworks and more ensue. If a story like this makes you go equal parts of 'ew' and 'aww', then you're in for a treat! Rom-com fans, I read a lot. When I'm not at work or binge-watching Friends reruns, my head is most definitely buried in one book or another. So, here are 7 romance books where the characters tread the fine line between love and hate…
1. The Unhoneymooners by Christina Lauren
Possibly on the top of my list, this book is a must-read for all romance books lovers! Two sworn enemies now find themselves stuck together on a free trip to Hawaii, and who's going to back out of that, amirite? Over the course of their tropical adventures, spa days, and cruises, they find themselves learning things about each other they never knew.
2. Fix Her Up by Tessa Bailey
A raw and steamy read, this book tells the tale of a town clown (yeah, you heard me right!), Georgie Castle and her not-so-secret crush on her brother's best friend and professional baseball player Travis Ford.
3. The Hating Game by Sally Thorne
A book that actually made me LOL very, very hard is Thorne's masterpiece. I actually pictured Jim from The Office US as the lead, and that kinda did it for me to be honest! Office rivalry turned to forbidden love, this story is super cute! Also, it is being made into a movie with Lucy Hale from Pretty Little Liars and Robie Amell from The Duff. All I can say is: CANNOT WAIT.
4. From Lukov With Love by Mariana Zapata
A lighthearted and fun read about two ice-skaters following their dream and coming together for a big performance. Filled with heartwarming moments and extremely witty dialogues, you'll be swooning after this one.
5. Pride And Prejudice by Jane Austen
I hear you, it was written quite literally 200 years ago, but if there's one classic enemies-to-lovers story that you absolutely must read, it is this one, pals. The story of Elizabeth Bennet and Mr Darcy is the perfect hate-to-love story. And, the famous quote we've all heard of is from this very book:
It is a truth universally acknowledged, that a single man in possession of a good fortune, must be in want of a wife.
6. Perfect Chemistry by Simone Elkeles
Let's talk about this Young Adult novel, shall we? Admittedly, the bad boy/good girl cliche is very prominent in this book. Even if, like me, you're way past books set in high school, I promise this one doesn't disappoint!
7. Bully by Penelope Douglas
https://www.instagram.com/p/BpSAD2VHNJi/
Once again, let's take a trip down the high school lane. Bestfriend turned bully turned lover? Sounds a bit exaggerated and pretentious, yet this book teaches some hard lessons to one and all!
Which one of these romance books will you read next?
Don't forget to follow @missmalinilifestyle on Instagram for more updates!