When I go through Viral Bhayani or Yogen Shah's paparazzi pictures, I have often wondered how actors are almost always in their gyms — be it rain or shine. But to look like how they do, it takes that much of dedication and constant training. Take it from the celebrity trainer – Maahek Nair, who trains actress Shraddha Kapoor, among other celebrities. Shraddha was seen performing some major stunts in Saaho, and is still reeling from all the appreciation for her fit body in the film. Maahek told us that Shraddha hardly takes a day's break from training, and is always ready to work out, even when she is shooting. See, that's exactly the kind of dedication I was talking about. Staying glam is not easy, you guys! And what I learnt after conversing with Maahek is that being a celebrity fitness trainer is no mean task as well. We sat down at her gym – BodyPro Fitness accompanied by her trainer husband, Praveen Nair. And I managed to get some insider deets about Shraddha's workout routine and diet regime. I also managed to chat about fitness and bust some myths about gymming. Honestly, I found it super helpful.
Here are a few excerpts:
Was fitness something you always wanted to pursue as a career?
I have my Masters in Finance and I don't have a background as such in fitness. But like every teenager, I was very keen to know more about it and went to various gyms. That's where I saw that there was no scientific backing to whatever the trainers there said or practised. They weren't certified and didn't have a lot of theoretical knowledge with regards to fitness. That's when I decided to study this subject in depth. I started with nutrition, and today I stand as an internationally certified nutritionist, master pilates trainer, fitness coach, cross-fit level 2 coach.
Wow, that's quite the journey. So how did you get into training celebs?
It all started around 5 years ago with Sushant Singh Rajput. He came in one day and showed a pic of shirtless Brad Pitt and said he wanted to look like that for Kai Po Che, his debut film. So my husband Praveen and I trained him for it and were greatly appreciated for our work. After that, there was no turning back. We did various projects and began training Shraddha and Karthik Aaryan too, and slowly got into the circle. We are known for celebrity transformations, and especially for giving male stars the famous six-pack abs!
Shraddha has high-intensity action sequences in Saaho, and she was simultaneously shooting for Street Dancer in which it's about dance and flexibility. How do you cater to each role individually in such situations?
Oh, yes. There was a lot of juggling between three movies – Street Dancer, Chhichhore and Saaho. So for Saaho, we were at Ramoji Film City in Hyderabad most of the times, and Shraddha made it a point to train no matter how tough their shoot schedules were. She is a completely disciplined person and can honestly train all 7 days if she wants to. Sometimes, she would have an 8 AM call-time in the morning and shoot till 11:30-12 PM. But, she would still wake up at 5 AM in the morning and come train for like 45 mins before starting her shoot. Diet is also equally important, and we used to pre-plan all her meals on a daily basis. During Street Dancer, she needed a lot of nutrition, because she was on her feet the entire time. We were shooting in Dubai, it was very hot. It was necessary for her to stay hydrated. She was on an intermittent fasting plan. Basically, she would have a meal in the morning, took a break in the afternoon and had a big meal in the evening. Even though she was dancing all the time, she made sure to train during Street Dancer as well.
That is some dedication! How long have you been training Shraddha for and how is she as a person to train with?
I've been training with Shraddha for around 4 years now. Oh, she is a very easy person, has no tantrums. She is someone who never cribs about eating anything we ask her to and is highly disciplined with her diet. But she loves her food. Her favourite is rice and fish made at home. So if she wants, she will come and ask us, 'Can I please have that? Is it okay?'. But she doesn't binge eat or cheat during her meals as such.
If she ever has a cheat meal, what would it be?
She loves her homemade rice and fish as I said. And pizza!
Sometimes people do get saturated, and may just feel like not training or following their diet sometimes. We are sure even celebs feel that. How do you tackle a situation like that?
When we make a plan for celebs, we see to it that it is not very difficult to follow, so they don't crave for food or go into a starvation mode. So, if someone has a sweet tooth, we try to incorporate a chia seed pudding with coconut milk for dessert. Because honestly, we can follow a strict plan only for a week and then get tired. So instead of telling them not to eat it outright, we just swap the sugary ingredients with healthy ones.
When we look at actors on screen, we only focus on the six-packs or the biceps. But is it the right way to look at fitness?
I personally think it is not about the weight, but about the body composition – of fat mass and muscle mass. Every individual is different, and they should aim to gain more lean muscle mass and reduce the fat percentage in their body to look more aesthetically appealing.
More often than not, skinny people are told they don't need to go to the gym. What do you have to say to that?
Gaining muscle is tougher than losing fat percentage. It s a completely disciplined process and it takes consistent effort and training in the gym and following a strict nutrition plan. Because unless you have that dedication and effort, your muscle wouldn't grow. You need a lot of patience and give it time, but even skinny people need to go to the gym. As I said, it is always about body composition.
How important are pre-workout and post-workout meals?
Pre-workout meal and post-workout meal are very important. If someone wants to lose weight, then an empty stomach workout is good. It helps to utilise glycogen and metabolise the fat faster. Post-workout meals are important for both. It should consist of a lot of proteins like eggs, sprouts, paneer, or a protein shake. Pre-workout meals for people who want to gain muscle mass should include sweet potato and oatmeal, among others.
Many people make fitness-related resolutions for the new year. But a lot of them fail to stick to their plans. With more than half of 2019 gone by, if someone wants to start now, how should they go about it?
I think the easiest way to start is for everyone to have a fitness band. They can make a simple goal – 10k steps. Which is easy for everyone. They can use a step monitor to keep track. They say 10k steps are equal to one hour of workout. At least it will get them moving. And they can introduce small habits like having 10-12 glasses of water in a day, switching to green tea or black coffee, and avoiding sugar and starchy food.
Some people can't go to the gym because of their routines or other limitations, what is a way they can compensate for that?
We have a Youtube channel where we put out information on food and nutrition for people to have more awareness. We also have 'Train to look good' videos which people can do at home with no equipment, just a mat and in 35 mins. If people don't have time, they can still do this to make up for it. We have online clients, so we do a lot of food videos too because it is easier for them to see and try the recipes rather than us giving them a nutrition plan.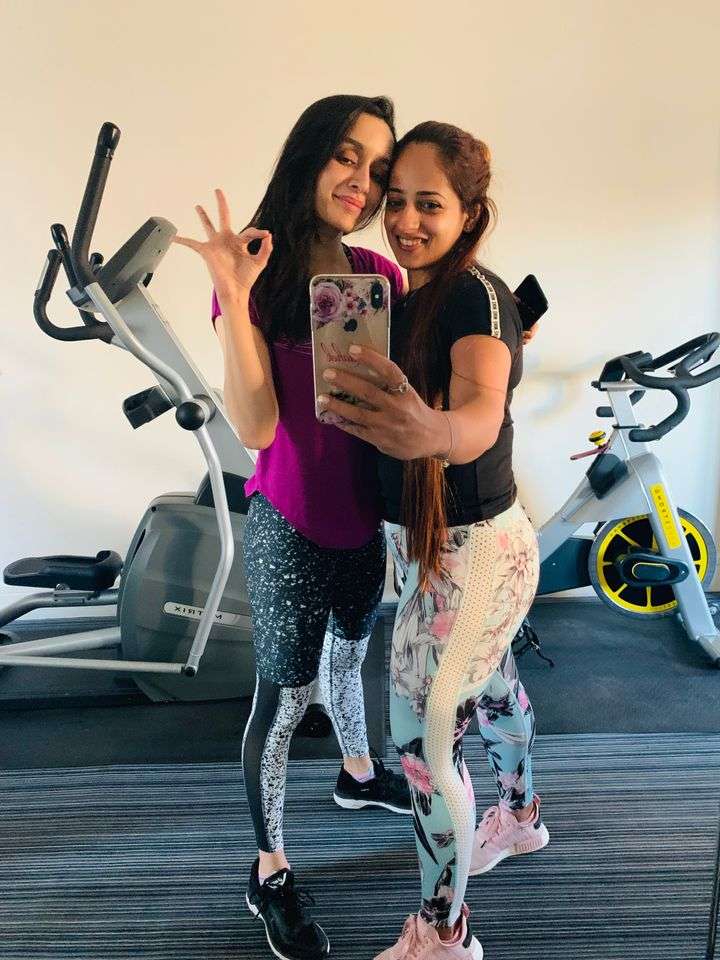 What are the food items that can help anyone achieve an athletic body like Shraddha Kapoor?
Coconut and almond milk – Milk gets converted into lactose- sugar in the body, which is not the best. Coconut/almond milk becomes vegan and is lesser in calories and high in proteins.
Avocado – Shraddha has at least half an avocado in a day. It is high in good fats.
MCD (medium-chain triglyceride) oil – This is a great supplement for regular oil, and Shraddha generally drizzles them on salads.
Flax and chia seeds – Shraddha likes her puddings. So we incorporate chia and flax seeds in it. She has coconut milk pudding with blueberries every alternate day.
Vegetarians often complain they don't get enough proteins. How can they compensate for the lack of meat and eggs?
Vegetarians can incorporate tofu, feta cheese, paneer, peas, chickpeas (hummus), edamame and avocado in their diet to increase the level of proteins they are consuming.