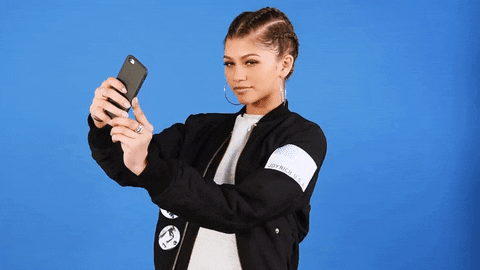 Whenever I go to a new place, be it a cool new alley close to my gym or a new country altogether, I must click pictures. Ok, ok, you caught me— I'm a VSCO gal! However, apart from taking into account the lighting, colours and other logistical items, it is also essential to find a good backdrop. Standing in front of a boring wall isn't going to get you those likes, so what will? I stalked some of my favourite influencers and studied their Instagram feeds to get in on their secrets. What makes their pictures aesthetic is their backdrop, fo sho. So, here are some of the best backdrop ideas for the next time you're looking to add a pop of colour to your feed:
1. Colourful Buildings & Walls
Walking down the street, you are bound to find a colourful wall or perhaps a building that is painted colourfully. And when you do, look no further. Strike a pose and voilá; you're good to go!
2. Midst Of Nature
When in doubt, go outside. You're bound to find plenty of pretty trees either in your backyard or somewhere close to your apartment complex. And when you do, make sure there's loads of natural light.
3. Solid Walls
Depending on the kind of feed you're going for a toned-down and subtle feel, then a grey wall can do the trick for you. However, if you'd like to add a nice pop of colour to your wall, then think no more. Shades of bright blue, pink and pastels will do the trick!
4. Fairy Lights
One of my favourite things is fairy lights. Honestly cannot get enough of how beautiful they look and how they instantly amp up any boring picture! For this backdrop, you don't even have to leave the house. Wrap some around your bed or hang it on your wall!
5. Flower Beds
I am a firm believer that if you take a picture in a flower field, nothing can go wrong! And, honestly, it is so common to come across flower beds while walking around downtown. Next time you spot some flowers, make sure to stop and take a snap.
6. Boho Tapestries
My college dormmate had a beautiful tapestry that hung over her bed, and I admit, her room did look better than mine because of this! It was so easy to take some great pictures with her tapestry in the background. Order one online, and if you like it a lot, why not buy a couple of different ones?
7. Brick Walls
The famous Brooklyn styled brick wall has earned its name when it comes to being a popular backdrop. Often found on old scrappy buildings, these brick walls are the perfect backdrop for anyone who follows a classy vintage theme.
https://www.instagram.com/p/B7DKp7rJPd2/
8. Waterbodies
Whether on a boat, a beach or just a room with a view of a lake, a beautiful waterbody never fails to act as a perfect backdrop!
9. Unique Doors
My personal favourite backdrop has to be antique doors. And India is full of them! Head to a fort close to your place or the docks you passed by the other day. It's not that hard to find a vintage-looking door that can act as your next prop!
If you end up taking inspiration from this article, then let us know! Send your pictures to @missmalinilifestyle on Instagram.