I Have Super Frizzy Hair And I Only Trust These Hair Products
Eesha Kokane , 16 Jan 2020
Never have I ever related to a fictional character more than I have related to Monica Geller in F.R.I.E.N.D.S. From being a neat freak to complaining about being single all the time, Monica is my spirit animal. Aside from questionable personality traits, another thing that I have in common with her is frizzy hair. Remember this episode: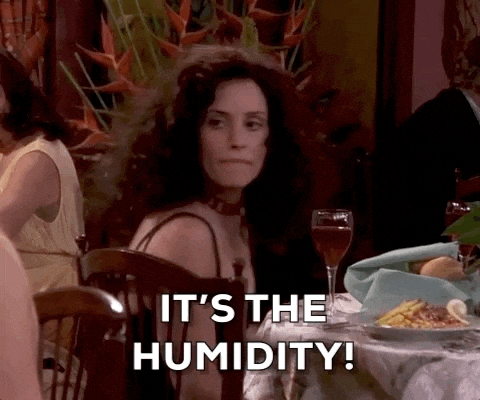 Yep, that's me every single day (Thanks a lot, Mumbai humidity). When I was a teen, the quickest way to fix my frizzy hair was using heat to style my hair. However, this caused even more frizz because it dehydrated my hair (talk about irony, amirite?). Luckily, as I grew up and learned more about hair care, I found a bunch of products that tame my frizz.
1. De Fabulous Reviver Hair Repair Shampoo And Conditioner
Even though I have coloured treated hair, I never bothered to use a shampoo and conditioner specifically for my hair type. Using an ordinary shampoo and conditioner not only made my hair frizzy but it also made my colour fade faster. So, after some research (and a long lecture from my hairstylist), I found this shampoo and conditioner pair. Ever since I've started using this pairing, my hair is softer and the colour looks more vibrant. It's played a significant role in taming my hair, and I'll stick to it for a while.
2. Moroccanoil Treatment Original
This golden liquid is a miracle in a bottle. I'm not even exaggerating; this serum has changed the way my hair looks and feels in the best way possible. It's alcohol-free, which is great because it won't dry out my hair and make it frizzier. If you haven't tried it out yet, you have to! (Thank me later, sis)
3. Mamaearth Argan Hair Mask
I use this hair mask once a week to condition my hair deeply. It contains argan oil, avocado oil and milk protein, all ingredients that are super nourishing for your hair. My hair calms down instantly after one use of this hair mask.
4. The Body Shop Detangling Comb
In the past, I have tortured my hair with those harsh plastic brushes, which made my hair three times in size. Thanks to all my fave YouTube beauty gurus, I learnt that using a wooden comb will help in the long run. They help distribute the natural oils of your hair which prevents your hair from getting frizzy.
Apart from these fantastic hair-care products, I also use a hairdryer right after my shower to tame my hair before it frizzes up.
What do you do to keep your hair frizz-free?
Follow @missmalinibeauty on Instagram for more updates.