5 Simple Eyeshadow Ideas You Should Try Out If You're A Newbie
Eesha Kokane , 20 Feb 2020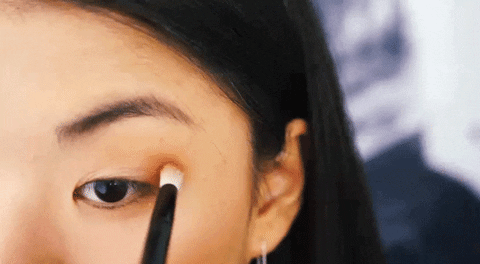 Even though I claim to be a self-proclaimed beauty junkie, there's one aspect of makeup I can never get right—eyeshadow. I can almost always get winged eyeliner correct, but I am a total noob when it comes to eyeshadow. That's why I always tend to stick to simple eyeshadow looks. If you have the same struggle as I do, here are some simple looks you can try out:
1. All-Over Shimmer
You literally need one product to achieve this simple eyeshadow look—liquid glitter eyeshadow. You have to apply a few dots of the product onto your eyelids and blend it. It's as simple as that.
2. Simple Powder Blues
It can be confusing to figure out which colours go with each other, so might as well stick to just one. Creating a simple eyeshadow look exactly like this one will save your time and patience. Add the colour to your eyelid and make sure you blend it well. Finish the look with some eyeliner and a coat of mascara, and you're done.
3. Warm Peachy Nudes
Say hello to my go-to everyday work makeup look. It's subtle, and there's a very slim chance that you'll go wrong. Add the peachy colour to your eyelids and if you want to, add some gloss for a dewy look.
4. Pop Of Glitter
If you instantly want to glam up your makeup look, add some glitter to the inner corner of your eyes. Stick with golden and champagne tones if you want to amp up the glam factor.
5. Colourful Eyeliner
If you still don't trust your eyeshadow skills, there's no harm in sticking to eyeliners. If you want to add some colour to your look, use a colourful eyeliner.
Which eyeshadow look are you excited to try out next? Let me know in the comments below.
Follow @missmalinibeauty on Instagram for more updates.