The fashion and modeling industry has come a long way. There used to be a time when you had to "fit" the criteria, and only tall, lean models could walk the runway. However, the Indian, as well as the international fashion industry have become inclusive over the years. Today, women of every size, shape, colour, and race walk the runway with so much confidence and it is so inspiring. Designers at Lotus Makeup India Fashion Week (LMIFW)  and Lakme Fashion Week (LFW) have been promoting body positivity over the seasons. Remember when Kareena Kapoor Khan walked the runway when she was pregnant? And now, plus-size labels like Half Full | Curve and aLL- The Plus Size Store are also a part of the fashion shows. Isn't that great? One of the reasons this change has come about is because of the curvy bloggers who have broken all stereotypes, risen above their insecurities and showcased their great style sense irrespective of what people will say. I've been following some amazing influencers from India who believe in supporting body positivity and empowering women with their fashion. I got the opportunity to speak to them and ask them more about their personal style and what inspired them to start their Instagram pages. Check it out.
1. Sakshi Sindwani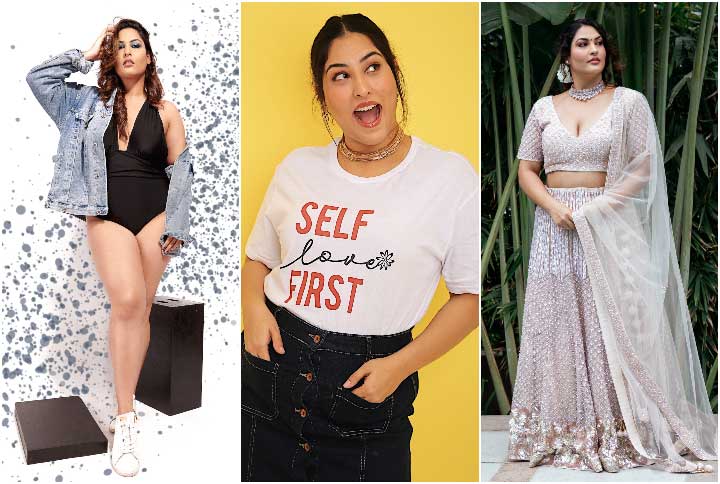 Remember how I said plus-size models have been walking runways at LMIFW? Well, Sakshi is one of them. I fell in love with her personality when I saw how lively she was on the ramp. She's also a content creator and makes styling videos featuring style tips on all the possible trends. What I love about her videos is that she makes them candid and fun because she aims to spread positivity with her style. She doesn't stick to any stereotypes and will even sport the trend of wearing a blazer over a sports bra. Sharing an important message about body positivity, she said,
Body positivity doesn't mean you don't take care for your health and fitness. I think its very important to love your body, whatever the size but keep working on your body and growth. I think that's what body positivity truly means.
2. Neelakshi Singh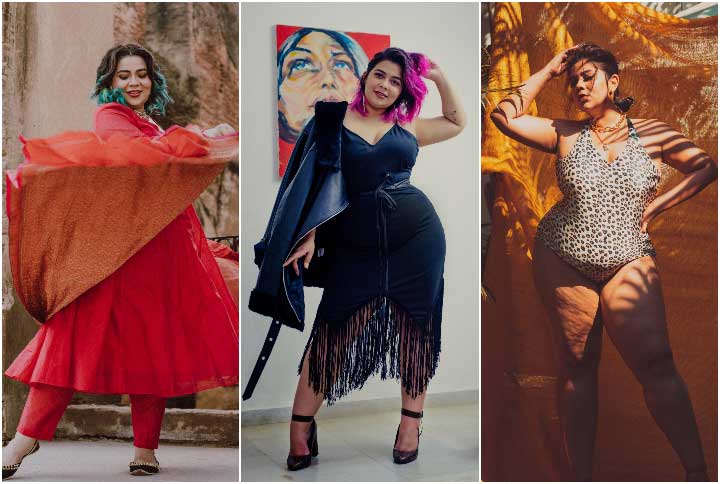 This talented lady not only has her own blog Plump To Pretty but also teaches Fashion Styling to students at Pearl Academy. She describes her personal style as the pin-up girl who meets boho. "I would be in the corset and Marilyn Monroe hair with a fringe skirt and tie-up sandals every darn day!" When I asked what made her start her blog, here's what she said.
So, my style actually comes from the fact that I have learned "fashion is painful" because everything needs to be aesthetically perfect. But in my head, as a little girl, I have realised I'm pretty imperfect compared to the beauty standards that the world has set. And, that's when I realised I could be the prettiest by letting my clothing speak volumes. I always work my wardrobe essentials around one key point. For the past 4 years, it's been my hair and become an extremely strong identity to what I wear or do. Otherwise, I will build a look around the piece I'm loving the most currently like shoes, a dress or even a swimsuit, thinking about multiple ways and occasions to wear it.
Inspiring, isn't it?
3. Aashna Bhagwani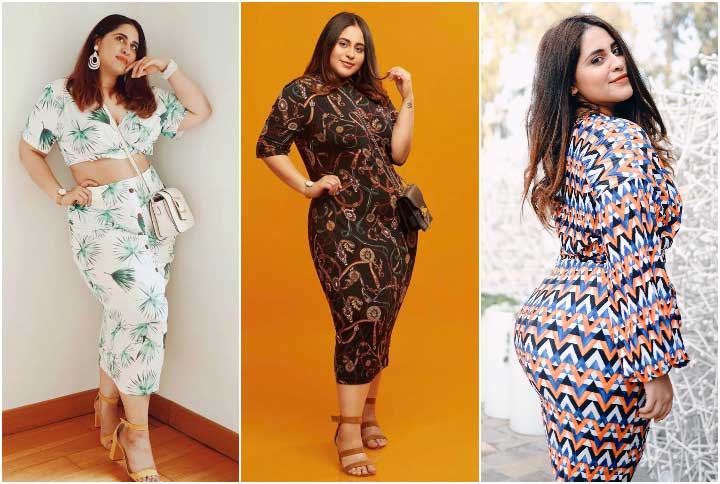 Aashna's style is super refreshing and I always look forward to her travel OOTDs. Talking about her blog and personal style she said,
I started my blog so that women irrespective of size, shape & background would be able to enjoy fashion as much as I do. Trying out different styles is what I like. You don't really find your style unless you experiment. That's why I love styling fitted dresses, crop tops, and pencil skirts in different ways. Style has no size. Confidence and self-love are the most important, and curves can be beautiful!
4. Amena Azeez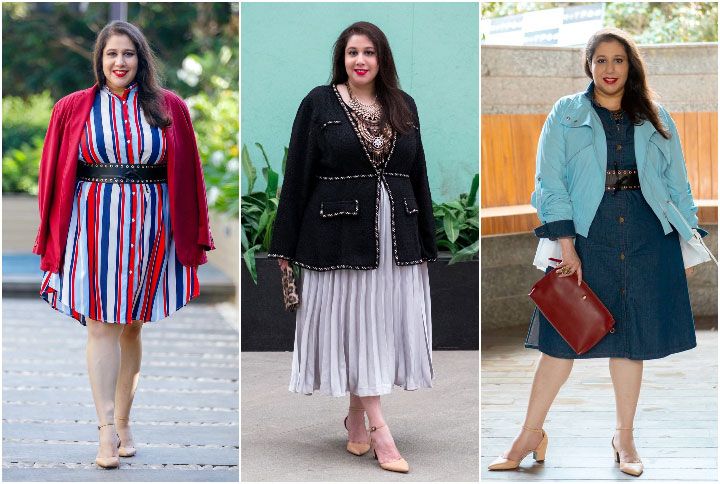 When Amena started her blog in 2011, there was no plus-size and body-positive representation in India. Therefore, she started her blog as a way to express herself, her aesthetics, style and most importantly, to connect with other plus-size women to let them know that they too can be stylish and enjoy and have fun with fashion.
My personal style is maximalism. I love vibrant colours, bold prints, dramatic silhouettes, statement accessories and all of this reflects in my outfit choices. Every outfit I wear is an extension of my personality and this reflects on my blog. I strongly believe in and promote sustainable and inclusive fashion, and I make it a point to communicate that message with my looks and my posts. Clothes are meant to be repeated and I repeat mine as often as possible and create new looks from old pieces. Clothes are meant to be for all body types and I keep sending that message through my content.
According to me, Amena's layering game is something you all should certainly look out for. She mixes prints so easily and makes it look so good.
5. Tanesha Awasthi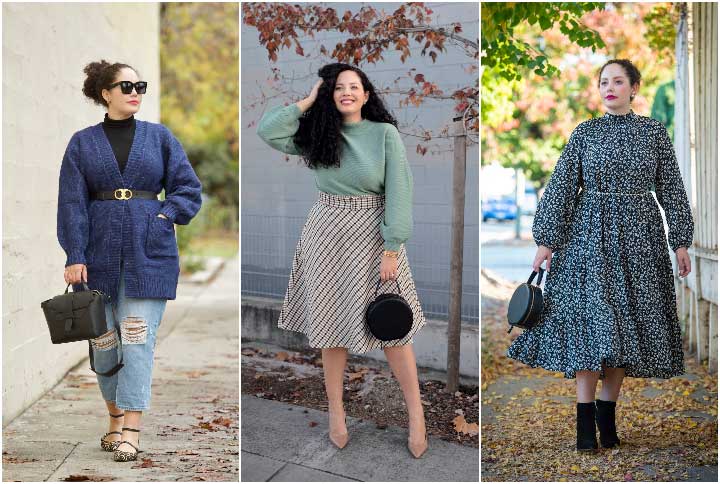 Tanesha Awasthi is not only a blogger but also an entrepreneur and founder of the award-winning blog, Girl With Curves. She runs her own plus-size clothing label under the same name. Her blog gives advice related to style, beauty, wellness, and motherhood. In her letter on the website, she says,
My mission is to empower unapologetic confidence by encouraging women to look and feel amazing, regardless of size.
Her Instagram page is filled with the trendiest of looks and offers tons of style inspo. I personally love how she styles her skirts and would love to recreate one of her looks soon.
Have these beautiful ladies empowered you enough? Let me know in the comments below.
And, don't forget to follow @missmalinifashion for all the style updates!