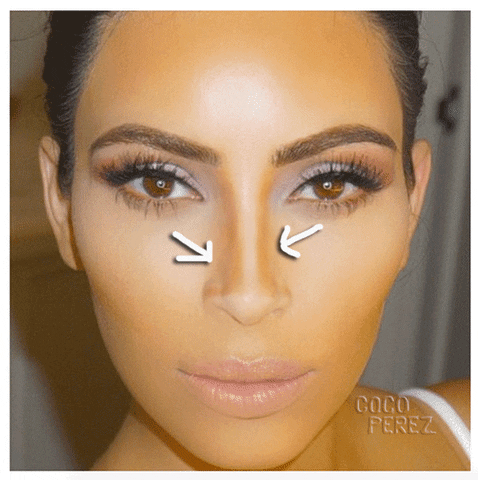 One of my guilty pleasures is stalking the social media handles of celebrities to find out their beauty secrets. I'm enjoying doing this now, especially because of the lockdown. Recently, I was going to Kim Kardashian West's Instagram handle, and I found a video of her explaining her contour routine. Since I've always been a fan of her chiselled cheekbones, I instantly clicked on the video and watched it multiple times. I was actually surprised by the simplicity of Kim's contour routine! Here's how you can contour like Kim:
1. Start By Highlighting
If you want to contour your face just like Kim Kardashian does, then start by using a matte highlighter to these areas—under eyes, corners of your nose, under your eyebrows and a little bit around your mouth. When you add a lighter colour to these areas, it'll make them look lifted. So, either use a concealer or use the lighter shade of a contour stick.
2. Contour Your Nose
After Kim is done with highlighting, she uses the darker colour of the product to start contouring her nose. So grab a contour stick and run it down the edges of your nose to make it look slim. One trick that Kim revealed in the video is that she contours the tip of her nose to make it look smaller.
3. Contour In The Shape Of '3'
After contouring your nose, it's now time to contour your hairline, cheekbones and jawline. So take your contour stick and start from your hairline. Contour the sides of your face in the shape of a '3'. Contouring in this shape will help make your cheekbones look chiselled, and it'll also make your jawline look sharper. If you want to make your forehead look smaller, then contour the part of your forehead where your hairline ends.
4. Blend It In
After you've highlighted and contoured, start blending it in with a damp beauty blender. If you want to use a brush to blend in the colour, then blend it using circular motions.
5. Add Shimmer To Cheekbones
As a finishing touch, add some shimmer to your cheekbones and the bridge of your nose, and you're done!
If you missed Kim's video tutorial, then watch it here:
Will you try contouring your face the Kim Kardashian way? Let me know in the comments below.
Follow @missmalinibeauty on Instagram for more updates.