You know those days when your closet feels like a deep abyss full of nothing? You're running late for work, and you have "nothing to wear". Well, for a fashion crisis like this, where you just cannot decide how to put an outfit together, the fashion gods have an answer. What is it you ask? Boiler suits.
From Bottega Veneta, Zimmermann, Alexander McQueen, to Gucci and Givenchy, these fashion geniuses have all included new and intuitive versions of this powerful, utility-driven garment into their collections. The first thing that comes to peoples mind, when someone says boiler suits is that they heavy-duty workwear, but we guarantee you, you need to do no hard work these. What helps distinguish a boiler suit, from the good old jumpsuit? The utilitarian elements such as flap chest pockets, D-ring, belt around the waist and a straight leg.
The 2.0 version of the boiler suit comes in a variety of fabrics, allowing you to play with textures, such as summer-friendly linens, steady and thick corduroy, high-shine vinyl, or the all-season favourite denim. To take things a notch up, boiler suits also come with adornments such as embellishments, patchwork and embroidery. However, you can give a lift to your outfit this summer via a pop of colour in your handbag or footwear.
Even our Bollywood celebrities hopped onto this trend, here is a look at how they are styling the boiler suit.
Diana Penty's glam take on the boiler suit
While the obvious choice of styling a boiler suit is to pair it with a pair of chunky dad sneakers, or sandals to give it that grunge, powerful yet effortless vibe, Daina Penty gave her boiler suit a glam twist. She wore a cropped white boiler suit and styled it with white pumps, a rhinestone belt around her waist and a voluminous high ponytail completed her look.
Zareen Khan's patchwork look
Leaving the cliche earthy tones behind, Zareen Khan wore a bubblegum pink boiler suit, that had fun mismatched patchwork all over it. Since the look is bright, colourful and flamboyant, she kept the styling in the same theme. She wore layered neon hoops, with a cute high, half up half down ponytail.
Rakul Preet wearing the long and short of it
Rakul Preet experimented with the boiler suit trend by wearing both long and short hemlines. She wore a boiler playsuit that had front flap pockets and big pockets on the sides of the bottom, that gave the look a heavy-duty utilitarian vibe. She added a pop of colour with her red sneakers.
In another look, she played with textures and wore a denim piece, with a dainty necklace and high heels.
Ananya Panday's denim boiler suit
Ananya Panday is not one to amp things up for her airport look. She is usually seen in a cropped tees with shorts, jeans with sweatshirts or breezy summer dresses. So keeping an effortless-chic vibe in mind, for one of her airport looks, she pulled out an acid wash denim boiler suit. She styled it with, a crossbody bag, tiny, tinted vintage sunglasses and chunky dad sneakers.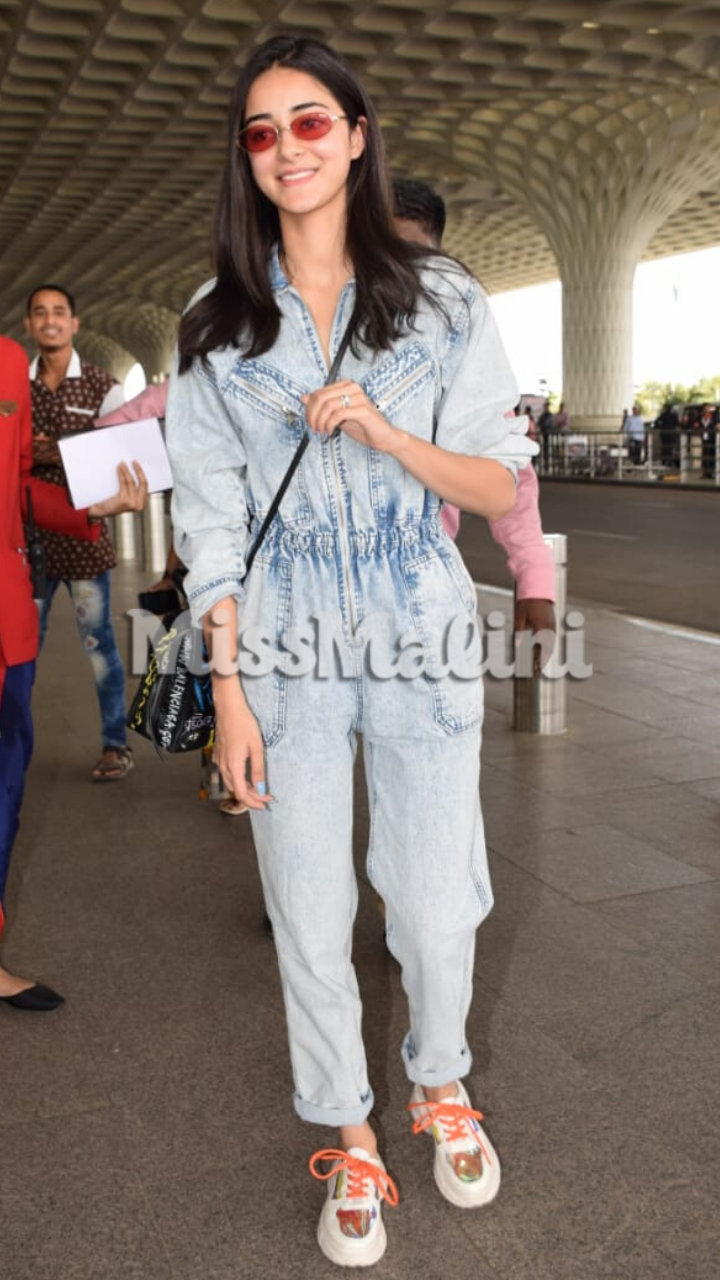 Kareena Kapoor Khan and Bhumi Pednekar's denim boiler suits
Speaking of Ananya's denim airport look, even Bhumi Pednekar and Kareena Kapoor Khan decided to play with textures as they stepped out in denim boiler suits. Kareena styled her ensemble with a tiny bag and white sneakers. Bhumi Pednekar, on the other hand, wore her fitted denim boiler suit, with a pop of colour with her yellow-tinted sunglasses and mustard pumps.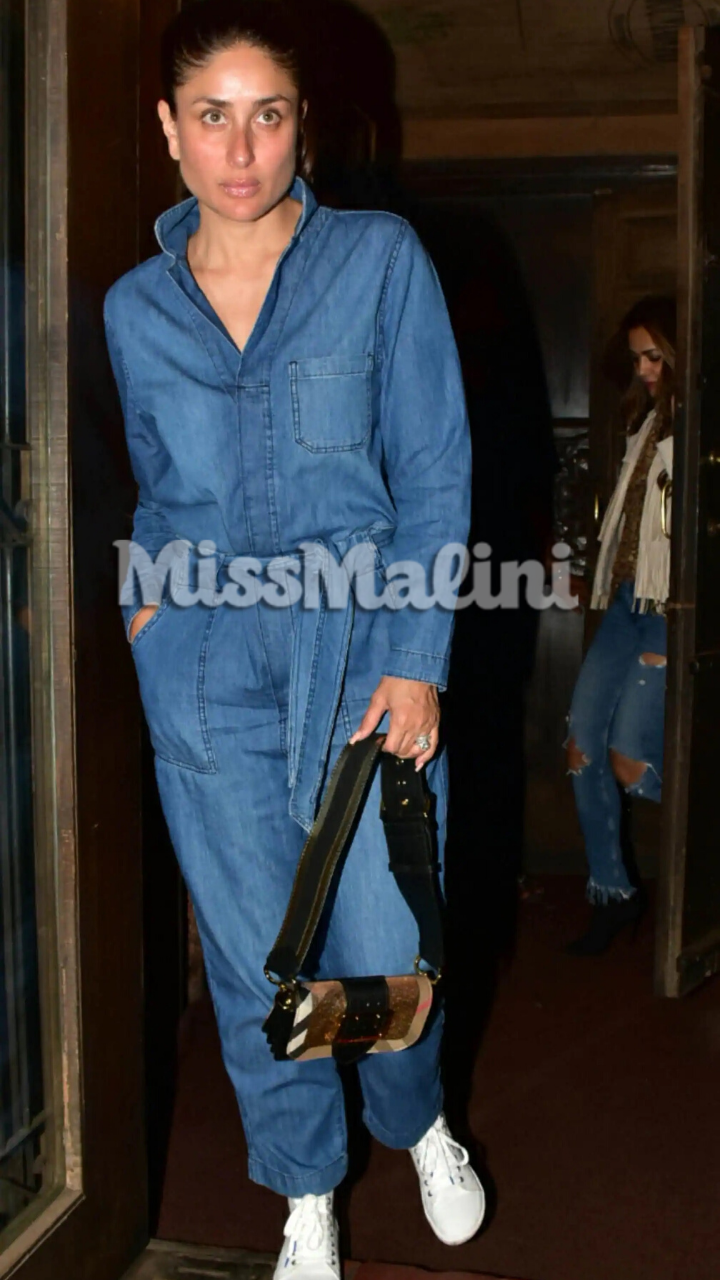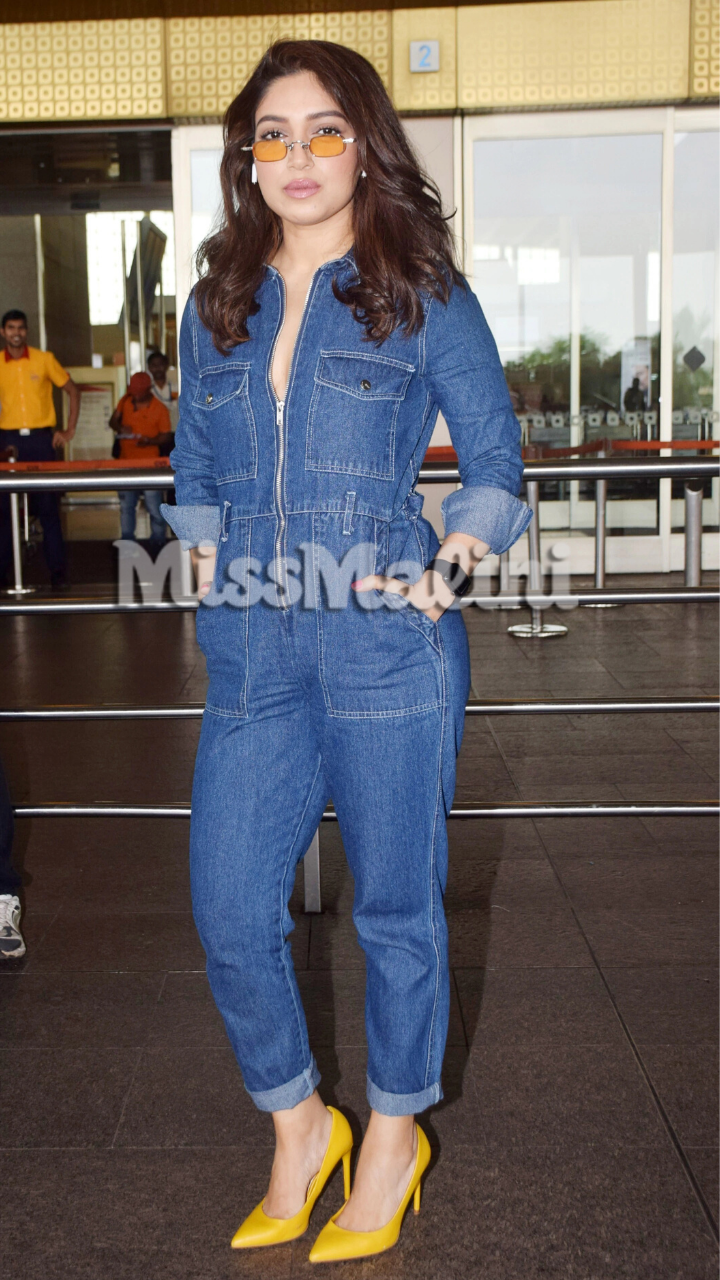 Deepika Padukone's love affair with boiler suits
Deepika's style consists more of clean cuts and classic silhouettes, and when she chooses to power dress, it is mostly an experimental pantsuit. As for her airport looks, the actress loves her classic tracksuits and jackets, but that doesn't mean the star doesn't enjoy experimenting with her airport looks. Stepping out of her comfort zone, she wore a denim boiler suit for one of her airport appearances. She added a pop of colour to this look with a pair of satin hot pink pumps.
For another one of her airport looks she upped the ante in a dove grey number. Deepika Padukone accessorised her outfit with a handful of chunky gold necklaces (which btw, are currently having a fashion moment). Her choice of footwear—black combat boots that complemented her outfit perfectly.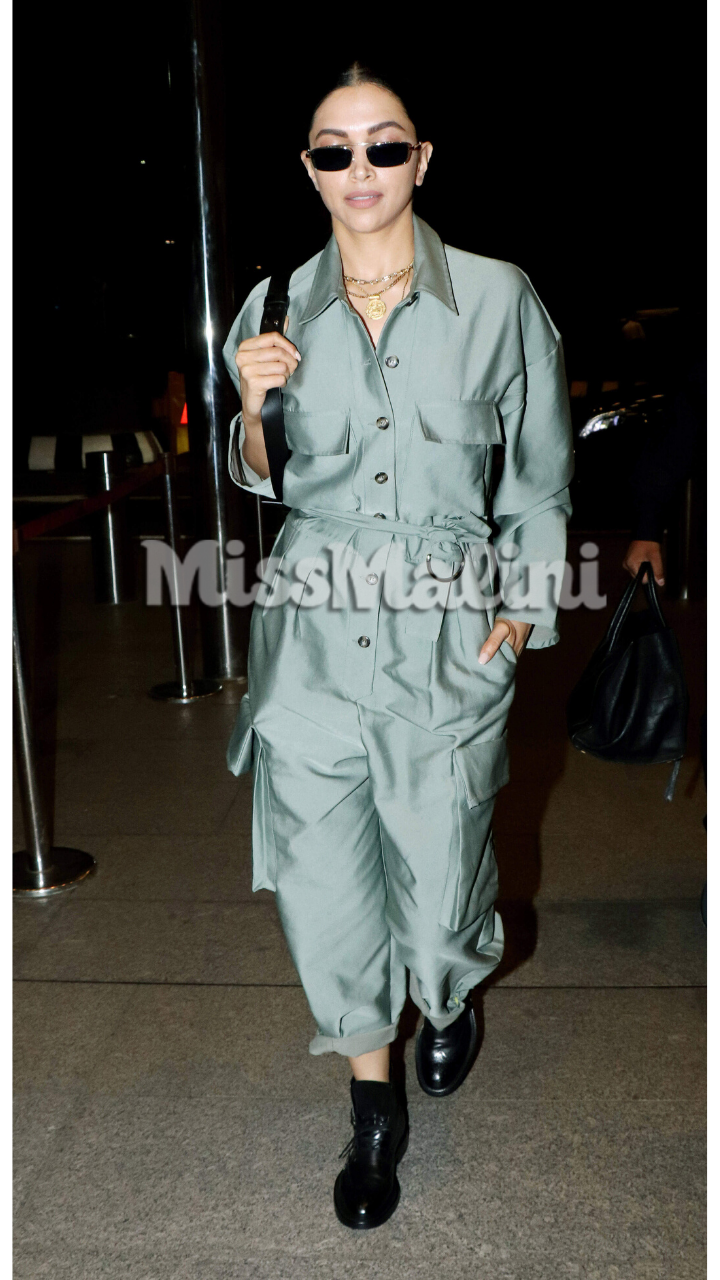 Kriti Sanon's favourite airport OOTD
Kriti Sanon was seen strutting out of the airport in a Narendra Kumar creation. What is unique about this boiler suit is that it has heart cut-out details from the thigh onwards.
For another airport look, she took the more classic route and wore a camel coloured boiler suit, which she cropped by rolling the hem and paired it with a canvas tote and chunky sneakers.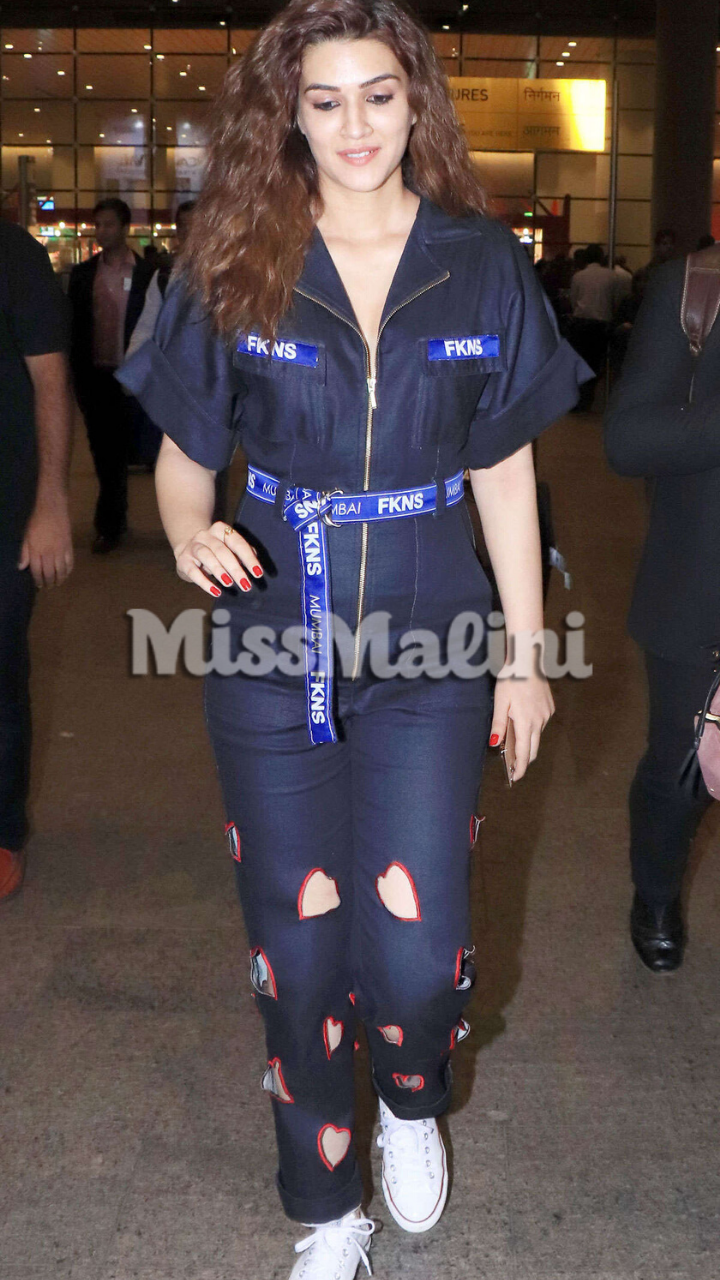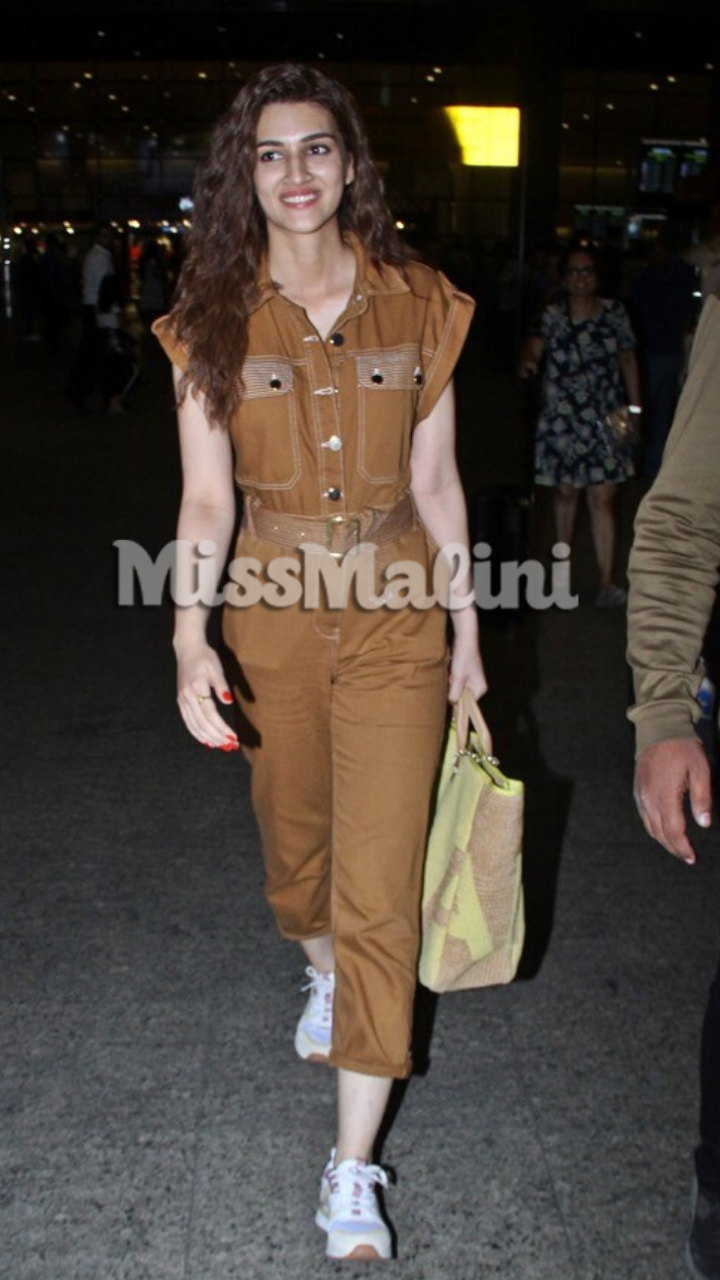 These looks are evidence enough that this powerful utilitarian piece is here to stay! Which outfit did you like the best?
Let us know in the comments below and make sure to follow @missmalinifashion on Instagram for more updates.