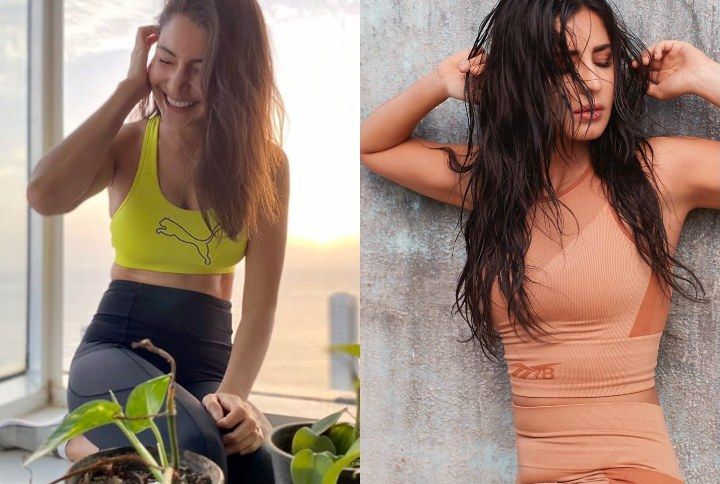 Lucky for us, the prevalence of workout wear in the fashion industry is always in. While all sorts of athleisure outfits are trendy, there seems to be a more meticulous selection when it comes to the act of yoga. Practising yoga is one for the patient, disciplined, and of course flexible! The right kind of clothes makes a difference in your ability to stretch, hold poses and be comfortable throughout. However, this does not mean that style takes the backburner. In fact, there are infinite styles of leggings, shorts and sports bra's you can wear to be a fashionable yogi!
Whether you are doing Surya Namaskars in your living room, or Ashtanga in a studio—you can invest in some great outfit combinations to look rad while slaying your workout. Also, don't forget that a good quality outfit has a direct impact on the functionality of your practice! Who better than our fitness Bollywood babes to take inspiration from for this? To name a few, Katrina Kaif, Shilpa Shetty Kundra, Rakulpreet Singh are pros at the practice and have a wardrobe to envy! We have rounded up some of our favourite looks worn by the Bollywood yogis to make working out more motivational. Moreover, these cute outfits can double-up outside your yoga workout for hanging out with friends, or for activities that require you to be comfy all day long.
Keep scrolling to find inspiration from B-town for the perfect yoga look:
1. Sonal Chauhan
Sonal Chauhan looks simple and classic in an all-white matching set. Firstly, her high-waist leggings are a perfect choice for when you have a lot of intense movement. This saves you from the awkward adjusting every round. Secondly, these are a flattering fit on any body shape! A white yoga look is a vibe in itself and Sonal is the perfect example of it.
2. Mira Rajput Kapoor
An outfit choice such as Mira Rajput Kapoor's might be the comfiest style inspiration for those zen yogis. Mira has gone for a black, long-sleeved top and leggings in a breathable material that allows for maximum flexibility. To add a pop of colour to this otherwise monochromatic look, she has opted for a vibrant sports bra and matched the same to her Crocs. Additionally, this ensemble is a more appropriate selection for those more conservative about showing skin.
3. Yasmin Karachiwala
The master of everything fitness, Yasmin Karachiwala has some of the best workout gear I have seen. Her technicolour, holographic effect matching set gives us that unicorn feel we all need to get us through some intense stretches. This trendy look is one to show off on the 'gram, Don't forget to notice Yasmin's stylish braids that complement her entire look!
4. Rakulpreet Singh
Take a cue from Rakulpreet Singh on how to mix and match some of your favourite bits without it looking random. Going for a more practical look, she has donned a gunjee with super deep armholes layered over a sports bra paired with functional leggings. This style also works well for when you are going for more acrobatic poses like Rakulpreet. Moreover, if you are uncomfortable working out in a sports bra alone, adding a tank top will keep you covered.
5. Katrina Kaif
Katrina Kaif can sizzle in any outfit, and she continues to do so in this Reebok x Victoria Beckham Collection. She is sporting an angular design, crop-top in desert brown, along with matching geometric design tights, which creates a snug and sleek silhouette. Even though it is fitted, this look is engineered for ultimate comfort and can be worn for more than just yoga!
6. Jacqueline Fernandez
To keep cool during a hot yoga session, Jacqueline Fernandez's choice of Hudson shorts seems like the right pick. Showing off her toned legs, arms and abs, Jacqueline looks like goals in her vibrant printed high-neck sports bra and lightweight printed shorts. Moreover, opting to wear loose-fit shorts is a great way to beat the heat if you work up a sweat.
7. Anushka Sharma
Yoga seems to be the secret to Anushka Sharma's glow! If you are looking to keep your outfit simple but still stand out, get inspired by Anushka's choice of adding a neon pop of colour. While her ¾ flex leggings are pretty standard, the bright yellow Puma sports bra adds a fashionable touch.
8. Pernia Qureshi Gilani
Take a break from your mundane yoga attire, and spruce it up with fun prints like Pernia Qureshi Gilani! We are obsessed with her strappy camo print sports bra with corresponding military green, high-waist leggings. The metallic finish on her leggings makes for a striking look and you will be sure to forget about all that sweat!
9. Janhvi Kapoor
The paparazzi's favourite post-gym girl, we can count on Janhvi Kapoor to show us the latest athleisure trends. An unconventional, yet modern look, Janhvi has gone for white, bicycle shorts paired with a simple black crop-top. The crop-top can be worn during your yoga session if you need an extra layer, or else it acts as a stylish cover-up when you are out. Additionally, like Janhvi, go for a colourful sports bra beneath to elevate your sporty-chic look further!
10. Shilpa Shetty Kundra
Yoga queen Shilpa Shetty Kundra shows us how to make a statement. Although the colour of her attire is a classic charcoal grey, the style of her top is enough to grab your attention. The incorporation of bonded mesh, an off-shoulder style and halter strap detail elements on the bra make her look like the trendy and sexy yogi she is.
Are you an avid follower of the yoga practice? Let us know your favourite celebrity-inspired yoga look in the comments below.
And don't forget to follow @missmalinifashion on Instagram to never miss a style tip!