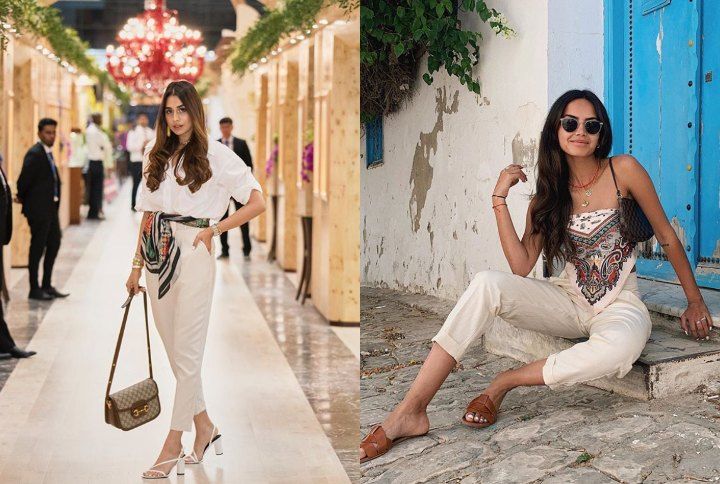 An accessory often made redundant in the summer months is no other than the trusty scarves. With the many summer trends making the rounds, it is easy to neglect the existing pieces hiding in our closets. We forget the potential of scarves, assuming they play their role in the colder season. However, the lighter, cooler summer scarves are a multipurpose accessory that can be used to upgrade your outfit in various ways. Also easy on the bank account, it is an affordable alternative to buying new outfits.
The summer scarf is a simple accessory that can be used to make the most basic outfit have a fresh new look. Something to keep in mind: there is no right or wrong way to use a scarf. This piece of cloth has endless creative possibilities, whether it is as clothing, draped around your neck, or even tied on your head. You can expand your styling options by going for various selections such as bandannas, fabric squares, neckerchiefs, and assorted prints. To avoid heating up, it is essential to choose scarves with material that is cool to the skin and composed of natural fibres. Additionally, for the classic silk scarves, keep it real and avoid pseudo fabrics that may bother you. It is time to remove all your favourite scarves, and play around with inspirations to style up your summer look!
If you are apprehensive about how to do this, worry not, we have put together some of our favourite versatile ways to style the summer scarf. Scroll below to try the following looks:
1. As A Top
Wondering if you read this right? You sure did. Reworking your scarf to create various top styles seems to be the new ongoing trend on the 'gram. There are endless creative ways to transform a longer length scarf into a halter top, crop top, tube top etc. Diipa Khosla going for a Bohemian vibe has tied up her bandanna scarf in a classic way, keeping the print upfront. This is a simpler look, and Diipa has chosen to style it with a pair of high-waist pants, tan sandals and a subtle shell necklace. This DIY is easy and perfect for a relaxed day out and a bonus when you are bored of your existing tops!
2. As A Hair Accessory
There are infinite ways to tie your scarf around your head, this could have a section of its own! As a turban, a band around your forehead, head wrap, or headband are a few to name. Using your scarf as a hair accessory protects you from the heat in the summer, and doubles up to save you from a bad hair day. Instead of investing in store-bought bits, consider tying a colourful scarf around your head as a hair tie or as a headband. All you have to do is pick a small to a medium-sized scarf, roll it like a cylinder, wrap it around your head, and tie the knot where you feel best suitable. Anushka Mulchandani has used a printed scarf as a hair tie to bind her low bun, creating a delicate look while adding a pop of colour. A best-tressed accessory for a cute summer hairstyle indeed!
3. Around Your Waist
Summiyya Patni has chosen an elegant silk scarf to go around her waist with a neutral coloured outfit. This ensures the contrast created from the print on the scarf draws your attention. Additionally, her statement Amrapali Jewels make her overall look chic as ever. Wrapping your scarf to mimic a belt is great to elevate your otherwise casual look. The trick to doing this is by making a triangle from folding a square scarf. Keep folding it till you achieve the band thickness you prefer, then loop it through, or tie it around your waist as Summiyya has.
4. A Wrap Around Skirt
A great way to use the longer scarves is by draping them into a skirt. This would require more tools such as a safety pin or fancy brooch to secure it in place. If your scarf if sheer, wearing shorts below might be a good idea. Nevertheless, the result is a new outfit! Going for a printed scarf such as the one Astha Jain has selected makes the outfit look more wearable for an occasion. Also, ensure your top is a block colour. Pairing it with a tank top or bright shade creates a trendy summer look and will keep you feeling breezy! We love how Astha has styled a second scarf in a retro hippie chic style around her head as well.
5. A Neck-Tie
A Neck-Tie or otherwise known as neckerchief is achieved from tying a small printed square scarf around your neck. When worn, these add a striking accent to your outfit. Fashion guru Komal Pandey has worn a beautiful polka dot + leopard print scarf in the neck-tie style. This instantly adds some edge to her basic tank top and denim outfit. A casual, yet fashionable look to rock in the summer!
6. As The Last Layer
A quick throw on, or probably even an afterthought, this creates a look that can be visually interesting nonetheless. This style is for those scarves with texture or interesting details. Requiring no draping or technique, it is the easiest style to adorn as a last-layer to your looks. If your outfit is a bit skimpy, layering on a lightweight scarf with a print will make for a pretty finishing look. Larissa D'Sa looks comfortable as ever in a bright flowy skirt and tank top. Her printed scarf around the neck adds a fun colour, complementing the lower half of her outfit perfectly. A style that will keep you cool and relaxed in the summer months.
7. As A Face Mask
Going out with a mask on is mandatory in the current conditions. However, due to the high demand, it can be difficult to get your hands on some surgical masks. In this scenario, you may opt to convert your scarf into a temporary face mask. Bear in mind that the scarf you use should be made from natural, tightly woven and breathable material which is easy to wash. From a fashion perspective, it is a great way to add colour and spice up your outfit. Khushnaz Ashdin Turner uses her old Payal Singhal bandana to create a quick DIY face mask. By the end of it, you have yourself a stylish, yet protective add-on to your daily look. Amidst the current worldly affairs, wearing some fun patterns around your face hopefully brings a smile to someone else!
How do you prefer to style your scarf during the summer? Let us know in the comments below.
Don't forget to follow @missmalinifashion for all the latest style updates!