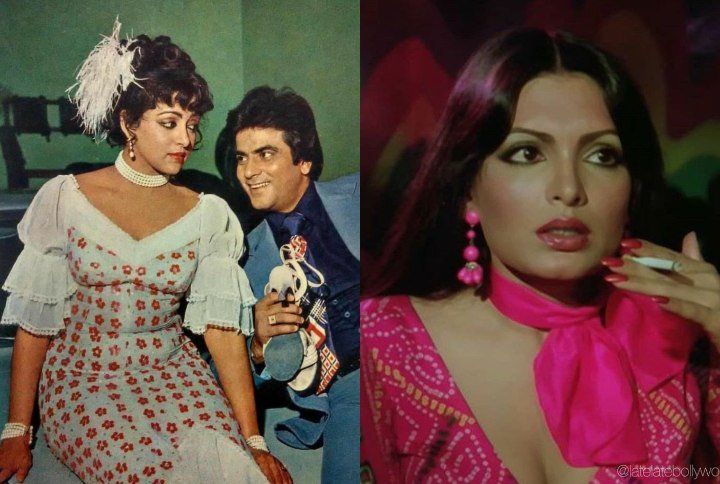 Inevitably, fashion trends in Indian culture have largely been derived from Bollywood. These two have always gone hand in hand, with the fashion industry drawing the majority of their inspiration from the big screen. The process is very simple: a blockbuster movie releases, an actor creates a frenzy with her outfit, designers copy the look, and local factories start to mass-produce. Consequently, we see the trends worn by millions of the common population in our country. Many of us probably recall our mothers rocking vintage fashion trends of the '70s and '80s, the nostalgia of these trends thrive over generations!
The Bollywood film industry has been running for over 100 years bringing to the table many iconic films, and along with that many fashion statements. When colour films started, there was an abundance in the variety of fashion styles, different prints and colours being produced. The unforgettable platform shoes, funky shades, cropped-tops, Zeenat Aman's hippie-inspired bell-bottoms, and Dimple Kapadia's quintessential polka dots from the hit film, Bobby. As a result, we see how the styles of that era are evergreen, and the continuous influence they have on the sartorial sensibilities of generations to come.
Here's a look at some of the iconic vintage trends that are still in fashion:
1. Paper-bag Pants
A prominent style in the '80s that is currently trending is none other than the high-waist, paper-bag trouser. This vintage look was adorned on the big screen back in the black and white era, and have now made their return to the fashion runways. These pleated pants are known for their comfort and can be styled for a formal or casual look. We see Rati Agnihotri pulling off this look in one of her movies with Rajnikanth. Worn with suspenders and a striped tee, she is looking fashionable as ever. Moreover, if this picture were touched up and turned into colour, we are sure no one would tell the difference in the time!
2. Ruffled Sleeves
Ruffles were quite on-trend in the '80s. However, this vintage, fashion pairing can now be seen in Vogue. Dreamgirl Hema Malini is wearing a ruffled-sleeve blouse with a printed fitted dress in this movie still with Jeetendra. Accessorised with a layered, pearl choker and matching bracelet, this look is decadent. Moreover, the flower print on her dress has grown to be a popular print we see on many outfits.
3. Waistcoats And Shoulder Pads
A trend not for faint of heart is, pulling off exaggerated shoulders and vibrant colours. And who better than Madhuri Dixit-Nene to show us how to rock this look? Oversized clothing was common in the '80s along with shoulder pads and moderately puffed sleeves to enhance the look. Paired with a flower-print vest, Madhuri makes this outfit look worth the trend. Recently, we see the puff-sleeve, structured shoulder style become a common favourite for party dresses.
4. Chain-link Print
Front-tying shirts became a major fashion trend after Dimple Kapadia in the movie Bobby. This style along with the very popular chain-link print was a luxe look in the '80s. Originally inspired by the Hermès and Versace scarf designs, this vintage print made its way to Bollywood. The late Sridevi Kapoor is pictured mixing the chain-link print on a front-knot shirt and white denim shorts. In true retro style, her shorts are high-waisted and has accessorised with big hoop earrings and a brown leather belt. More recently, we see iterations of this elevated print all over street style. Additionally, fashion experts Victoria Beckham and Meghan Markle are known fans of this vintage chain-print.
5. Oval Shaped Sunglasses
Small oval sunglasses might be common now, however, the style originally took off in the '80s. These metal frames were worn by the stunning Rekha who made this look stand out. Subsequently, these chic glasses are a recurring style amongst many of our famous influencers on Instagram.
6. Neckerchief Scarf
Popularly worn by film stars in the west, the neck-tie scarf is a classic style. Parveen Babi sizzling in an all-pink ensemble is a true vintage heroine. She styles the neckerchief scarf and a plunging neckline effortlessly. A boss lady look that calls for attention. This trend never died out, as we continue to see small square scarves fashionably tied around the neck.
Are you a fan of the vintage fashion trends? Comment below on what your favourite iconic look is.
Don't forget to follow @missmalinifashion on Instagram to never miss a style tip!