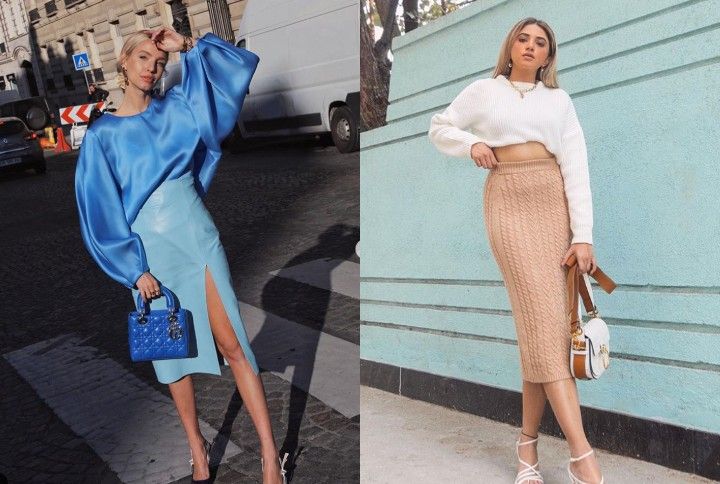 While many trends come and go the midi skirt has become that one trend that's stuck around to become a wardrobe staple in most of our closets. The great bit about midi skirts is their versatility. They look cute for any occasion, whether it's the office or a party, there's a style or fit to suit anyone, anytime. So what exactly is a midi? It's a hybrid between a mini and maxi skirt. In this case, the hemline falls between your knees and ankle. Some lengths may differ but as long as it's not going above your knees or below your ankles it's generally considered a midi-length skirt.
The great thing about different iterations of the midi-skirt is that they automatically flatter almost everyone's body shape or size. It can help your waist appear slimmer and enhance the natural curves. Plus you can rock them all year round!
If you're having trouble styling your skirt keep these two simple tips in mind:
Tuck it in. Balance is key when styling a look. You need to create some definition or shape, especially at the waistline so tuck in your top or sweater. If you have an oversized top do a French tuck where you tuck in just the front slightly loosening the material so it nicely drapes around.
Try a fitted or cropped top. If your skirt is more flowy or poofy make your top is fitted. With cropped tops being very trendy right now try a shirt or cardigan that stops right at your midriff with a high-waisted skirt.
Add a belt. Don't forget to belt your look at the waist. It can tie the whole look together and helps accentuate your waist by creating some shape and definition.
From silk to tule to denim and pleated styles there are so many ways to wear these skirts. We've rounded up some cute styles from our favourite fashionistas for some style inspo to get you started.
Keep scrolling to check out some cool ways to style your midi skirts:
1. Slip Skirt
Slip style skirts aren't going anywhere anytime soon. The great thing about this type of skirt is that you can dress it up or down to suit the occasion. It offers a simple silhouette that's very feminine and can look sexy depending on how you style it. Want to keep it chic and simple? Then opt for a tone-on-tone look like Olivia Palermo has here. She's included a blazer in the same copper colour albeit different texture and broken up the colour with a white top. Paired with some cute open toe heels, Olivia looks effortlessly chic and put-together.
2.Denim Midi
Denim isn't just restricted to pants. It's available in the form of skirts including the midi-length, and right now denim skirts are trending. Especially with the resurgence of '80s and '90s trends, the more vintage it looks the more you nail the trend. Masoom Minawala is giving us major vintage vibes here with her ensemble. She's paired her light-wash skirt with a white knotted tee and some red slingback heels. On-trend but laid-back, the peek-a-boo of the skin in her midriff and slit on the skirts helps in balancing her look so the items don't overwhelm her petite frame. The end result is cute, relaxed and chic! She dressed up her outfit with heels but if you're planning on walking a lot opt for some sandals or sneakers instead.
3.Tulle Skirt
I love a good tulle skirt and Jessica Wang rocks this look beautifully. She layered her sheer tulle skirt with a mini underneath along with a high-neck, oversized pink sweater on top. A sheer, midi skirt is great for transitional weather and looks great on everyone. What I love about the way Jessica has styled the look is how she has opted to let her sweater sit out over the skirt instead of tucking it in. She's snatched it at the waist with a silver chain belt which gives some shape to the sweater. At the same time keeping the other accessories in the same silver-tone with ankle wrap stilettoes and large heart earrings. Her entire outfit looks very feminine and trendy but with a subtle edge.
4. Pleated Skirt
This entire outfit makes me happy and I love the colour combo of the pastel yellow and vibrant purple. Nina Sandbech has literally colour co-ordinated her entire look from head-to-toe including the yellow shades and purple sandals in the exact same tone as her outfit pieces. Simple yet effective, Nina has paired her yellow pleated skirt with a purple ruffled, one-shoulder crop and thick belt in the same shade. A lovely lightweight ensemble that looks cute, elegant and perfect for a day at a resort or outdoor lunch on warmer days. Moreover, ruffles and pleats are both very current styles that we've been seeing all around.
5. Knit-Pencil Skirt
As the weather starts to get cooler in your city why not opt for a knitwear ensemble like Aashna Shroff. She has paired her beige midi pencil skirt with a lightweight cropped sweater. The white and beige colour scheme is a classic no matter the season. She keeps to the colour story with her other accessories including a matching purse and white heels. Topped off with some minimal gold jewellery, Aashna looks super chic and sophisticated in this attire that will keep you warm and stylish in the cooler months.
6. Leather Skirt
You can't go wrong with a monochromatic look. Sticking to one colour palette is a great way to make an outfit look more expensive with next to no effort. Black, white or neutral shades are always a safe bet if you want to dip your toe into the trend, but I personally love this blue look by Leonie Hanne. Keeping to blue tones shes paired a figure-hugging, patent-leather skirt with a thigh-high slit with a half-tucked, oversized blouse that has massive puffy sleeves. The high, side-slit cut makes her look sleek and sexy with minimal effort showing off her gorgeous tanned legs. Leonie finished off her look with a matching blue Dior handbag and some navy heels. With her pulled-back hair in a bun and minimal jewellery, it's a classy yet chic look overall.
How do you like to style your midi skirts? Let us know in the comments below.
Don't forget to follow @missmalinifashion for all the latest style updates!