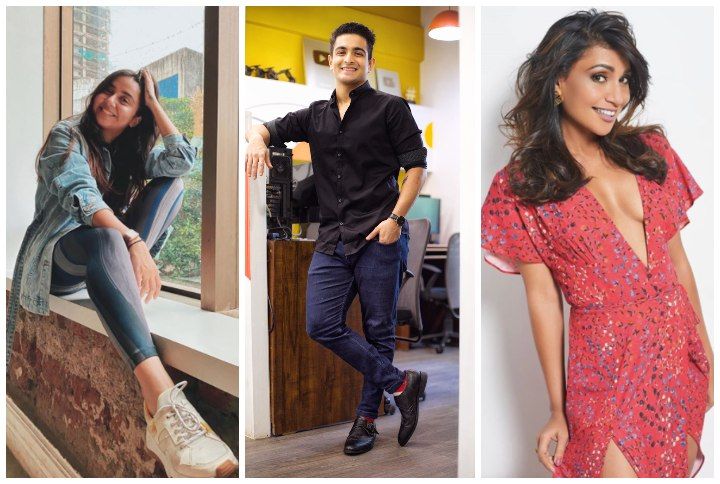 Content creators take to Instagram to showcase their talents and interests. There are different kinds of creators with various niches who put out extremely entertaining content. These influencers often talk about their day-to-day life and also recommend ideas that could be enjoyed by their fans. Some of them are complete bookworms and can't get enough of reading. For most of them, books transport them to another world and as an escape from the chaos of our world. With each read, they learn and they grow. Books give them new perspectives and widen their spectrum of knowledge. Here are a few content creators who are avid readers!
Check them out:
1. Prajakta Koli
Prajakta Koli a.k.a Mostly Sane is one of the most popular and loved creators in India today. She is known for her candid and super entertaining content. However, there is one thing about her that every true fan of her knows—she loves reading. Reading is an integral part of her daily life, and hence a major part of who she is. In fact, 3 years ago, Prajakta made a video called, 'Books you should read if you hate reading', where she recommends 6 books that she absolutely loves. After getting a great response, she put up another video on YouTube, recommending 8 books that are a must-read. One of the major reasons why she is so dearly loved by millions is the fact that she doesn't shy away from being who she is and that she has her own voice. It is so nice of her to take all of us on her journey filled with fantastic books.
2. Malini Agarwal
Born in Allahabad, Malini Agarwal a.k.a MissMalini is an entrepreneur who came to Mumbai with the dream to live an extraordinary life. Since then, Malini has made an amazing career for herself and is a recognized name in most Indian households. She is an avid reader and takes to books to give her the means to have experience new lives vicariously. She even recommended various books on her Instagram page that were her absolute favourites. But that's not all! Malini is a best-selling author herself! 'To The Moon: How I Blogged My Way To Bollywood', is a book in which Malini talks about her journey and all about being an entrepreneur today. This book is an absolute joy to read and can be extremely useful for all budding entrepreneurs.
3. Abhi and Niyu
Abhi and Niyu are a couple that makes some amazing content on YouTube as well as Instagram. Together, they put out content that is relevant to each of us and they talk about ways to bring about a positive change in the world. Both of them really enjoy reading and even started their own book club with their fans through Twitter! Every month, they ask their fans to pick between two books, that they all then read and discuss. This is such a wonderful idea to bring together like-minded people and to have some very interesting conversations!
4. Ranveer Allahbadia a.k.a BeerBiceps
Ranveer Allahbadia a.k.a BeerBiceps is undoubtedly one of our favourite content creators. He is someone who talks extensively about the importance of self-growth and positivity. Ranveer used to be very fond of reading in his college days and lately, his passion for it has returned once again. In fact, in July this year, he made a video on YouTube, where he shared his entire book collection and recommended some of his favourites. We'd love to skim through them and find out which hidden book he gets all his wisdom from!
5. Meghna Kaur
Meghna Kaur is an immensely popular influencer and content creator who enjoys a book once in a while. She has one of the most aesthetically pleasing feeds on Instagram and has a variety of matters she covers. Quite often, her captions are quotes from novels that resonated with her and meant something to her.
6. Radhika Seth
Radhika Seth is an influencer who uses her platform to communicate with her followers by sharing content of her daily life and an unfiltered showcase of who she is. Every now and then, Radhika picks up a book to read, her last being 'Becoming' by Michelle Obama, and shares her thoughts about them. Radhika radiates positivity in all her content and shares everything she believes in, with her followers. As a person who really enjoys what she reads, she often also underlines a couple of words from the book she is reading at the time and shares it with everyone because she truly belives it matters.
7. Aakriti Rana
Aakriti Rana is extremely passionate about reading and shares her journey on Instagram with all her followers. She takes out the time to share quotes from these books that resonate with her most. Sharing the things she learns through these books and the experiences she has with them makes her very engaging as a creator, bringing her closer to her fans. The things she shares about these books are so fascinating that makes us all want to read more and more!
8. Pryanca Talukdar
Pryanca Talukdar is a model and actor who takes to social media to share some really interesting content. What truly stands out in her feed is the overall aesthetic of it. Pryanca too really enjoys reading novels and the aesthetic of the pictures you get with it are just an added bonus!
9. Ritu Tiwari
Ritu Tiwari is widely known for her content that surrounds fashion and beauty. However, she also has a very keen interest in reading. She loves to read motivational books and advocates happiness and positivity. Amazingly, she takes her followers on her journeys with various books and loves to share some insights from the same.
10. Rega Jha
Former Buzzfeed India Founder & Editor-In-Chief, Rega Jha is a writer and has some amazing content on her website that you must check out. As a writer, she has a certain appreciation for words, and stories, no wonder she is an avid reader! She even has a highlight on her Instagram feed titled, 'good words', which comprises her favourite quotes and excerpts from novels that she enjoyed reading.
11. Indian Booktuber
Manpreet a.k.a Indian Booktuber started creating interesting content related to books such as recommendations, reviews lots more on her YouTube channel. She loves to read books of different genres and gives us her thoughtful insights about it. Her content is so informative and interesting, that it truly motivates to pick up a book and get reading! She is also a vlogger and has her own lifestyle page on YouTube. It is clear where she got the creativity to come with such an interesting name for herself from!
Reading should definitely be a part of our daily routine so that there's always something new we get to learn. Books take you through a journey as you live in the characters within. Especially since all the social activity is on a standstill, picking up a book to read can only go on to benefit you whilst keeping you occupied!
Also, don't forget to follow @missmalinitrending on Instagram to know more about your favourite influencers!