International Podcast Day: Team MM Recommends These 8 Podcasts For You
Suruchi Patwary , 30 Sep 2020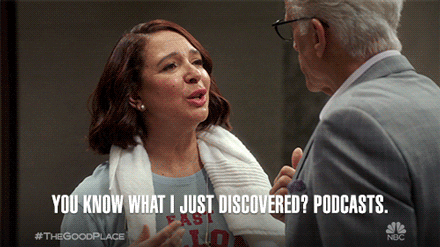 Podcasts are a great medium, especially for those who want to avoid long screen time hours. And a lot of people have really dived into this medium since the lockdown started. Team MM too explored their interests and found some really interesting podcasts we listen to. And since it is International Podcast Day today, we thought we'd share our current favourite podcast picks with you all. Scroll down to check 'em out and pick your pick.
1. Why Do I
Recommended By: Alisha Fernandes, Features Director.
Available On: Spotify.
Honestly, I recommend it as much for the choice of guests as the ease of conversation by the host, Uday Jhala. But what's most interesting are the topics that are covered and just how engaging the conversations are. This podcast has been my lockdown evening walk companion.
2. Call Your Girlfriend
Recommended By: Uttkantha Sindhwani, Features Intern.
Available On: Spotify, Apple Podcasts, Google Podcasts, Stitcher.
I like Call Your Girlfriend a lot because listening to it feels like chatting with my best friend. The conversations that unfold between Ann Friedman and Aminatou Sow are intellectually riveting yet comforting. They talk about everything from pop culture to the latest in politics. The podcast focuses on uplifting women who are agents of their own lives, and who have meaningful things to contribute to any conversations. They believe in the shine theory, which claims that if one of us shines, we all shine. I recommended CYG to every woman I meet and it's been my favorite podcast for over 4 years.
3. The Ranveer Show
Recommended By: Karishma Govil, Contend Head, Influencer News Desk.
Available On: Spotify, YouTube.
It's a self-improvement and inspirational podcast that features Ranveer Allahbadia a.k.a BeerBiceps who interviews specialists from different walks of life. With guests like Priyanka Chopra, Sri Sri Ravi Shankar, Gaur Gopal Das, Arnold Schwarzenegger, and more who open up about their success and the struggles they faced along the way.
4. Limetown
Recommended By: Saania Hava, Creative Strategist.
Available On: Spotify, Castbox.
Eerie, mysterious, and gripping! The podcast is about a town that vanished overnight and a reporter trying to find out the truth. I was hooked onto this podcast for days! Great sound production with an intriguing storyline that keeps you engaged throughout.
5. This American Life
Recommended By: Malini Agarwal, Founder & Creative Director.
Available On: Apple Podcasts, Stitcher.
I love podcasts because they are about the theatre of the mind! One that I find particularly engaging is This American Life with compelling storytelling born out of nuggets of thought that resonate with everyone because of their relatability.
6. Everything Is Alive
Recommended By: Malini Agarwal, Founder & Creative Director.
Available On: Apple Podcasts, Stitcher.
The other one that I like is Everything Is Alive. A podcast where the host has an unscripted conversation with inanimate objects. Proving yet again that imagination is everything.
7. Impaulsive
Recommended By: Aryana Dalal, Jr. Community Manager.
Available On: YouTube.
Created by controversial YouTuber, Logan Paul, who is now not so bad, and hosted by him and his two friends, Impaulsive gives you an insight into the lives of internet celebrities and a behind the scenes look at YouTube drama from the perspective of the people who've actually been through it. They also have guests on almost every episode who are all from the internet space like Harry Jowsey from Netflix's Too Hot To Handle and Casey Neistat! Basically, if you're into TikTok celebrities and Instagram influencers, this podcast is for you!
8. JokeVani
Recommended By: Suruchi Patwary, Features Writer.
Available On: Gaana.
Specially curated to beat lockdown blues, JokeVani features a hysterical line up of 27 leading stand-up comedians like Biswa Kalyan Rath, Sahil Shah, Ramya Ramapriya, Atul Khatri among many others who promise to crack you up after a tiring day. The line-up promises to tickle your funny bone as each episode is based on mundane activities amidst lockdowns like bosses and their behavior during work from home, old wives tales to solve COVID, or even family advice through social media forwards. Listen to this for some laughs!
Which of these podcasts do you plan on listening to next? Let us know in the comments below!
For more such content, don't forget to follow @missmalinilifestyle.