The way-forward for human life from here on out is seemingly mostly digital. Or in modern terms—phygital. Phygital is a mix of physical + digital realities which made its way in India through the first-ever phygital edition of Lotus Makeup India Fashion Week spring/summer'21. With 43 designers from the fraternity, this season of LMIFW was phenomenally executed via the power of social media. Designers brought to life extraordinary fashion films and put forth thematic showcases that only enhanced their collections. Given the season—spring/summer, most of the collections gave easy-going and lightweight silhouettes a prime focus. And as for trends, a few were reinvented, some were brought back and a few continued to make waves.
From the many trends that caught our eyes, ahead we list out 6 recurring styles on the runways at LMIFW SS'21:
1. Pintucks
Both thick and thin pintucks made cameos on the phygital runways brought to you by the likes of Amaare, Rajesh Pratap Singh and S&N By Shantanu and Nikhil. They lend a touch of elegance to clothes whilst also boasting of impeccable craftsmanship. This sartorial detail will take a modest outfit up a notch, effortlessly. Or add a bit of oomph to a bold and exaggerated look.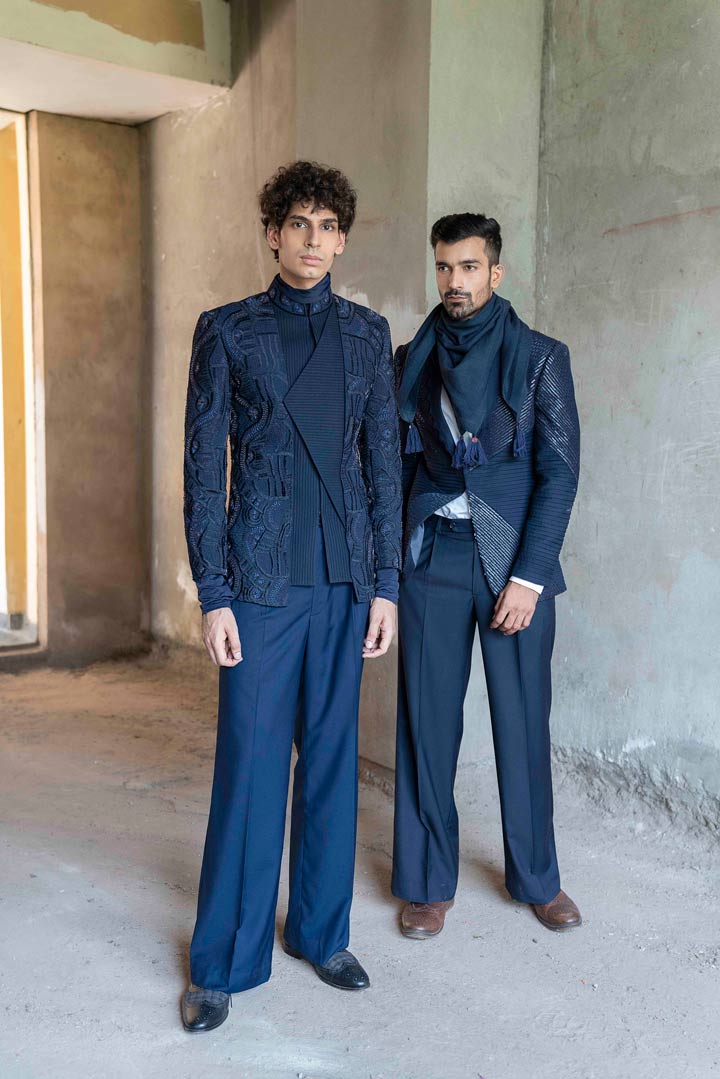 Amaare at LMIFW SS'21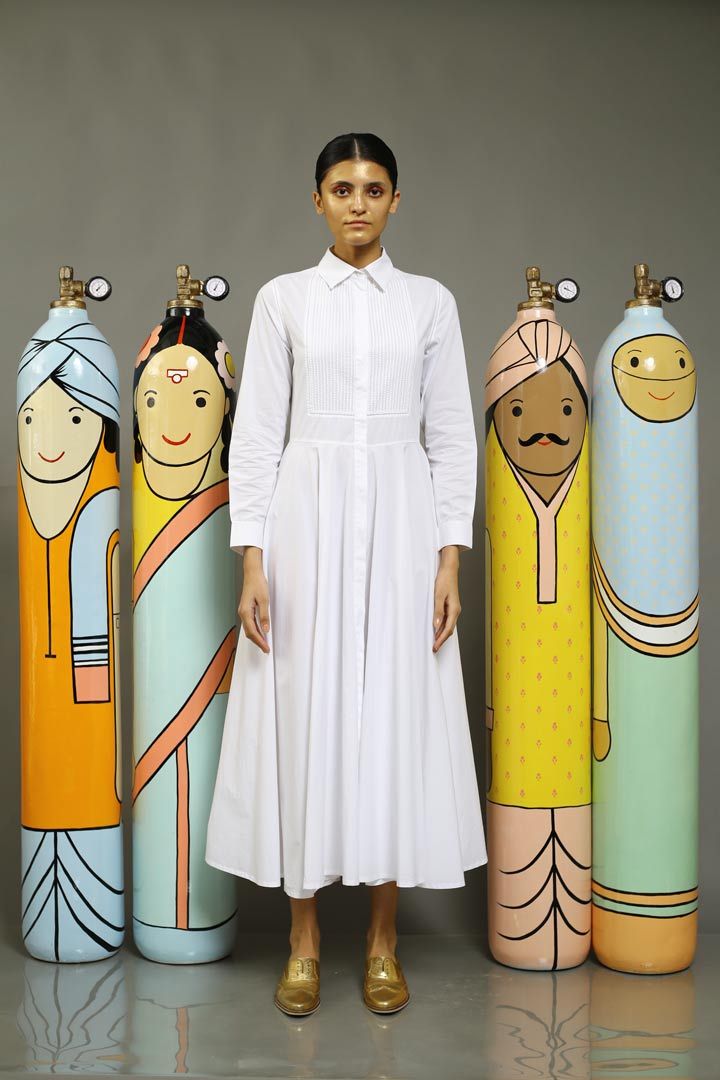 Rajesh Pratap Singh at LMIFW SS'21
S&N By Shantanu and Nikhil at LMIFW SS'21
2. Futuristic clothing
When the agenda is to stand out in the crowd, garments with a futuristic appeal will become your best friends. Be it androgynous styles, bold colours or the use of PU fabrics, futuristic clothing knows no exploration limits. For designer Pawan Sachdeva, the usage of super-glossy PU fabrics in his collection seemed appealing. For Bloni, relaxed silhouettes with an iridescence overdose deemed fit. Nitin Bal Chauhan mixed the past with the future and crafted avant-garde silhouettes whilst putting the horrific Jallianwala Bagh Massacre in 1919 in the spotlight. He showed that historic events such as these should not be forgotten and the story, therefore, needs to be retold over and over, so that we are always aware of our history. Here, he used his craft to remind people of this event. The graduating batch of Pearl Academy explored X-ray fabrics to dramatic layering and just about anything that was unorthodox. To conclude, in order to recognise futuristic clothing is to look for unrecognisable details in clothes!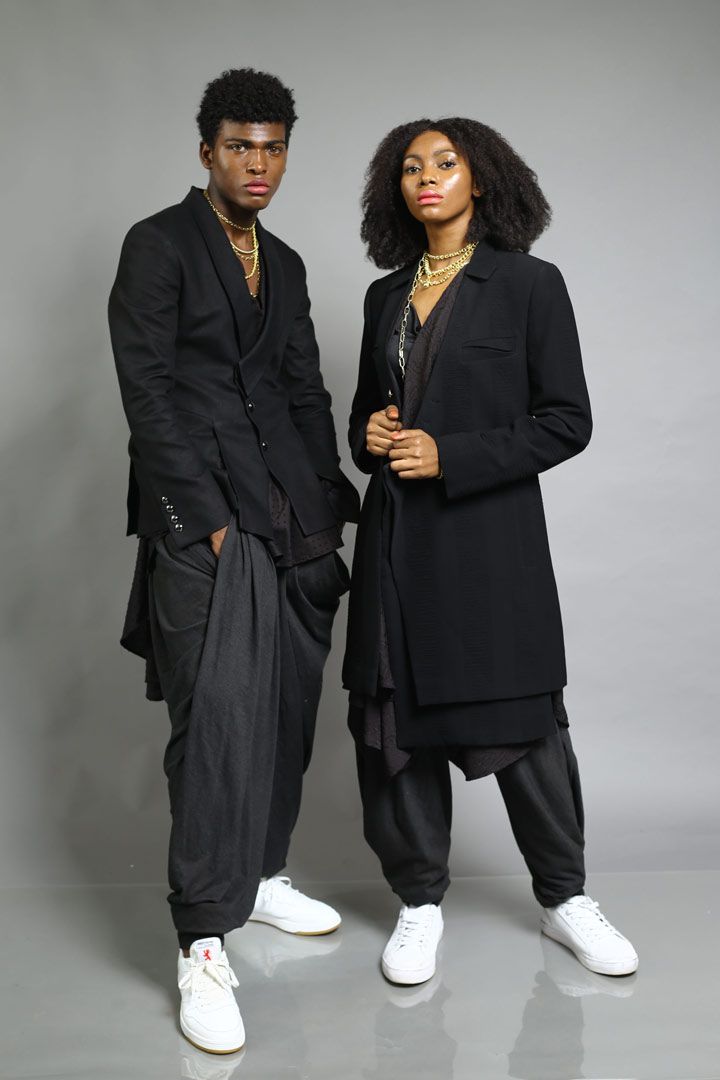 Ashish N Soni at LMIFW SS'21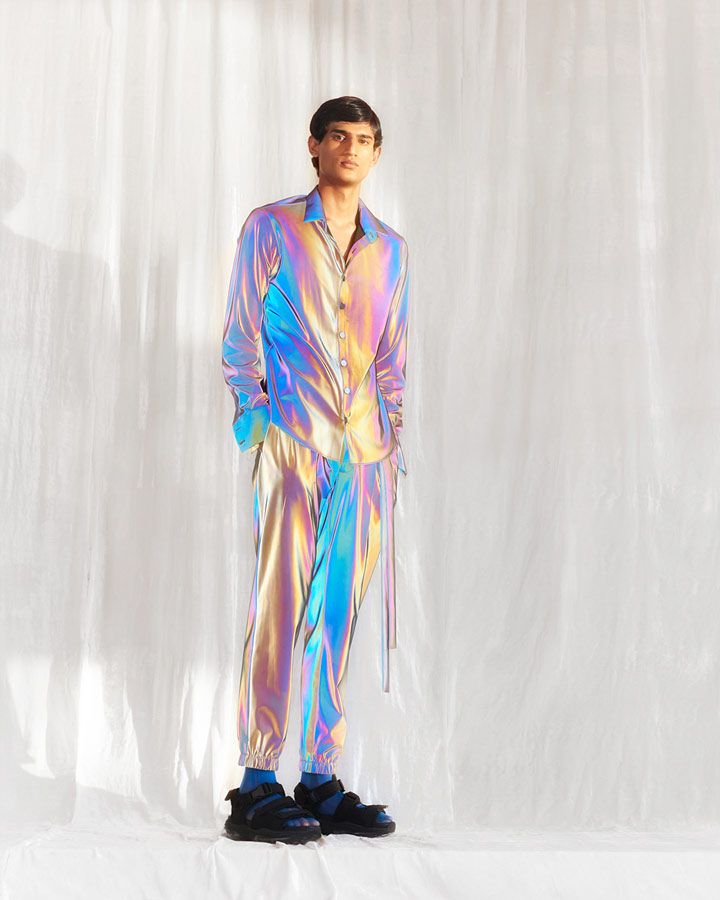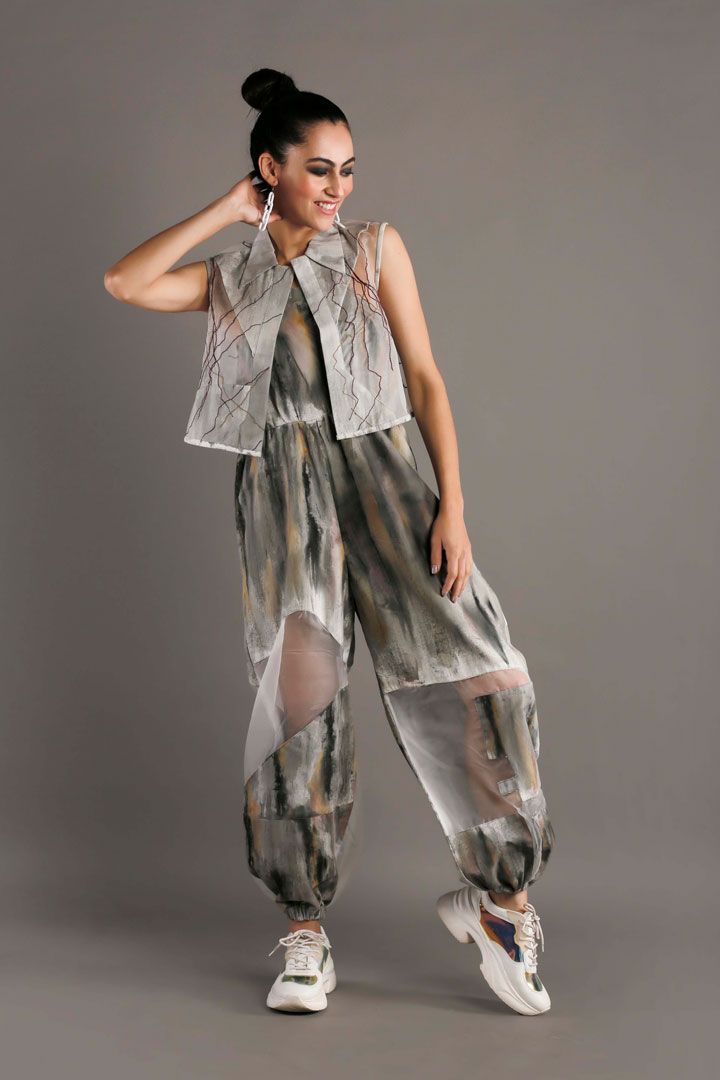 Pearl Academy – Fashion Reboot at LMIFW SS'21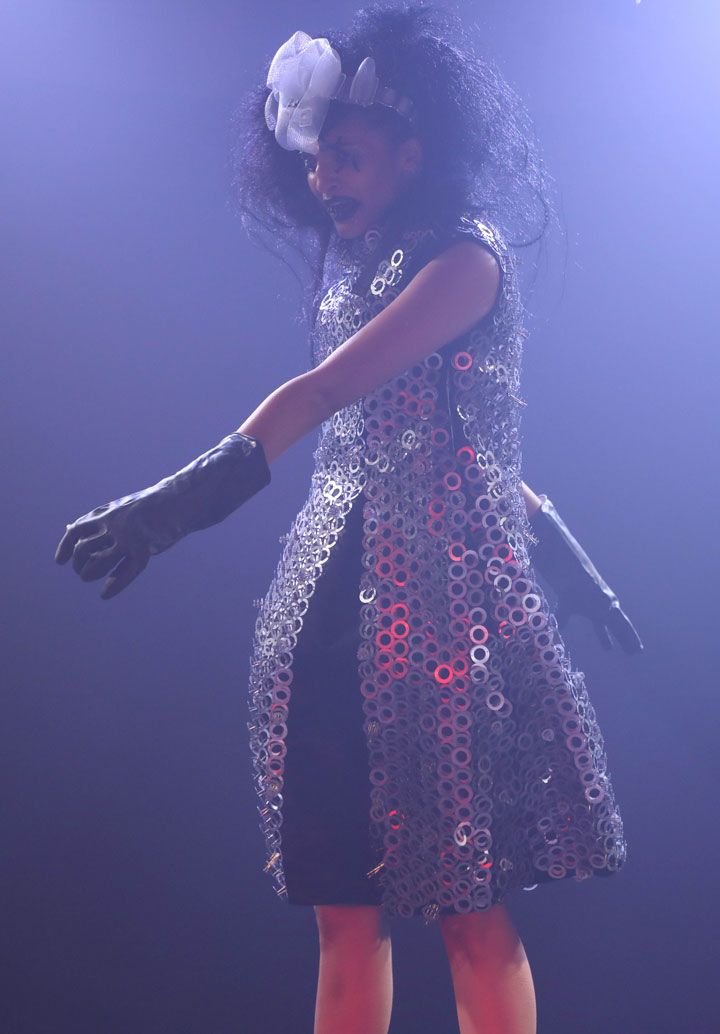 Nitin Bal Chauhan at LMIFW SS'21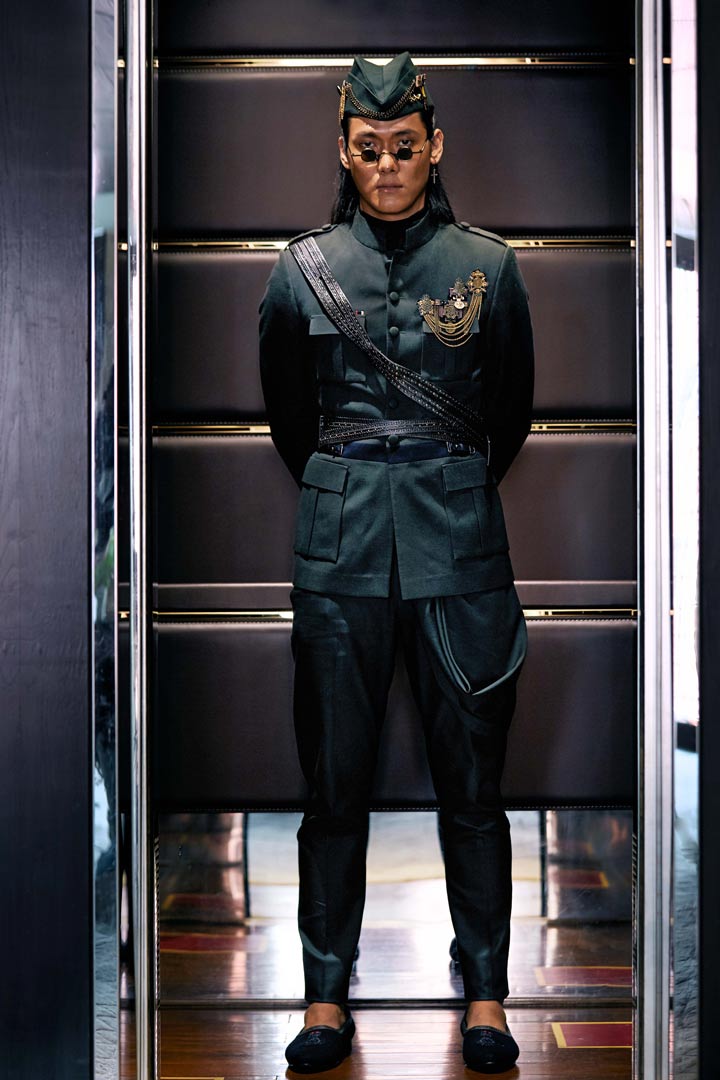 S&N By Shantanu and Nikhil at LMIFW SS'21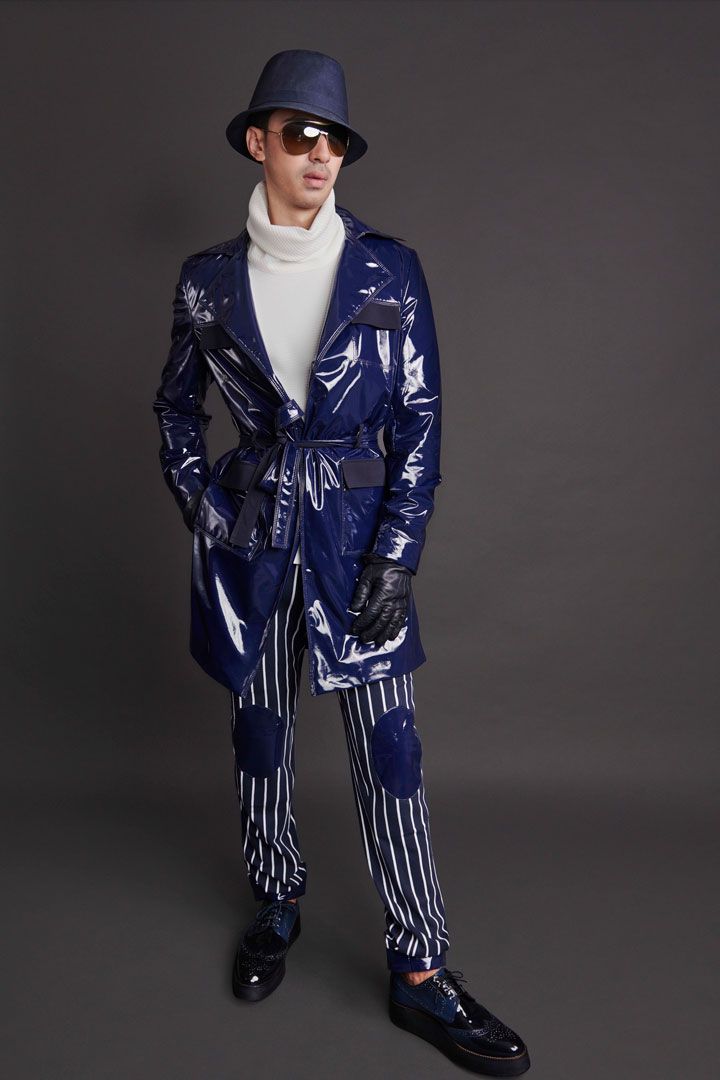 Pawan Sachdeva at LMIFW SS'21
3. Prints, prints and more prints
Prints are the way to go if you're into effortless fashion that makes a statement. Classics or new, with each season comes a new print, which is then judged on whether it'll be a passing fad or a closet mainstay. At the latest season of Lotus Makeup India Fashion Week, we took note of three styles. Scroll ahead to check out which!
Artsy prints
Never-before-seen, out-of-the-box and as the title suggests, artsy, these quirky designs have distinctive inspirations that lay as their foundational stones. For Nikita Mhaisalkar, the intricacy and richness of Turkey made way into her spring/summer collection, think earthy tones and baroque print. Print-experts, Shivan and Narresh explored the anatomy of the plant, animal and human life and blended them into a variety of intriguing prints with a vivid palette. For Janavi, her ensembles are reminiscent of her Himalayan hometown of Kashmir. And while they all come in a soothing palette of whites and blues, the standout element of her clothes is the evil eye motif.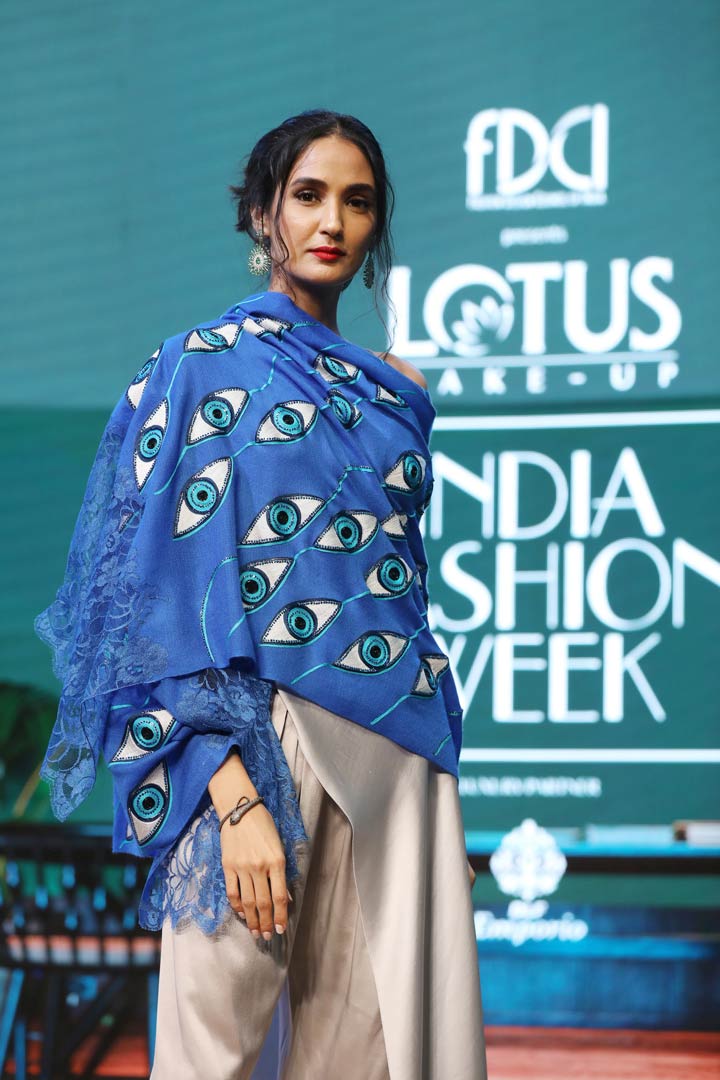 Janavi at LMIFW SS'21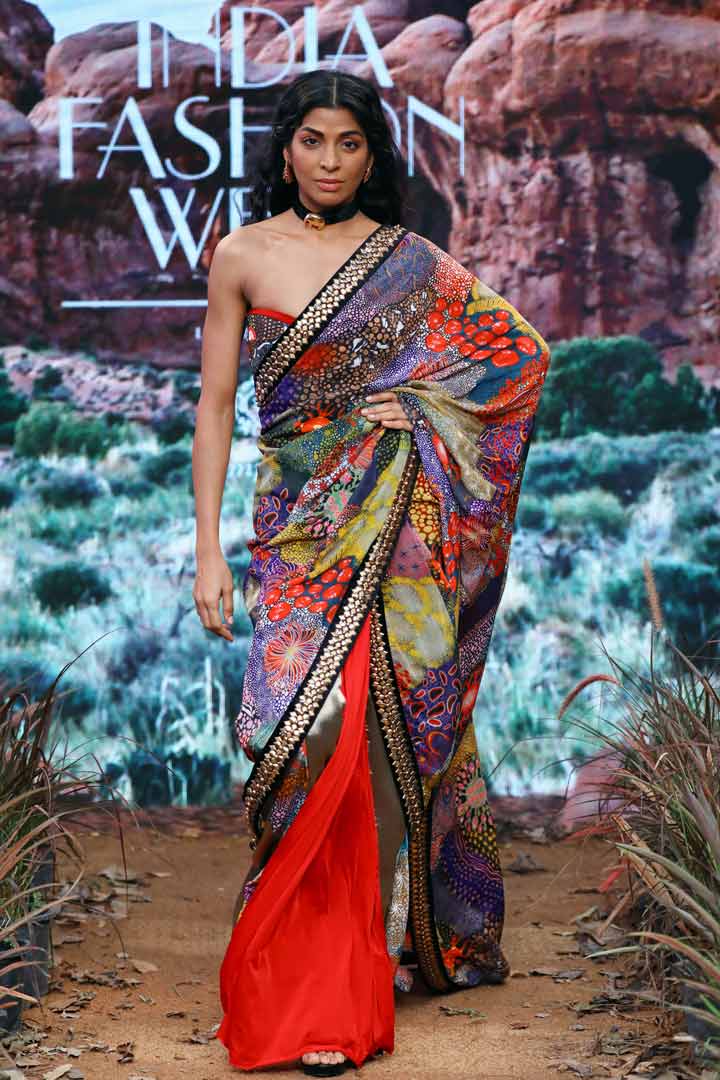 Shivan and Narresh at LMIFW SS'21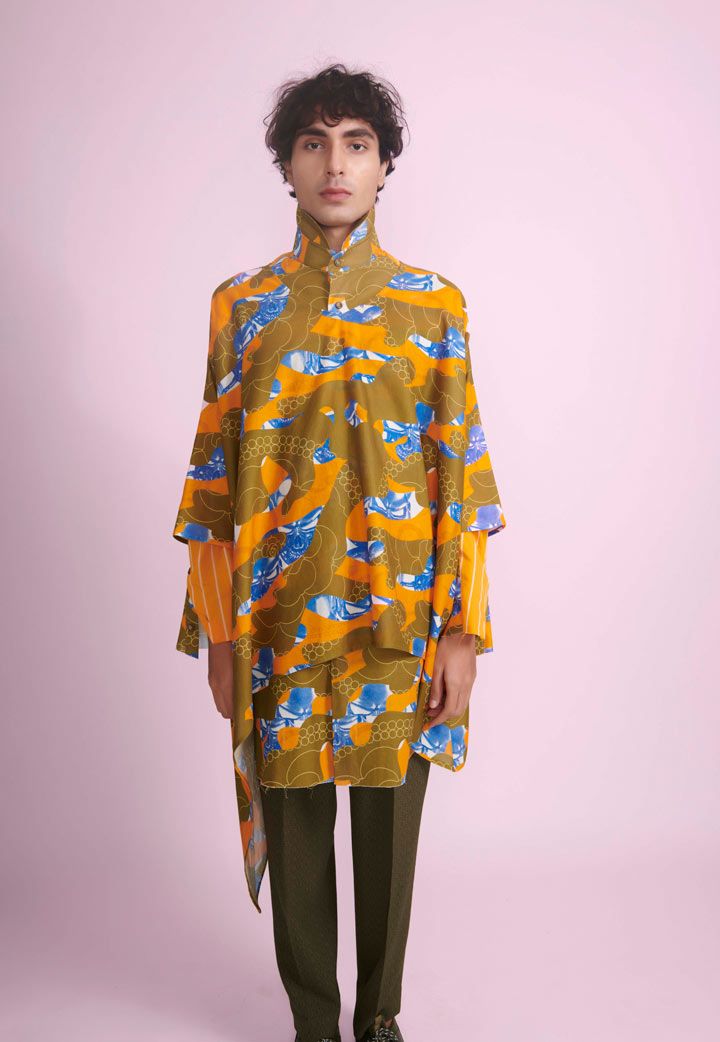 Vikram Bajaj AT LMIFW SS'21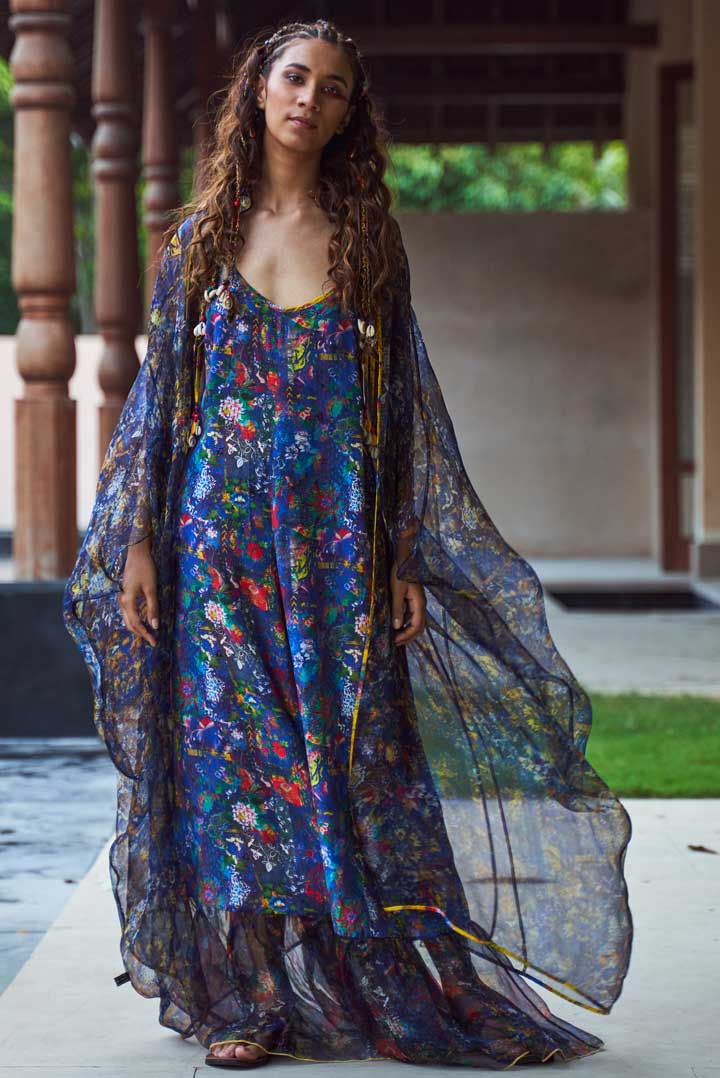 Payal Jain at LMIFW SS'21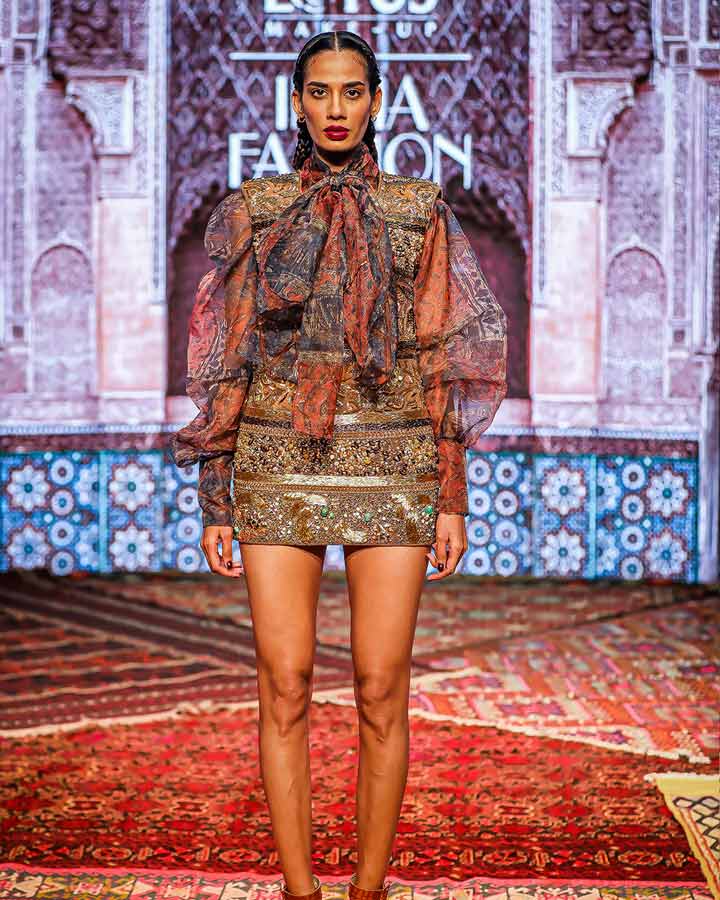 Nikita Mhaisalkar at LMIFW SS'21
Romantic prints
Pastel hues and floral prints have something about them that evoke a sense of romanticism. Designers Archana Rao, Gauri and Nainika, Limerick by Abirr n' Nanki and Nidhi Yasha enhanced summer romance via their dreamy ensembles covered in tender-looking prints. Archana Rao's clothes came in pressed blooms. As for Gauri and Nainika, vintage glamour accentuated with balmy prints and romantic colours completed their collection. Limerick by Abirrn' Nanki presented the perfect summer-holiday collection in bright and light hues alike. And Nidhi Yasha mixed ombré beads with watercolour splashes and dainty blooms.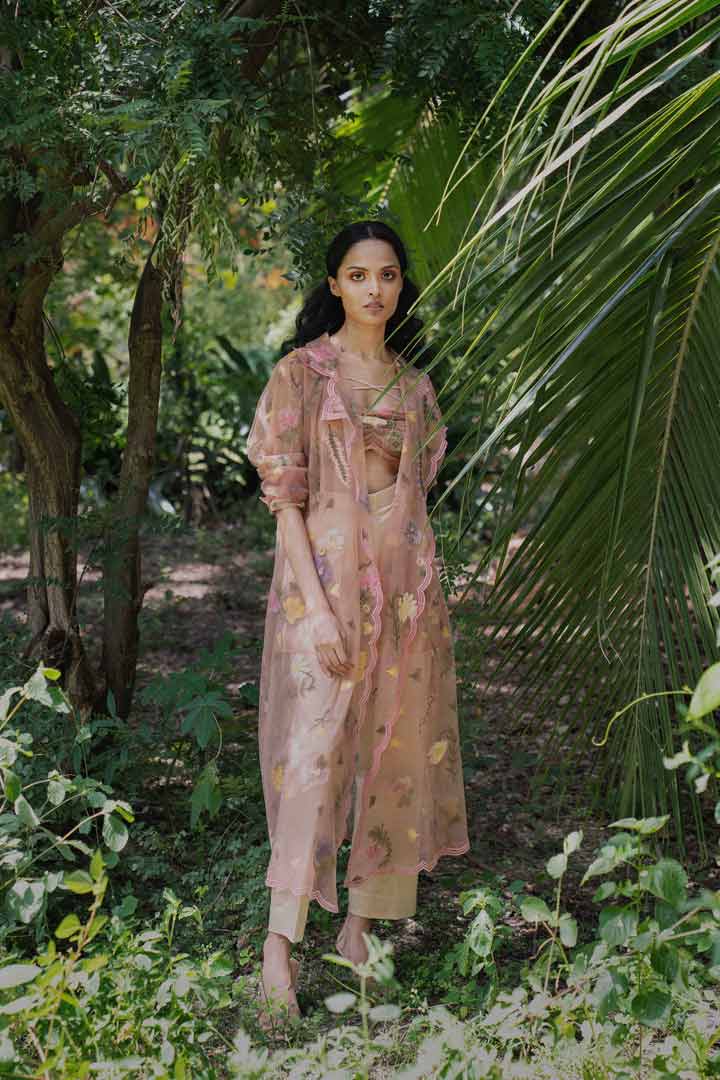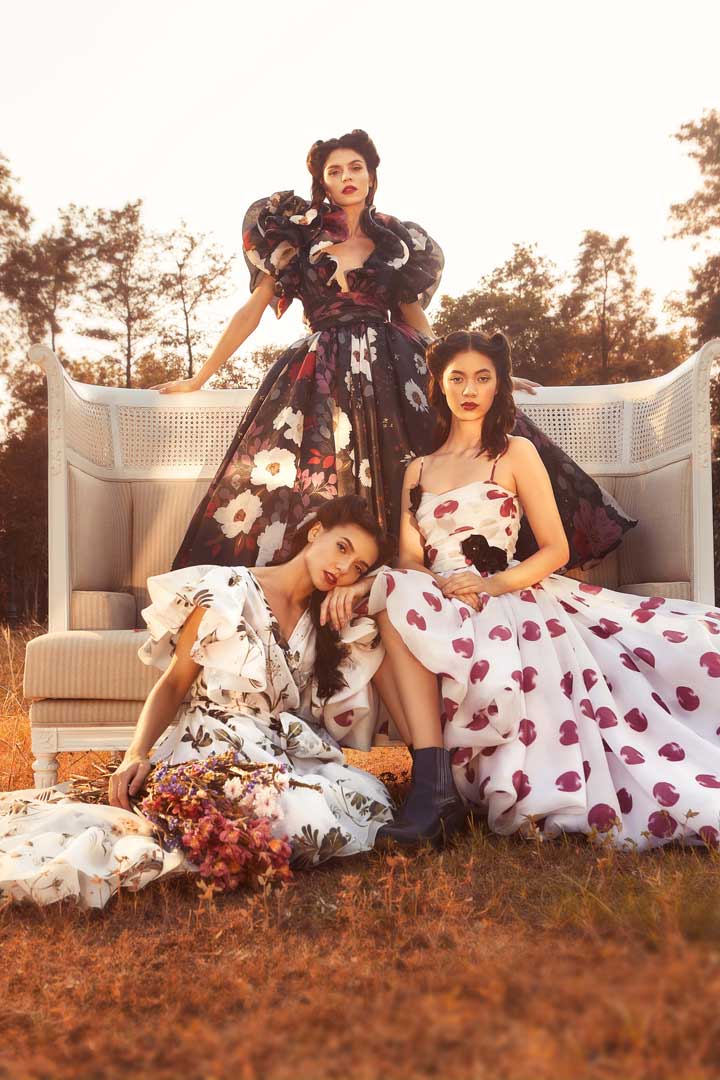 Gauri and Nainika at LMIFW SS'21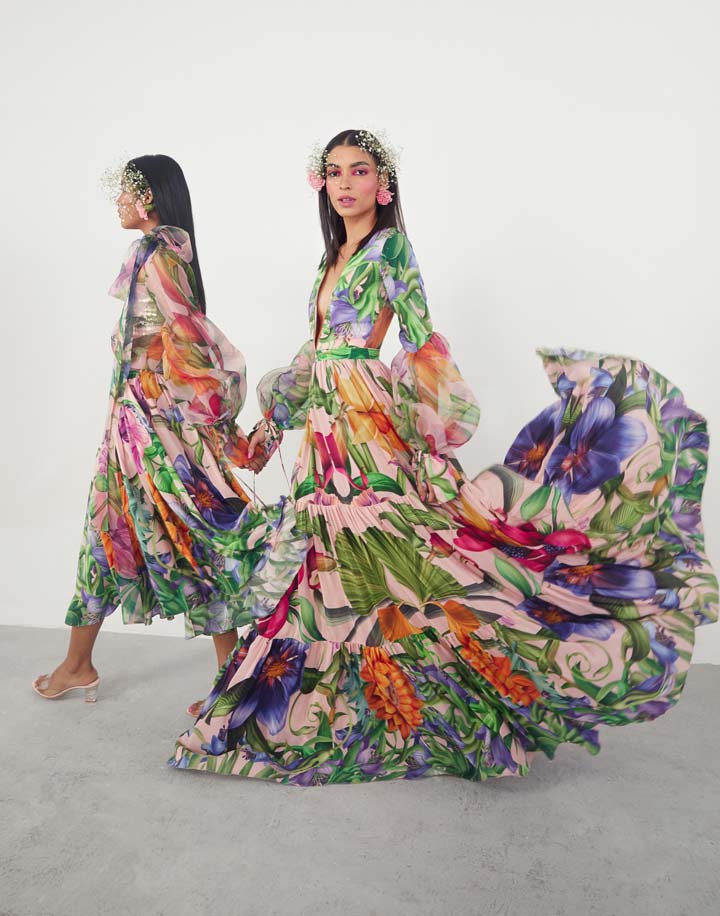 Limerick By Abirr n' Nanki at LMIFW SS'21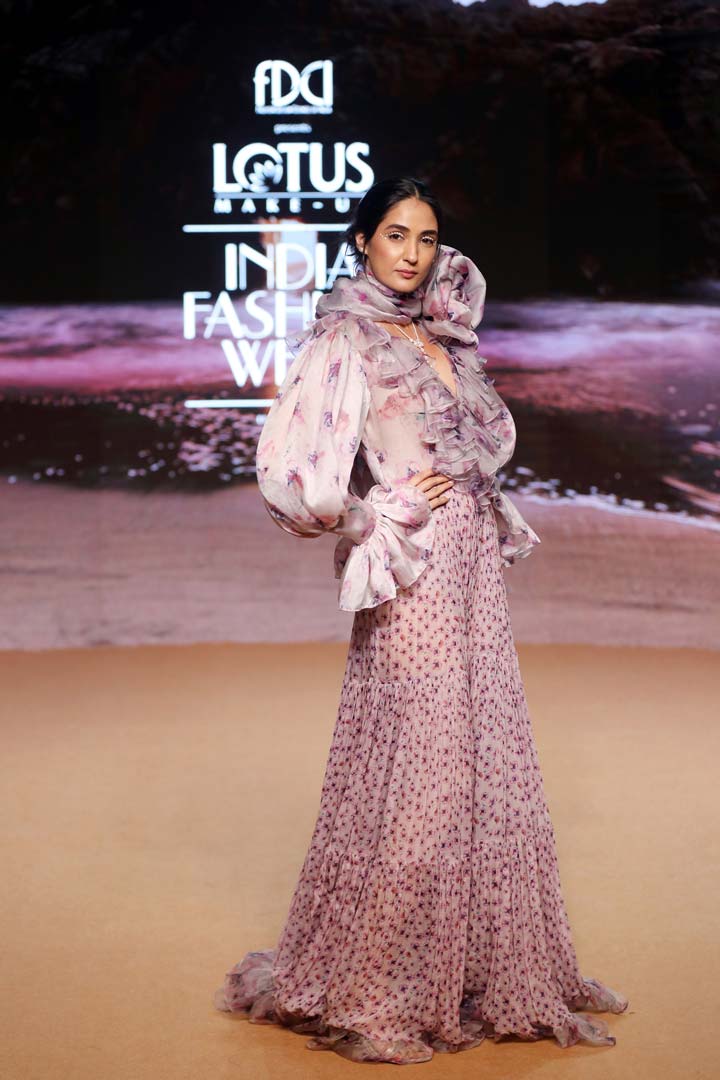 Nidhi Yasha at LMIFW SS'21
Tropical prints
Dreaming of a tropical vacation or even if you're planning for one, clothes with leafy prints and tropical colours are sartorial essentials for the holiday season. Look to Ranna Gill, Rimi Nayak, Gaya and Guapa for resort-wear with fresh hues and luxe fabrics spruced up with the best of tropical prints.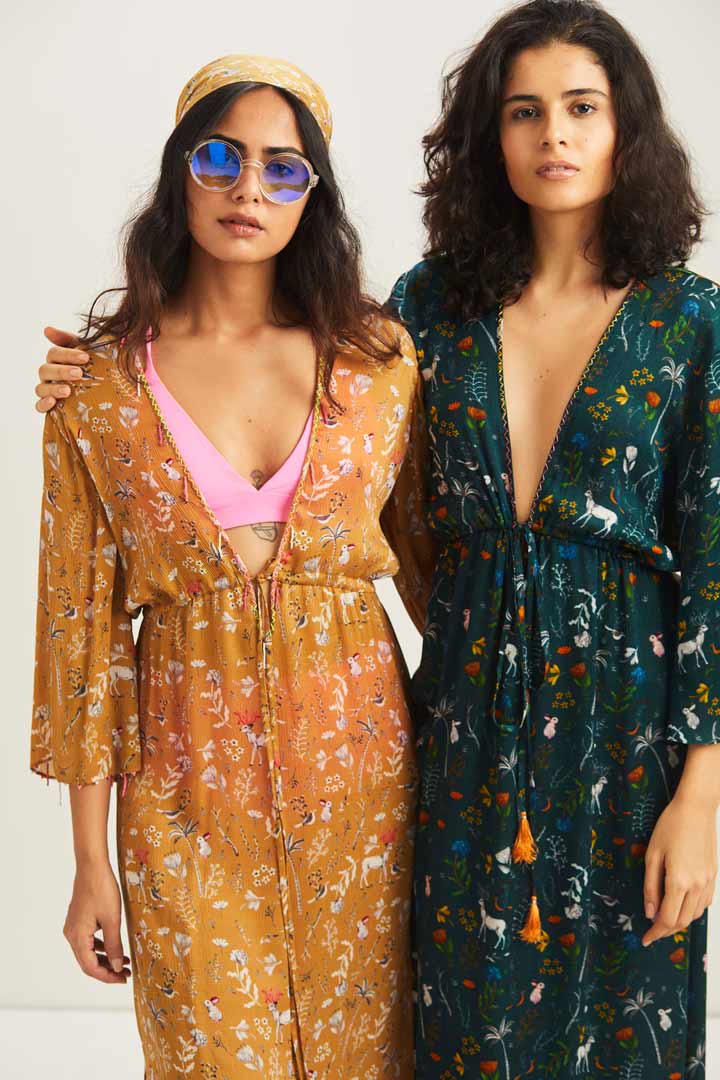 Guapa at LMIFW SS'21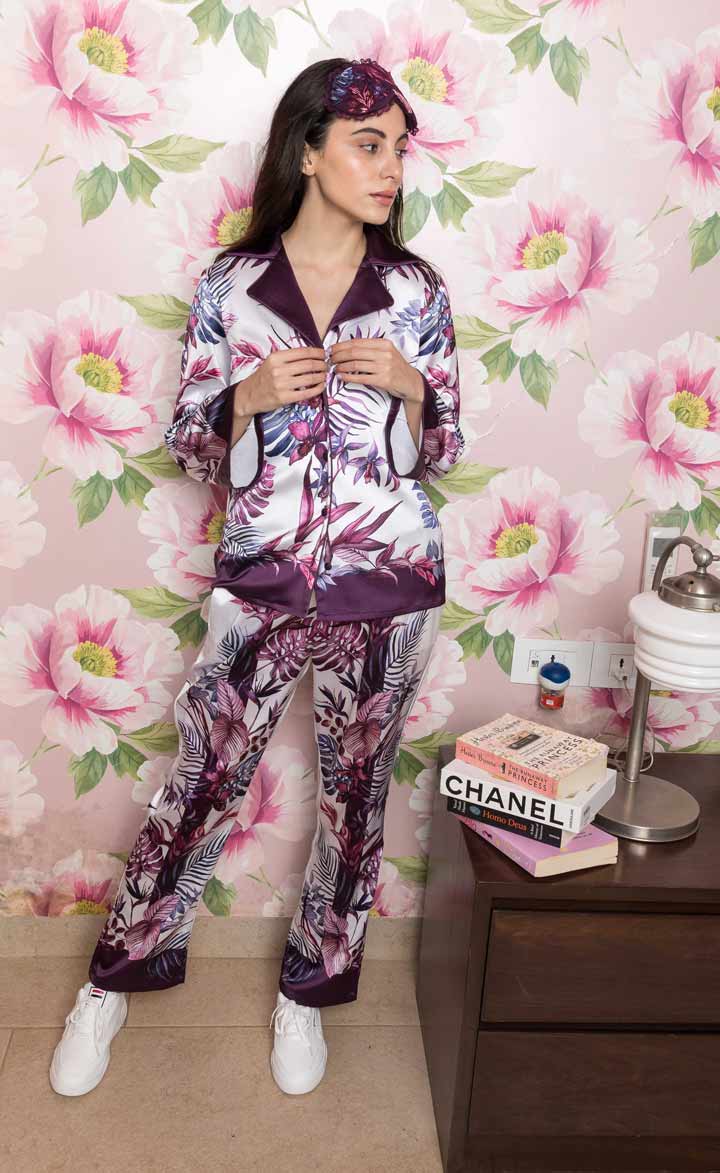 Gaya at LMIFW SS'21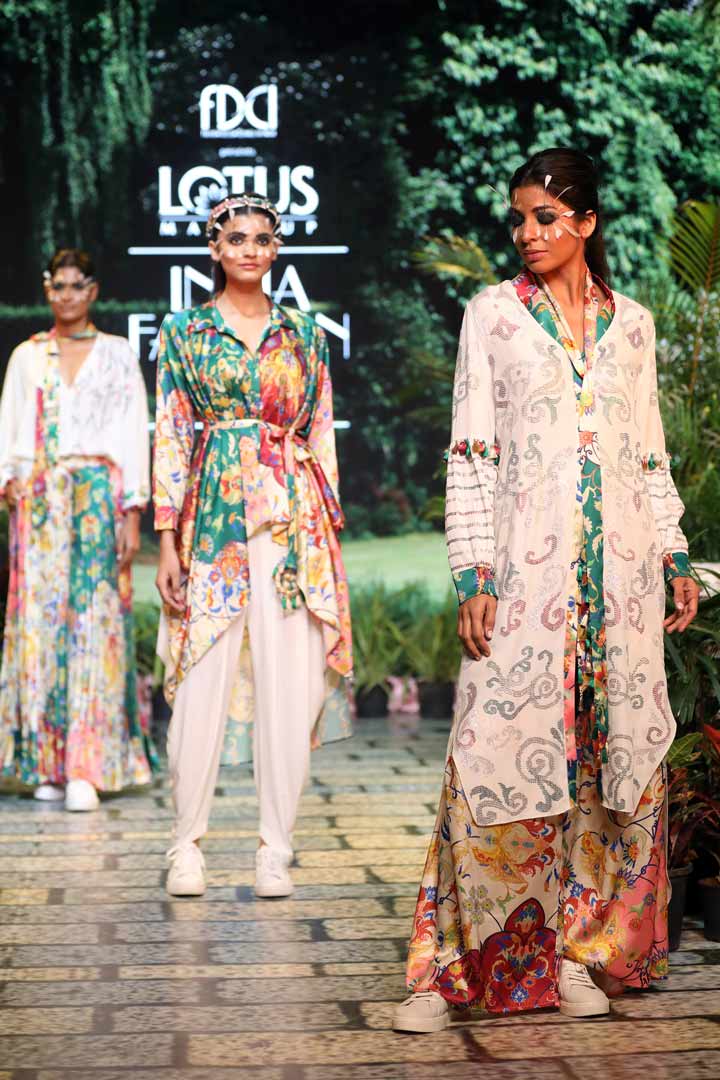 Ranna Gill at LMIFW SS'21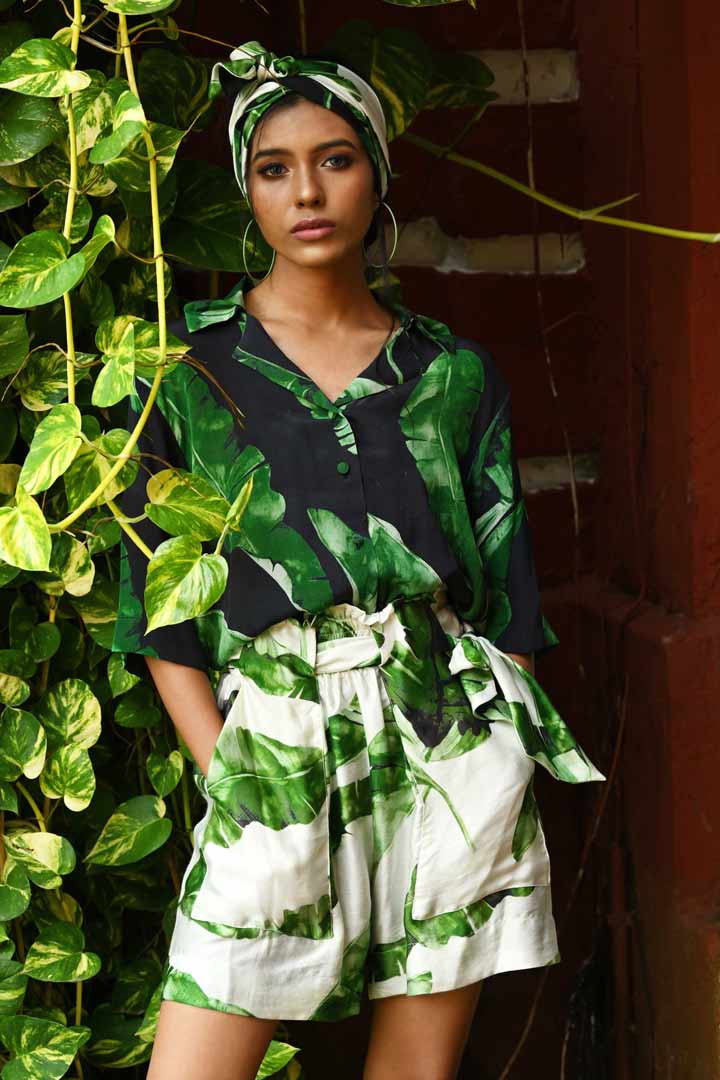 Rimi Nayak at LMIFW SS'21
4. 3D Embellishments
3D embellishments have been en trend for quite some time. But what makes them interesting is each designer's unique take on them. This season, couturier Suneet Varma presented an ethnic-wear collection with a sorbet palette with easy-going silhouettes. However, he broke the modesty of his spring/summer line with a show-stealing, midnight blue lehenga set. The blouse featured a structured three-dimensional, wavy petal covered in sequins. As for Vaishali S, the cording mastermind made wearable art. Like she always does. But with each season, she only comes back better and with more drama. For Varun Bahl's demi-couture collection, voluminous blooms adorned his evening gowns and sarees. All in all, 3D decorations just inject a lot more drama into the silhouettes.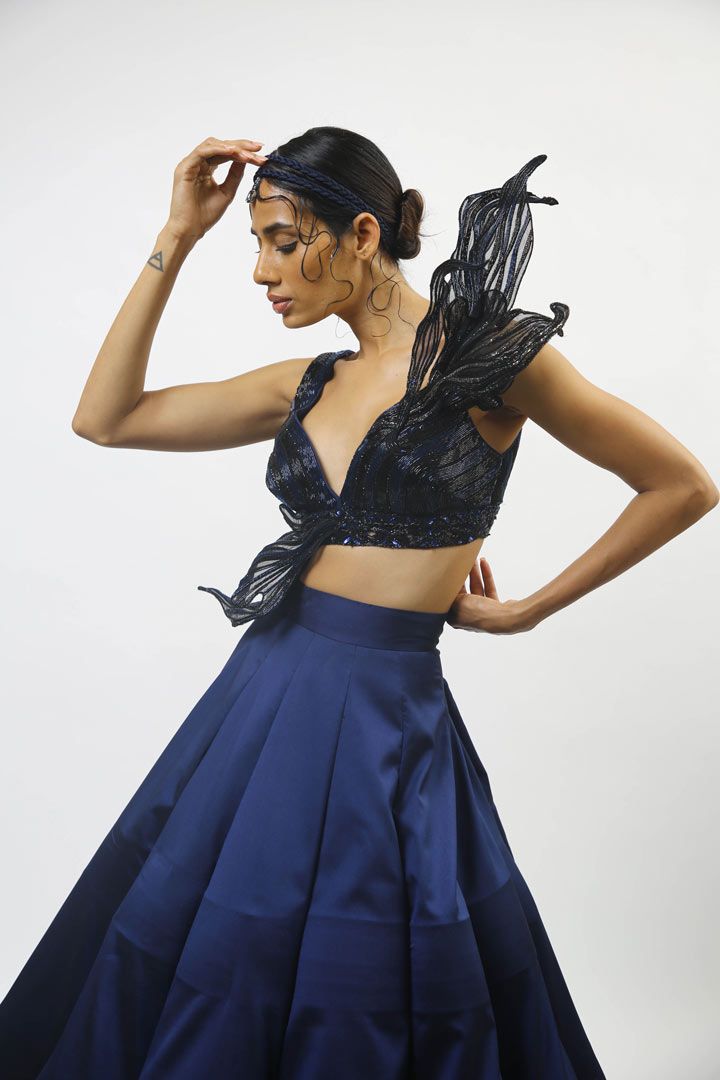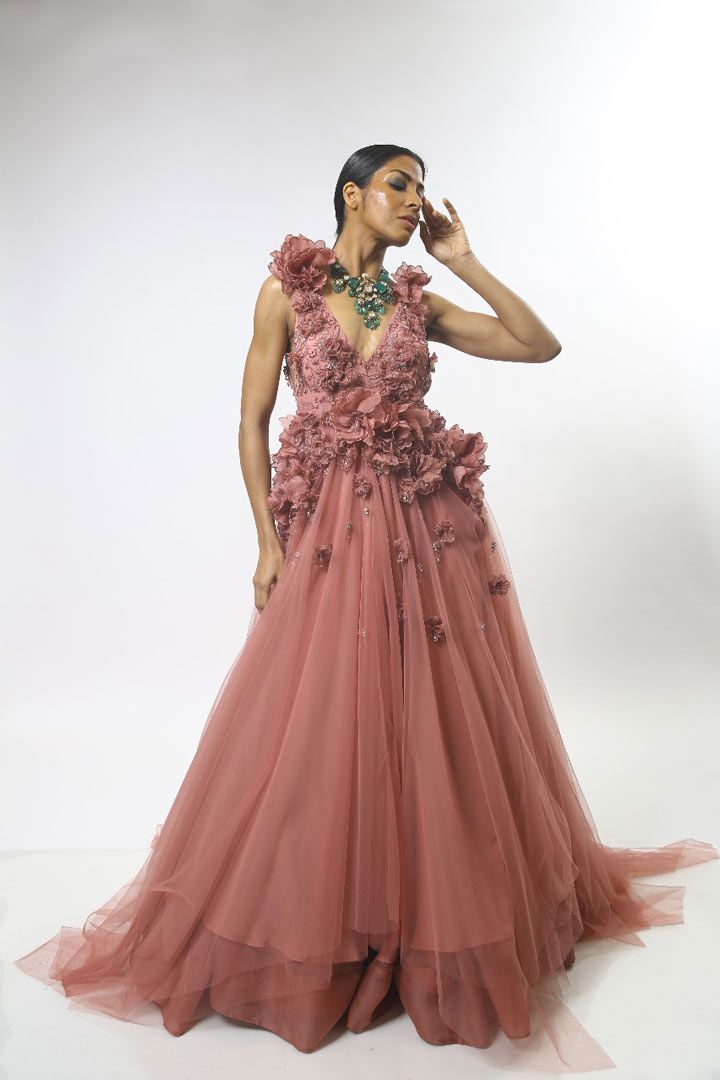 Varun Bahl at LMIFW SS'21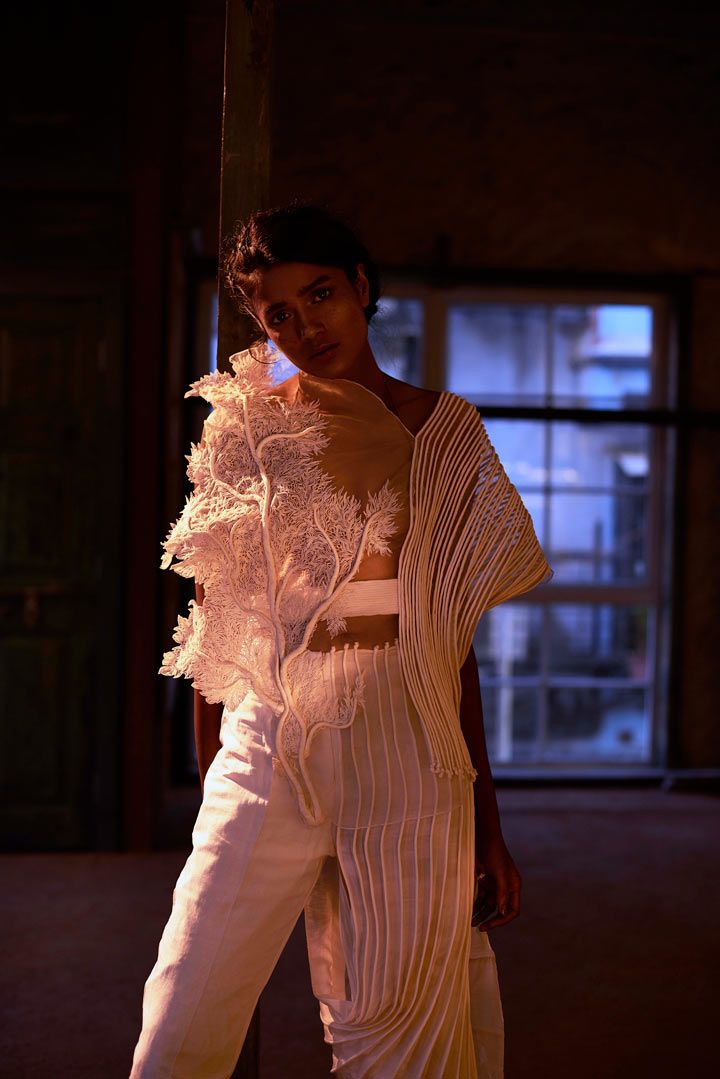 Vaishali S at LMIFW SS'21
5. Brocade and Chanderi bridal wear
Whether you're a bride with a taste for modest and minimal styles or one with an affinity for exaggerated clothes, D-day outfits need to have that hint of opulence in them. For the modern bride who relies heavily on bridalwear that juxtaposes tradition with modernity, this season, bridal designers present you with sumptuous neo-traditional collections. Thanks to brocade and chanderi. The rich fabrics were a favourite amongst multiple designers. All in palatial palettes of gold, purple, silvery and ivory, perfect to raise the ante of understated silhouettes. Look to designers Abhishek Gupta, Ashima Leena, Niki Mahajan, Siddartha Tytler and Geisha Designs to pick from the best!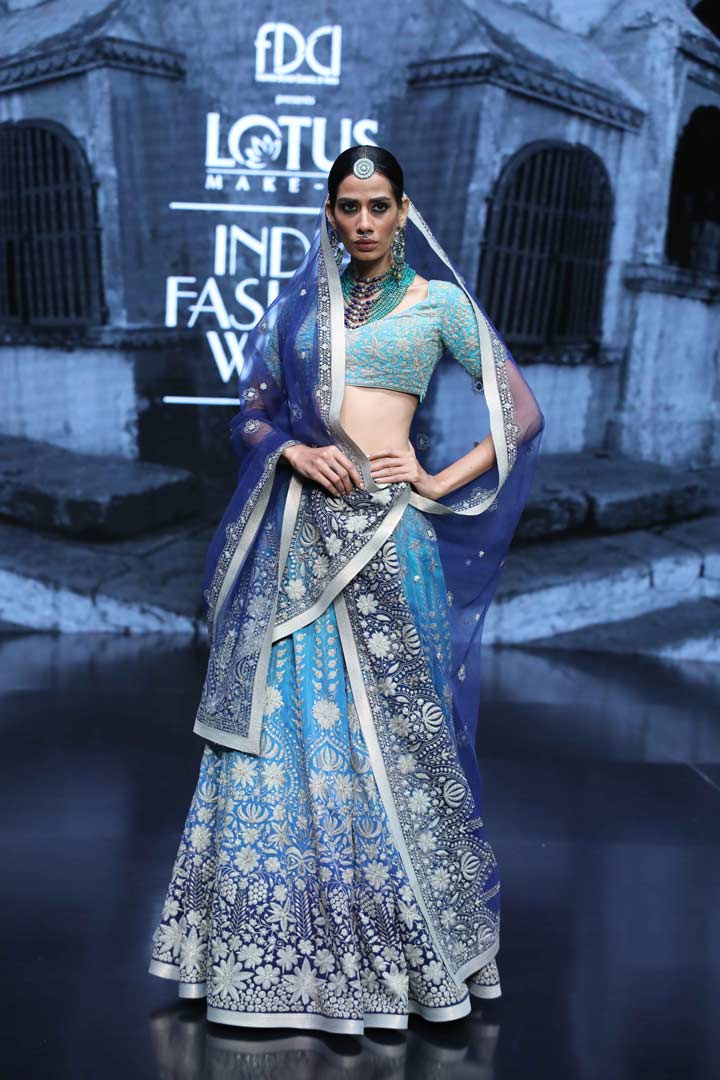 Abhishek Gupta at LMIFW SS'21
Niki Mahajan at LMIFW SS'21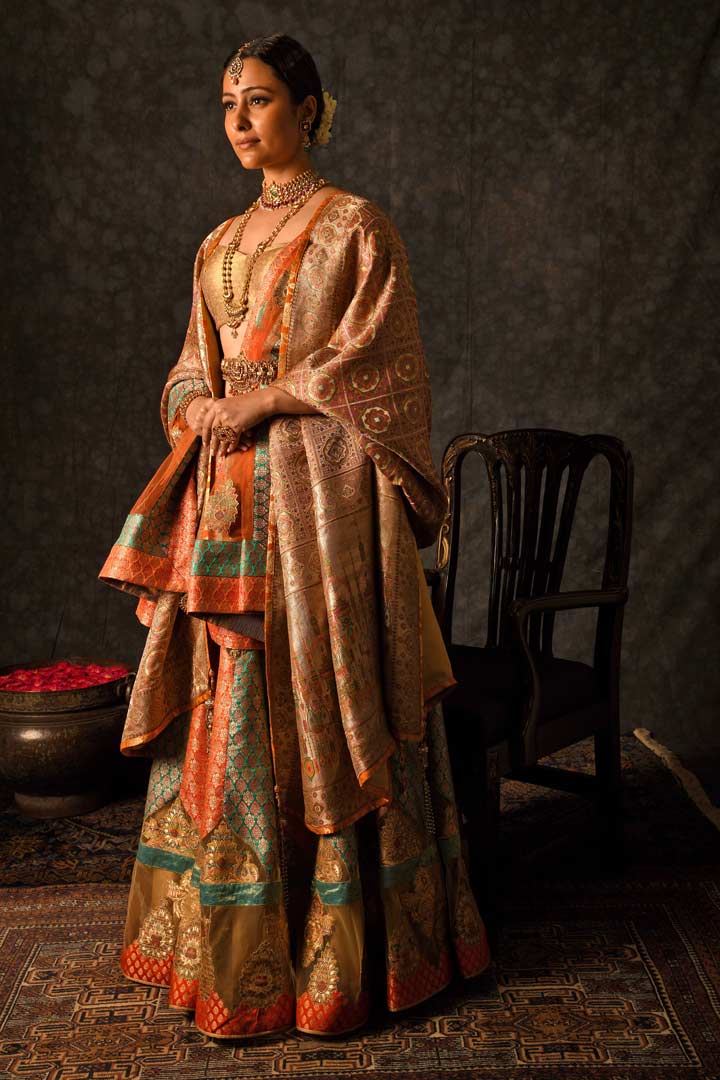 Ashima Leena at LMIFW SS'21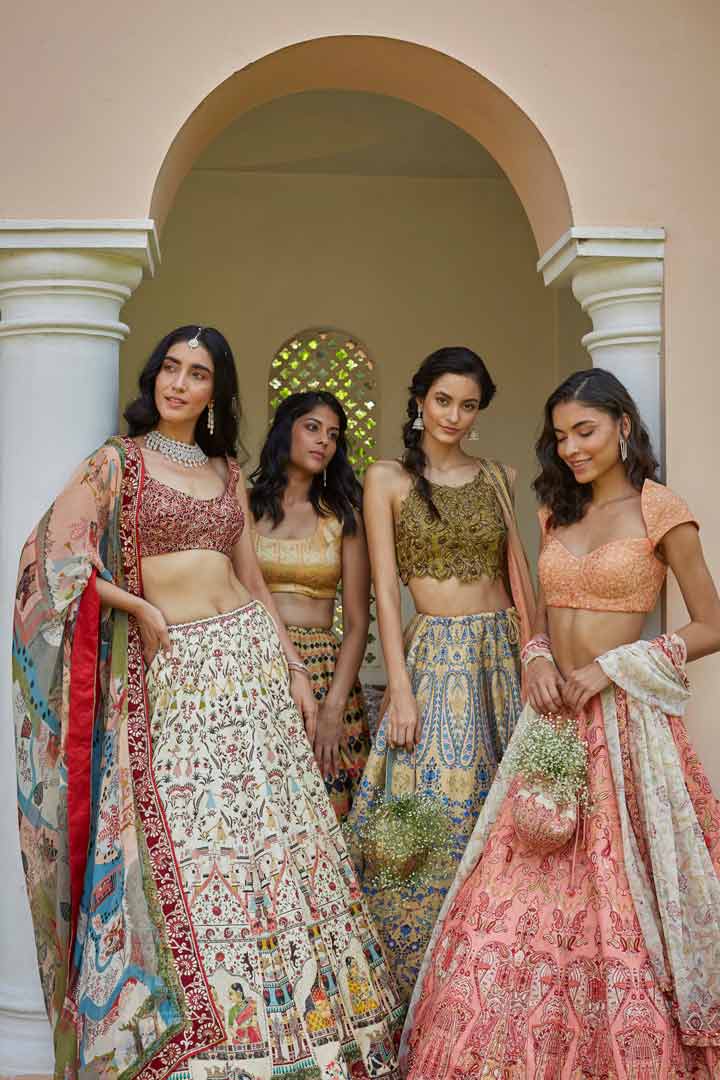 Geisha Designs at LMIFW SS'21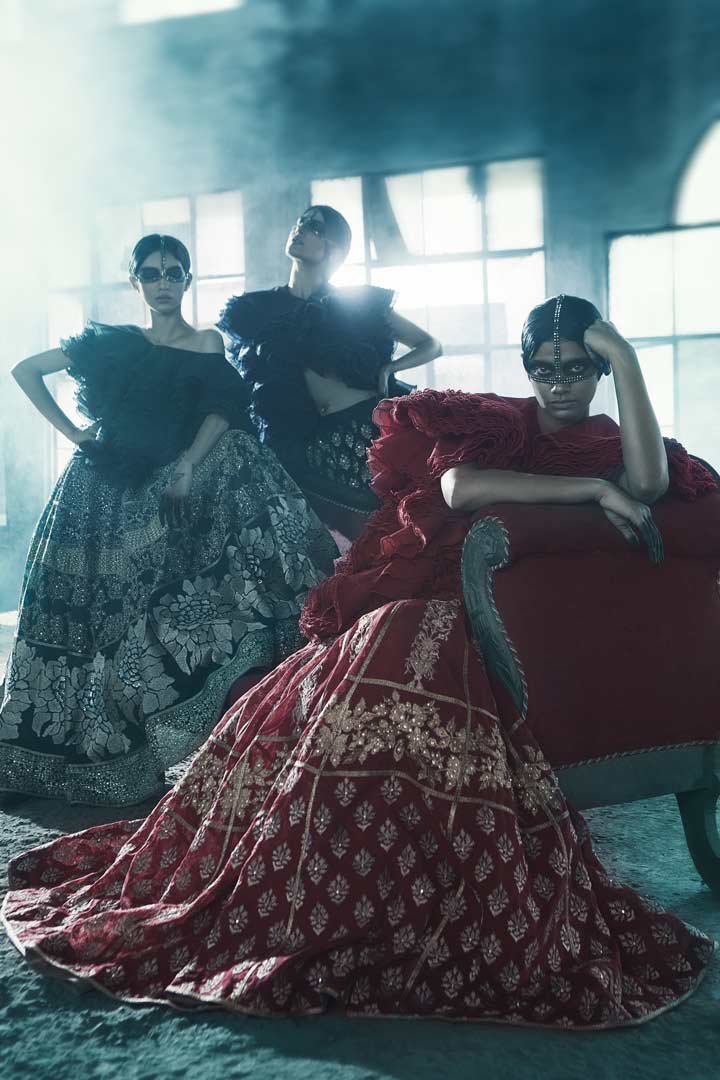 Siddartha Tytler at LMIFW SS'21
6. Cocktail wear for the bride and the groom
Weddings in India have always been a lavish affair and while this year is an unusual deterrent to the idea of the wedding after-party, you can always pin these options for next year. If you are on the hunt for easy-going, comfortable and modern cocktail wear, your search comes to an end. Thanks to LMIFW SS'21. For the bride and the groom, lightweight dresses and suits with glimmer, corsets, lush textures and an array of prints are your options. All of them perfectly balanced between OTT and breathable! Spoilt for choice, then, are you?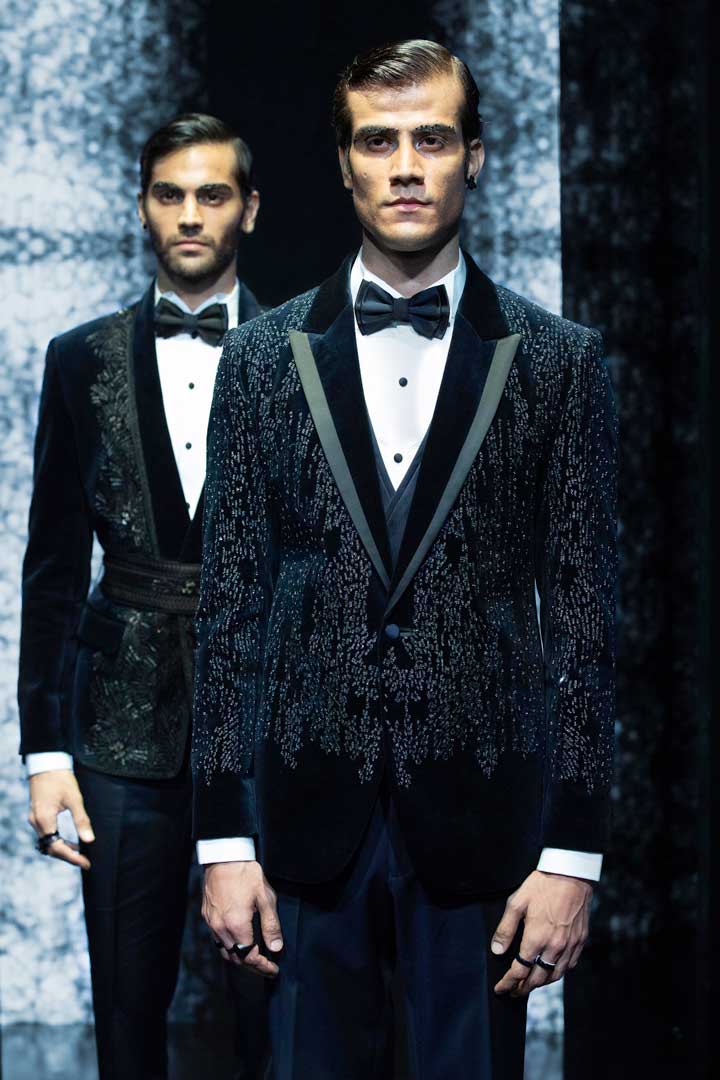 Rohit Gandhi + Rahul Khanna at LMIFW SS'21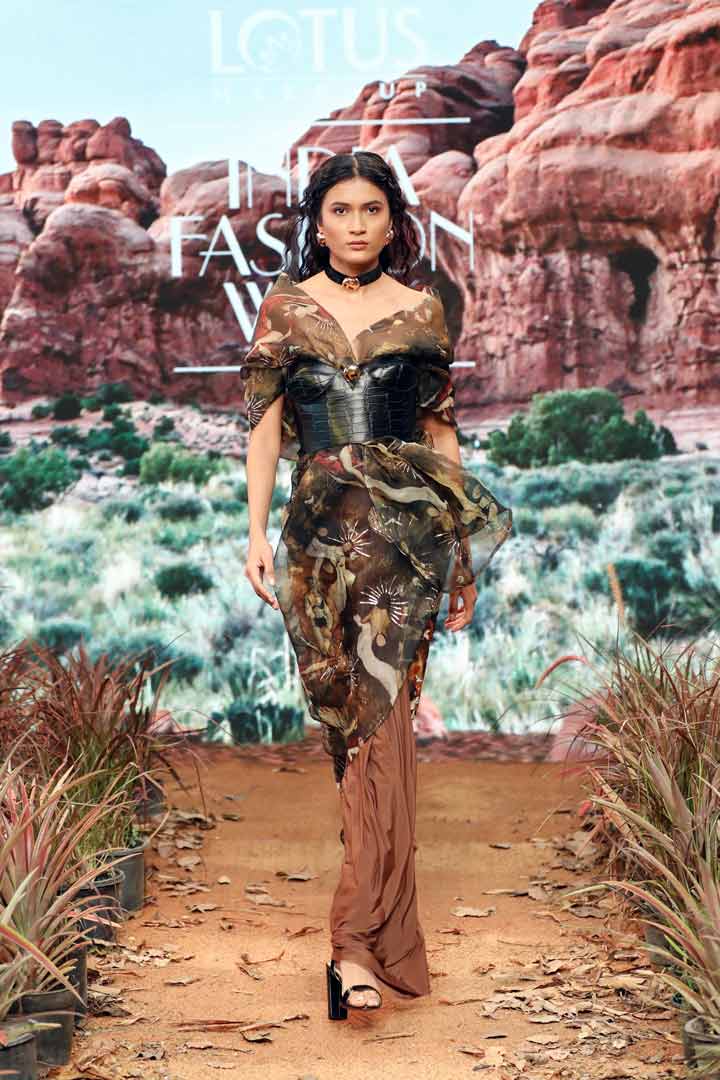 Shivan and Narresh at LMIFW SS'21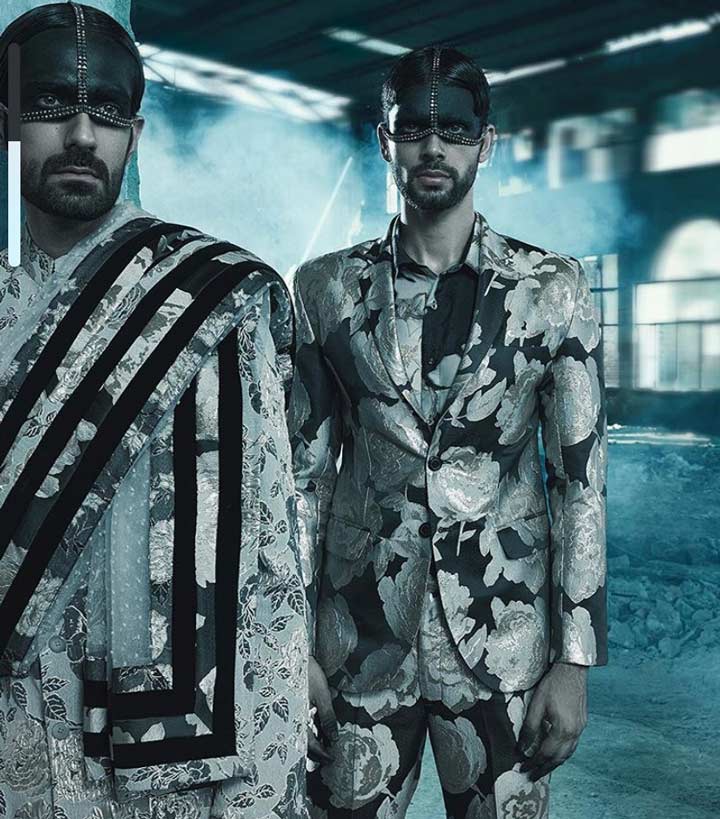 Siddartha Tytler at LMIFW SS'21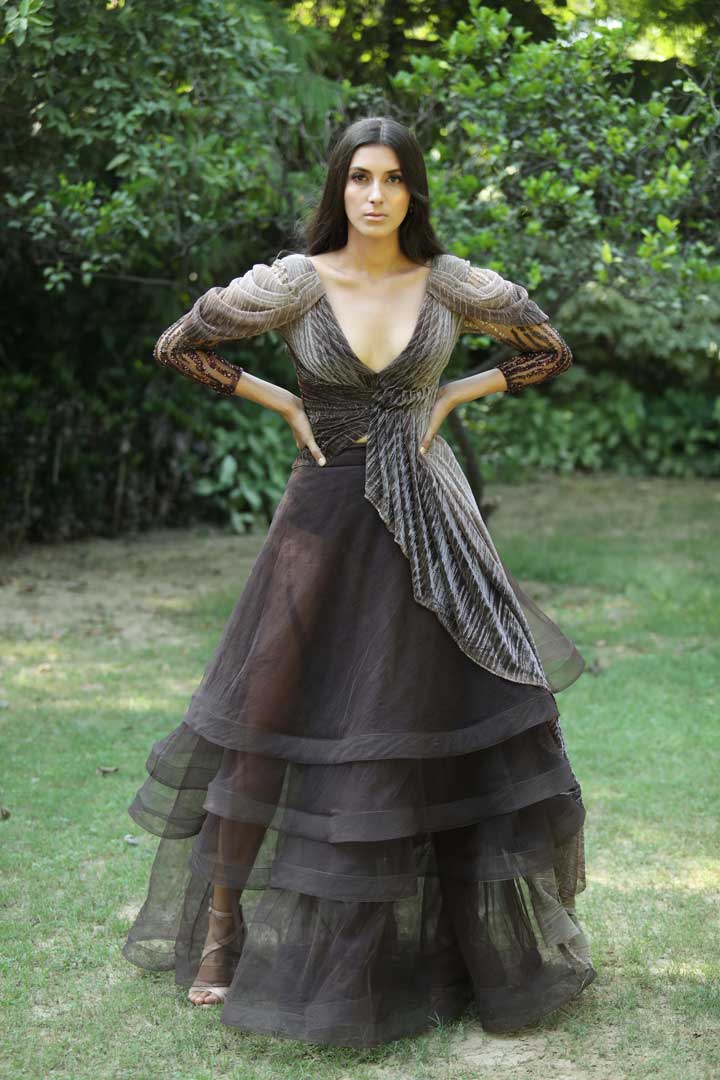 Nikhita Taandon – Mynah at LMIFW SS'21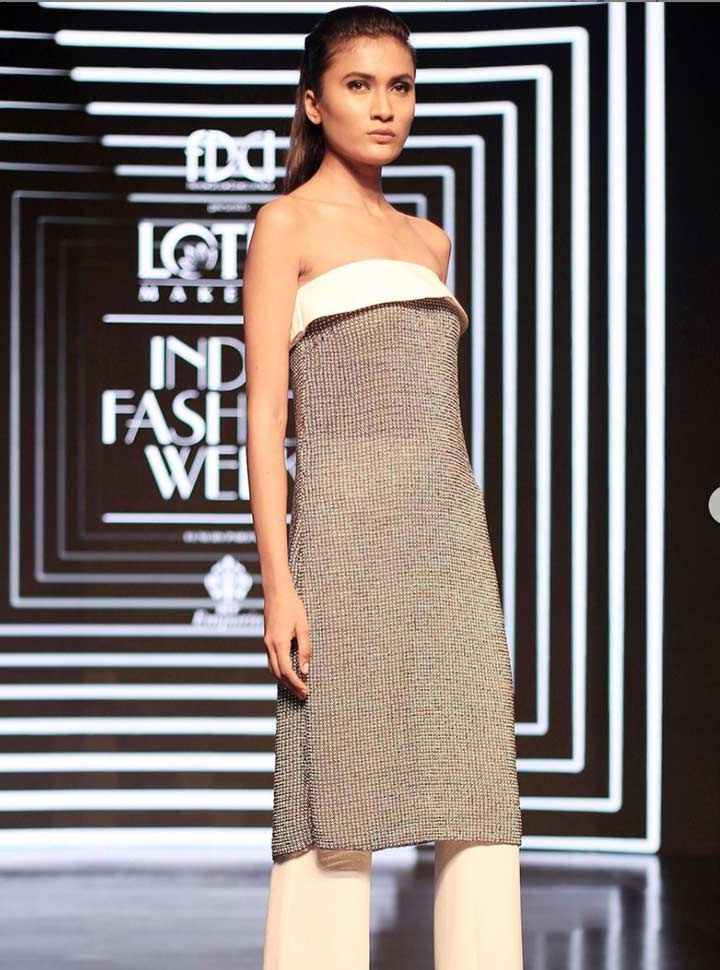 Namrata Joshipura at LMIFW SS'21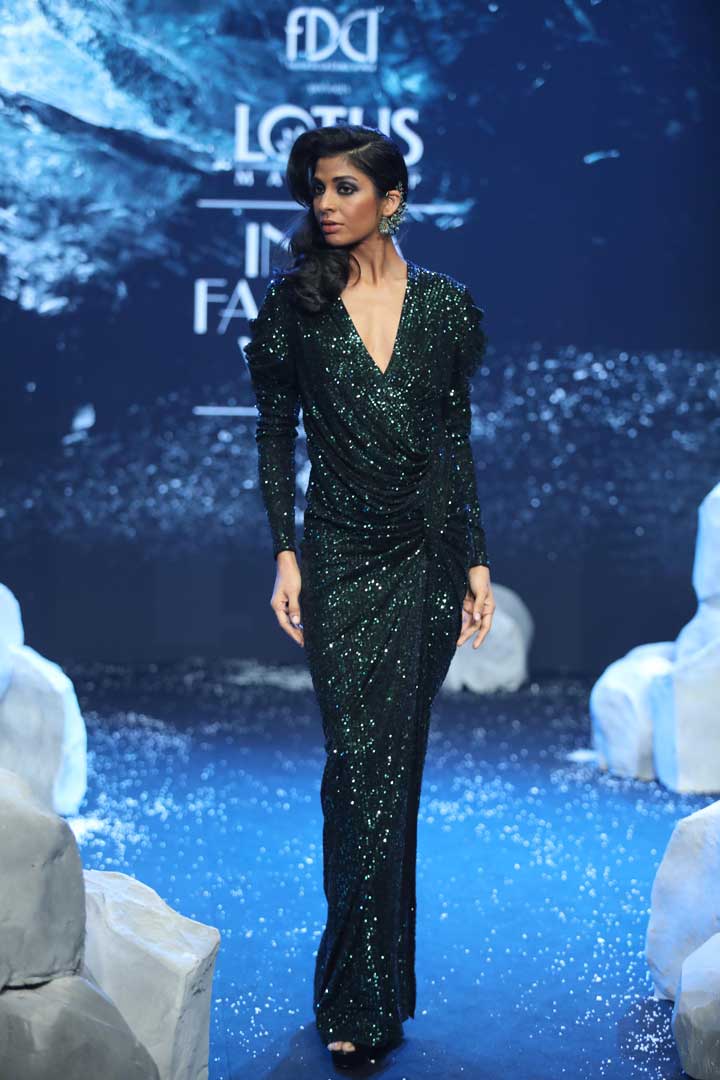 Neeta Lulla at LMIFW SS'21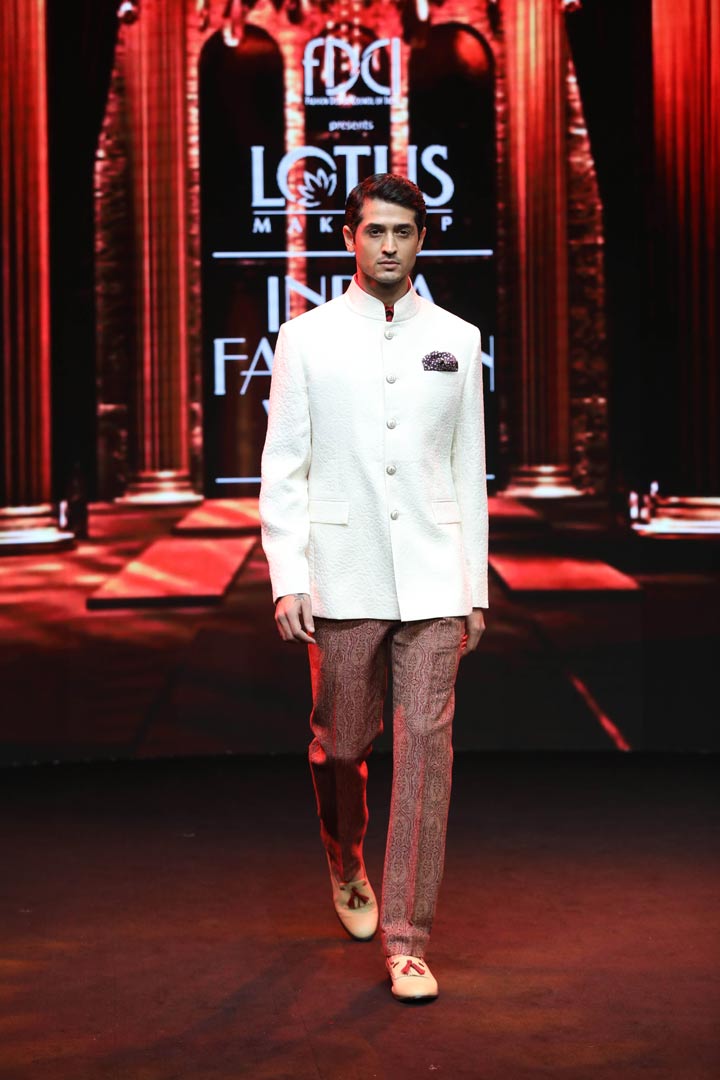 Ravi Bajaj at LMIFW SS'21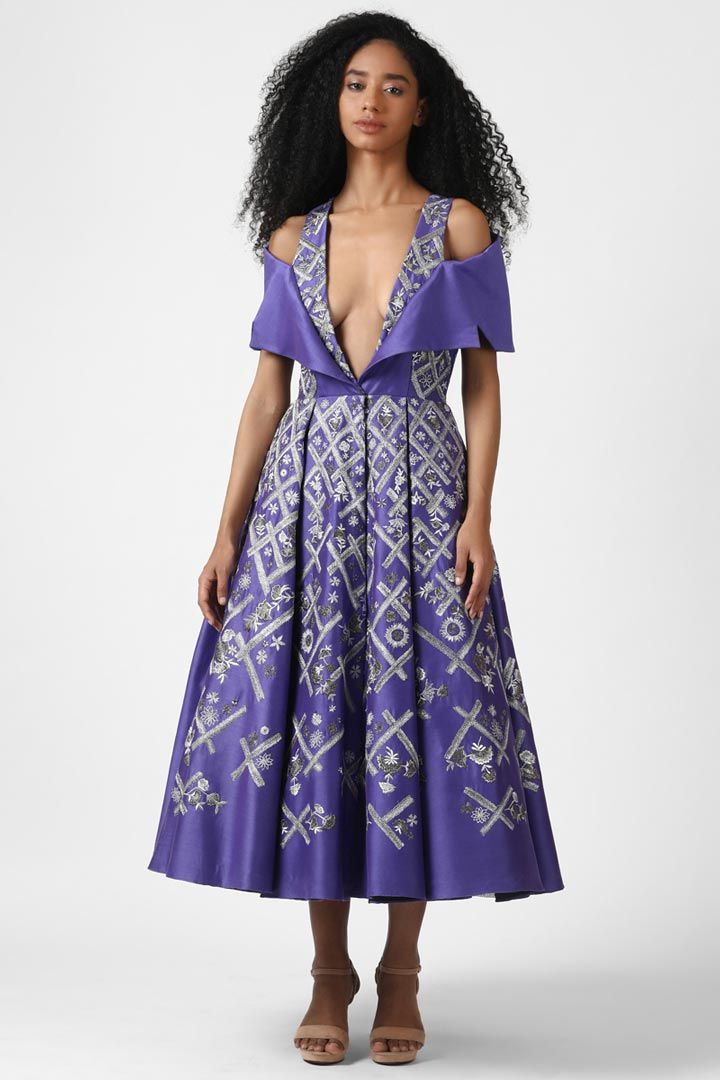 Samant Chauhan at LMIFW SS'21
Varun Bahl at LMIFW SS'21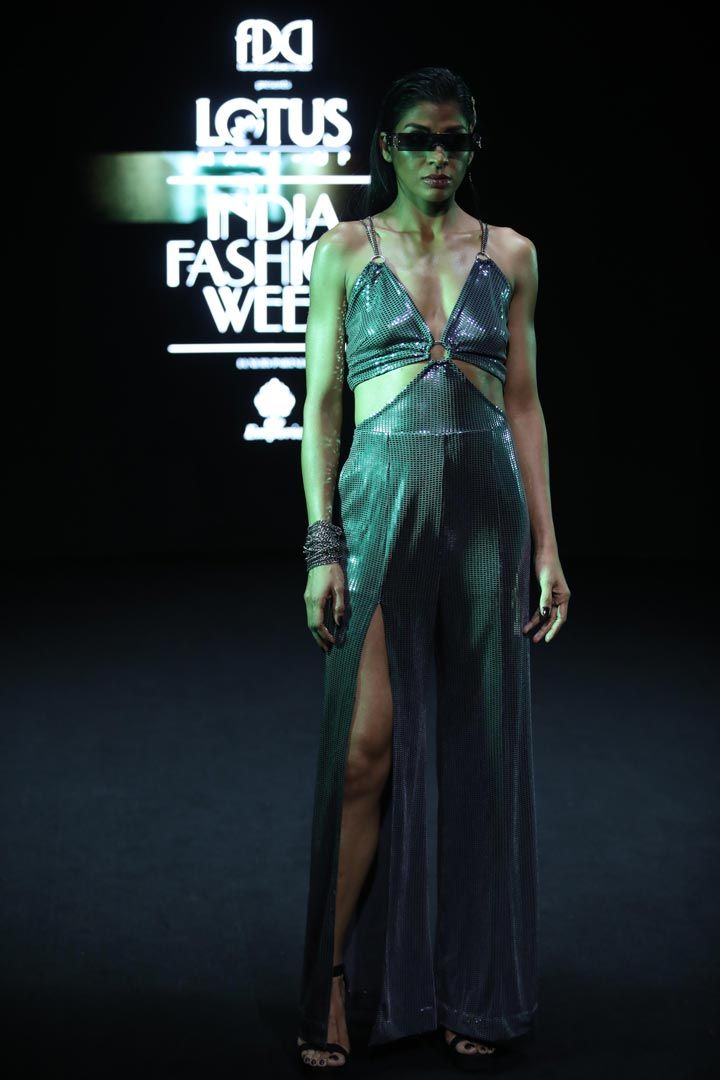 Tisharth By Shivani at LMIFW SS'21
Which of these trends has made it to your wishlist? Tell us in the comments below!