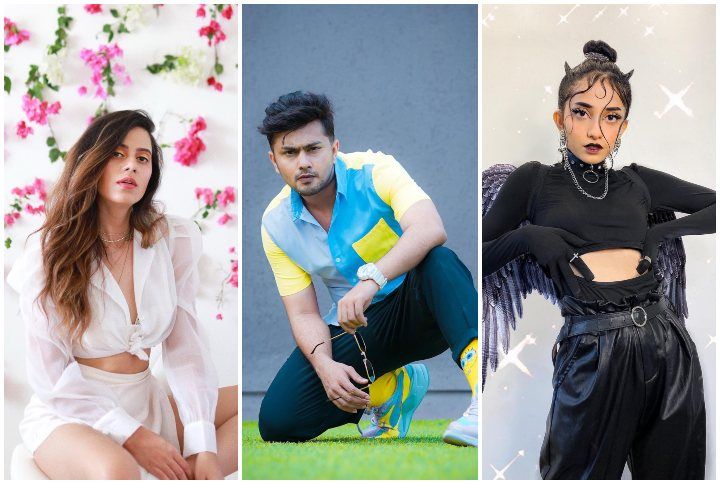 On the occasion of 'International Animation Day,' it's time to recognize and celebrate creators who create out-of-the-box content. Adding animation to the content requires a huge effort, time and patience. Moreover, it is all about creativity and being unique. Content creation today is not just about pictures and videos but something that is visually appealing, different and beyond imagination. So if you want to add that x-factor then animation is something you must give a shot. Here are a few influencers whose artsy content with cool animation will definitely blow your mind!
Here they are:
1. Team Naach
Team Naach is a phenomenal dancer duo that comprises of Nicole Concessao and Sonal Devraj. Their unique dance videos, graceful moves, creative Bollywood choreographies and facial expressions have us hooked on to the screens. This one especially has fab animation that we can't get enough of!
2. Aakriti Rana
We enjoy looking at her pictures and her dance videos as they are so different! Her style is so young, bright and vibrant. We love how she experiments and has mastered the skills of animation. Her content and concept is something that always grasps our attention and is just so soothing to our eyes.
3. Melvin Louis
Melvin is one of our fave choreographers and is the epitome of creativity. He always stands out with his cute and peppy dance moves. Not only that, but he also tries to create something new and exciting. It's amazing to see how his videos reach the next level after adding animation. We absolutely adore him and his dance videos are defo addictive!
4. Awez Darbar
Awez is an entertainer who always blows us away with his power-packed dance moves and choreographies. Apart from creating unique and hilarious videos, he also shows his fans some unique dance choreographies every now and then. It's amazing to see him collaborate with so many different dancers because that adds to his versatility. Not just that, he uses animation like an absolute pro!
5. Krutika a.k.a TheMermaidScales
Her posts really show her striking personality throughout her feed. What we absolutely love about her is that she experiments a lot with vibrant colours and patterns. Following patterns and vibrant hues that seamlessly blend among each other with animation works really well for her feed. It just makes her stand out from the million other bloggers and creators.
6. Zaid Darbar
Zaid's dance moves keep us hooked on to his choreographies and posts for hours at a stretch.  Apart from being a superb influencer, he is also a brilliant dancer who always surprises us with his creativity, especially using animation to express his emotions and actions. We are big fans of his work and love the magic he creates in his dance videos with Gauhar Khan. It definitely wanna make you get up and start swaying!
7. Vicky Patel
He is a super confident dancer with his swag and style on point! Vicky always brings a wonder element to his videos with the help of cool animation techniques. He is the smoothest dancers we know and creates magic on the floor with his energy. We can't wait to see what exciting elements he has in store for us to binge-watch!
These influencers have definitely used their animation skills to create content in a terrific way. So, on the occasion of #InternationalAnimationDay, let's appreciate their creativity! Which creator out of this list uses animation in the best way? We would love to know your thoughts in comments below!
Don't forget to follow @missmalinitrending on Instagram to know more about your favourite influencers!