Today, Instagram is one of the most used social media platforms in the world! We spend most of our time browsing pictures, sharing memes, putting up stories and trying on new filters. One reason why we absolutely love Instagram is that it has some stunning filters for us to try. This Diwali, they are all set to make our festive days better with a new AR effect and new IGTV shows featuring our fave influencers! Here's everything you need to know about these new festive releases.
New AR effect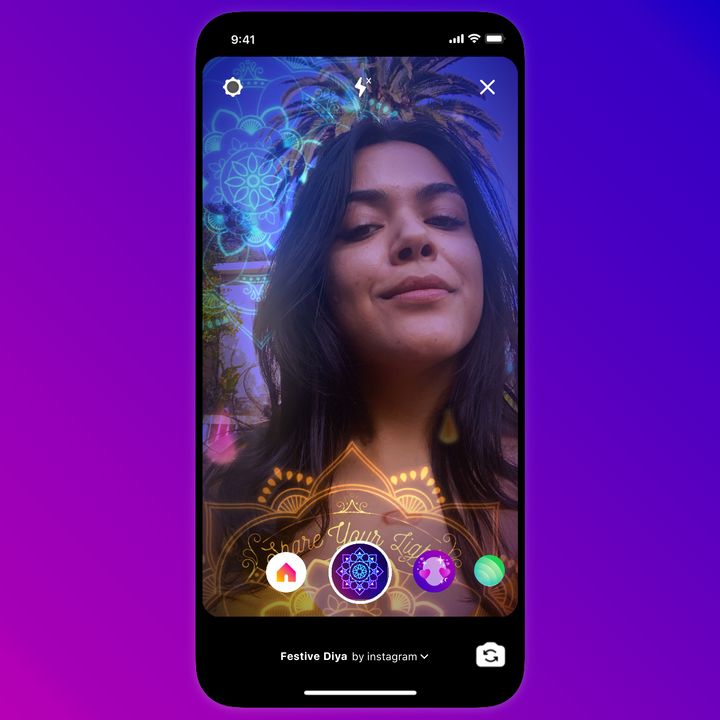 We all are living amidst a pandemic and since we cannot go out and physically meet each other during Diwali, Instagram has found a way for us to connect with each other. Their new AR effect is called 'Share Your Light' and it is straight-up adorable! It is inspired by festive colours, diyas and mandalas and aims to connect people with one another during this festive season. The effect is available to use in 7 languages – English, Hindi, Marathi, Bengali, Tamil, Telugu and Urdu. You can open your effects gallery and search for the term 'festive diya' to find this cute filter!
All about the new IGTV shows
Instagram has partnered with some of our fave content creators and launched a set of new IGTV shows. We absolutely love how Instagram is providing us with quality content that we can binge to while we are staying safe at home. Here are the 6 new shows that you can watch during the festive days:
1. Sundays With Shirley by Shirley Sethia
This is a five-part series where Shirley will talk about stuff that she really enjoys doing. Her first episode has already garnered more than 800k views, where she teaches everyone how to make her favourite smoothie. Sounds interesting, doesn't it?
2. It will take five minutes only by Kusha Kapila
This IGTV series aims to find answers to questions that usually remain unanswered. It will involve topics like self-help, sex, money, workplace ethics and much more. Each episode will range from 3-5 minutes and we are so excited for the first one to release!
3. Arjun Right Now by Arjun Kanungo
This is a light and interesting Instagram series that talks about all the highlights from Arjun's week. 2 out of 5 episodes have already aired and have garnered more than 600k views. We are so excited for the rest of the episodes to release!
4. In the Nick of time by Nikunj Lotia a.k.a Be Younick
This is also a five-part series that showcases Nick's love life and how it goes for a toss. It is a humorous series that shows how his relationships fail again and again before it eventually succeeds. We personally loved the first episode and are hooked to this series now!
5. Shockumentaries by RJ Abhinav
This is the first time that RJ Abhinav is experimenting with long-duration comedy-capsules. In this Instagram series, he gives us his funny take on the most accurate day-to-day experiences. The episodes aim to be extremely relatable to middle-class Indians and tbh, they are!
6. Feel Hona Chahiye by Lisa Mishra
In this IGTV series, Lisa shares some personal experiences about why she believes she's hopeless in love. She covers topics like long-distance dating, bad dates, differences between dating in India and many more. Seems like it's gonna be super relatable for many out there!
These new launches by Instagram have surely made our festive days so much better! We absolutely love the new AR effect and cannot wait to share our pictures using the same. Not just that, all these IGTV series scream 'quality content' and we are so excited to binge-watch all of them! Have you tried their new effect out yet? Tell us in comments below!
Follow @missmalinitrending to know more about your favourite influencers and content creators!