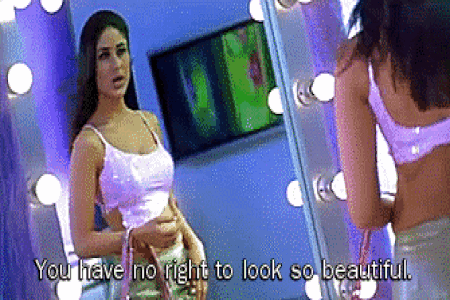 Diwali is right around the corner and I couldn't be any more excited! Since we can't celebrate in person, my friends have arranged Zoom Diwali parties for this season. This year it'll be full of gifts, home-made sugary mithais and most importantly a full face of Diwali glam! However, what I love most about Diwali makeup is how playful it can be. It also depends on your skills and products in hand. TBH, my girlfriends and I are most excited about the glam since it's been a while that we've put on any makeup in this pandemic. So naturally, to help my friends out I started looking up for some Diwali makeup options depending on their difficulty levels on YouTube.
These are my favourite YouTube Diwali glam videos:
Difficulty level: beginner
For all the gals that are scared of eyeliner and enjoy a simple makeup look, you've got to see this! Shreya Jain's YouTube Diwali makeup look is extremely fresh, achievable and minimal. She uses a medium coverage foundation for the base and starts with cream-based tint Dear Darling by Etude House for adding some colour. I love how she doubled up the tint as a lip stain to do her makeup. Multipurpose products are a staple if you're someone who enjoys simple glam. She filled her brows a simple wax-based brow product, her eyes were framed with a little smudged out kohl and a generous coat of volumising mascara. Her whole makeup look is completed within five beauty products making it a must-try.
Difficulty level: intermediate
I personally love this Diwali glam from Ankita Chaturvedi aka Coralista on YouTube. This look is for an intermediate level makeup enthusiast due to its fuss-free versatile golden toned eye look. I really appreciate her emphasis on skin prep before makeup. Her makeup base starts with layering her lightweight foundation which is a great trick to get seamless full coverage. The emphasis over the eyes is amplified using Sugar Cosmetics Arch Arrival Brow definer. After the bushy brows, a deep kohl liner and single metallic earth-toned eyeshadow are used for her lids, to create a festive yet neutral look. I personally enjoy such makeup since it's easy to recreate and can be done from your basic makeup collection. Furthermore, the makeup video is full of tricks and tips which makes it my favourite amongst the rest!
Difficulty level: advanced
Kaushal from Kaushal Beauty is not an unknown name, especially in the Indian beauty community. This look lands in the advanced level category, for its two-toned smokey eyes and eyelash application in her Diwali glam. Her base makeup is fairly light and easy. She uses Huda Beauty Faux Filter Foundation Stick that melts right into the skin offering a natural finish. Moreover, I love the balance of colour with the mute mauve lips and the inclusion of subtle dimension. She added on to the base light contour and highlight which is a staple in festive glam. I love the over blending and smokey effect of the eyeshadow on the eyes. It's truly a good effortless glam with lots of mini techniques.
Difficulty level: pro
This YouTube video is from Shivangi Sharma from Day Dream Project. She truly is the OG queen of colourful makeup looks. The reason why this is in the pro level category is due to the cut-crease and lash application involved in the look. Her Diwali glam consists of a simple glossy base with a twist of the rose gold cut crease on the lids and overall pink-toned look created through Huda Beauty The New Nude Eyeshadow Palette. The base of her makeup look is quite simple. It does not have too many layers, making the eyes the hero of the look. The gold cut crease adds a beautiful pop, on the otherwise fairly pink-toned look. I love the drama in the eyes within the look, making it a definite compliment-fetcher for your Diwali glam.
I'm extremely confused between the minimal makeup and the metallic Diwali look.
What about you? Comment below which one you'd love to try.
For more updates follow @missmalinibeauty on Instagram.